Laird homers in fourth straight game
Nats farmhand drives in three runs, helps extend Chiefs' win streak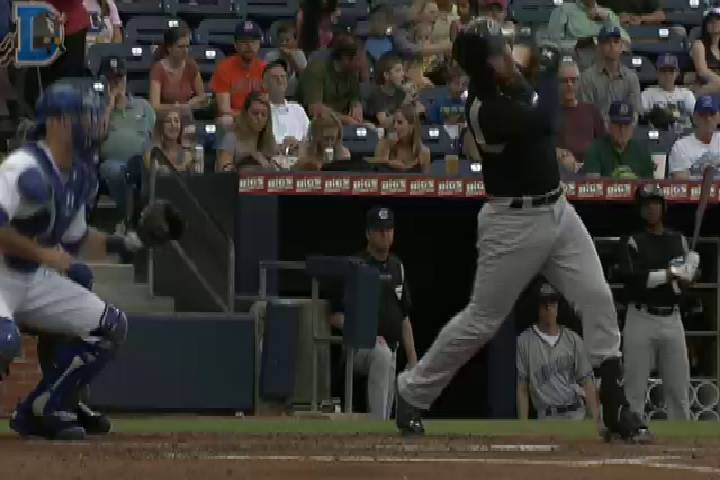 By Robert Emrich / MiLB.com | June 21, 2014 12:39 AM ET
It took Brandon Laird a little while to find his power stroke. Now that he's found it, it doesn't appear he plans on losing it again.
The Nationals farmhand went yard for the fourth straight game Friday night, powering Triple-A Syracuse to its fourth consecutive win, an 8-2 triumph at Durham.
Laird staked the Chiefs to an early lead, slugging a two-run homer off Bulls starter Matt Andriese in the second inning. He added an RBI single in a four-run fifth and finished 2-for-5 with two runs scored.
"I think it was a 1-1 count and it was a pitch up and away and I put a good swing on it and it carried out," Laird said of his sixth homer of the season. "I was just thinking about getting a pitch I could drive. I knew I got it pretty good and it blew out."
In addition to the home run streak, the 26-year-old third baseman has RBIs in five straight games and is 14-for-28 (.500) during a seven-game hitting streak.
"I've just been getting on them early," Laird said of the surge. "Going into this road trip, I had two home runs and I just told myself I'm not going to try for them, I know they will come. I've just been having good at-bats at the plate, taking nice, easy, short swings, and it's been working out."
Overall, Laird ranks seventh in the International League with a .314 batting average. The younger brother of Atlanta Braves catcher Gerald Laird is tied for seventh in the circuit with 38 RBIs while posting an .824 OPS.
"I'm just staying with my approach," Laird said, "taking my walks, working on getting into good hitter's counts and not doing too much with the balls. I've been using all fields this year, staying in the gaps and taking what I'm given.
"I say when I'm good I'm using all fields. When I'm going up the middle and to right field, I feel like I'm going pretty good. I think that has a lot to do with my success this year. Hopefully, I can keep it going."
Laird has made brief appearances in the Majors each of the last three years. He believes that continued success will eventually bring him back to the bigs.
"I think I just need to keep doing what I'm doing," he said. "I'm playing solid defense this year and doing anything I can to help the team win. Hopefully, they see that and I can get up there and help that team win."
Zach Walters -- the Nationals' No. 10 prospect -- slugged a two-run homer, his 10th of the season and eighth in June, for Syracuse. Brian Goodwin, the club's third-ranked prospect, was 2-for-5 with two runs scored.
Chiefs starter Josh Roenicke improved to 3-3 after allowing a run on six hits over six innings. He struck out two and walked two.
Mikie Mahtook, the Rays' No. 13 prospect, doubled and scored a run for the Bulls.
Robert Emrich is a contributor to MiLB.com. Follow him on Twitter @RobertEmrich. This story was not subject to the approval of the National Association of Professional Baseball Leagues or its clubs.
View More