Las Vegas swats four home runs in a row
Dykstra, Lutz, Teagarden, Allen match PCL record with rare feat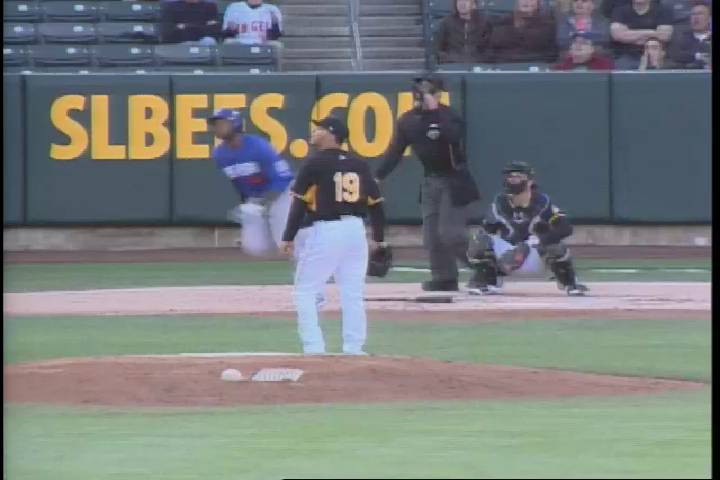 By Josh Jackson / MiLB.com | May 9, 2014 2:25 AM ET
When Mets prospects Allan Dykstra and Zach Lutz hit back-to-back home runs for the 51s in the fourth inning Thursday, their manager had a sneaking suspicion something special might be about to go down.
"After those first two homers -- [Taylor] Teagarden's already hit eight home runs in [about] 60 at-bats, and I've seen Brandon Allen play -- I saw what he could do when he was with Tucson last year," Las Vegas skipper Wally Backman said. "I've got to think those [first two homers] are starting to go through those guys' heads as they put the swing on the ball."
Teagarden and Allen did indeed follow suit, thus making the 51s the first team to hit four consecutive home runs in the Pacific Coast League since 2009. The roundtrippers set the pace in their 16-4 romp over the Bees at Salt Lake's Smith's Ballpark.
"That was crazy. It's the first time I've ever witnessed that, and the first time I've been a part of it. It was exciting," said Allen, who went 5-for-6 with a pair of RBIs and a pair of runs scored.
Despite his manager's hunch, the first baseman said he was not swinging for the fences in that at-bat and wasn't thinking about the frame's first two homers.
"At that point, it was just part of the game. That's all it was," Allen explained. "The guys got into a rhythm and got the pitches they wanted. They hit a couple home runs and got us three runs."
Teagarden's home run shifted his outlook.
"I was happy for him and then it was like, 'Wait, what's going to happen next? Am I going to be the guy to end it?'" the nine-year veteran admitted. "But you don't try to hit a home run in that situation. You just try to get on base, hit the ball hard."
The left-handed hitter hammered the 1-0 pitch to deep right-center field.
"I didn't know it was gone. It had the height, but I didn't know if it was going to go out," Allen said. "I took a peek up and saw Efren [Navarro, Salt Lake's right fielder] running after it. That gave me a little rush, and then I saw it go over."
All four of the home runs came off Bees starter and 16th-ranked Angels prospect Jose Alvarez.
"I've never seen it before. It's impressive. These guys have swung the bat all year long," Backman said.
Allen kept a calm demeaner as he ran the bases.
"You try not to smile," he said. "It's a lot of excitement. I could hear my teammates getting exciting and making a lot of noise in the dugout."
Although the outburst provided extra confidence, Allen didn't adopt a relaxed approach in his subsequent at-bats.
"You've still got to play the game. I was taking each at-bat as it come and trying to get a base hit," he said. "I'm part of a great ballclub and a great hitting ballclub at that. It was great to be able to put my two cents in."
At 24-10, the 51s have the best record in the PCL, and they also lead the circuit in on-base percentage (.395), runs (244), home runs (43) and RBIs (220).
"I've got to say, I've got 25 guys here who are fighting to get to the big leagues for the first time or to get back to the big leagues," said Backman.
Lutz was 3-for-5 with five RBIs. Andrew Brown also homered on a 3-for-4 night and he crossed the plate five times.
Las Vegas is the fifth team in PCL history to go back-to-back-to-back-to-back. The Tacoma Twins set the record in 1974 with consecutive dingers by Danny Walton, Craig Kusick, Richard Renick and Tom Kelly.
Josh Jackson is a contributor to MiLB.com. This story was not subject to the approval of the National Association of Professional Baseball Leagues or its clubs.
View More