Latimore's walk-off homer lifts Sens in 10th
With earlier blast, Nationals prospect extended streak to three games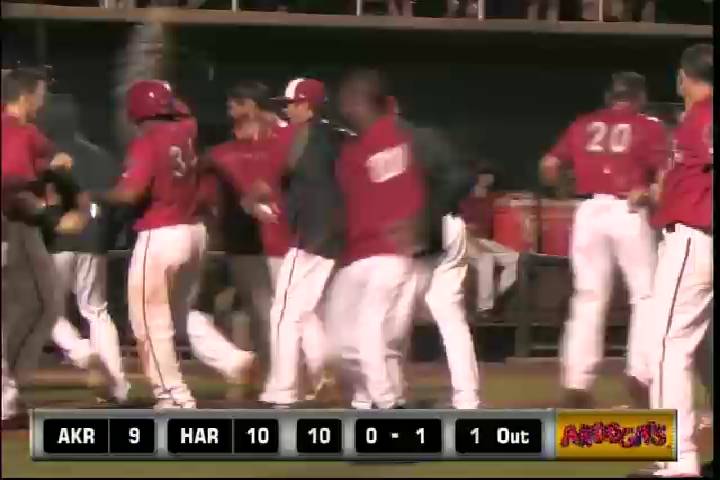 By Mark Emery / MiLB.com | August 1, 2014 2:25 AM ET
Quincy Latimore did not betray much emotion as he rounded first and second during the 10th inning on Thursday, but the joy became apparent when he neared third.
As the Nationals outfield prospect headed for home, he exchanged a high-five with Senators skipper Brian Daubach before flipping his batting helmet into the air and leaping into a raucous celebration at the plate. His second home run of the game had sent Double-A Harrisburg to a 10-9 walk-off win over Akron, and he had every intention of savoring the moment.
"Any walk-off is special," Latimore said. "This one had a little bit more meaning. I actually was with Akron last year, and I was released in the middle of the season. ... This one was a little special, man, to have such a good game against them, just to let them know that I still can play and that I'm working hard and continuing to get better every day."
Before hitting the game-winning blast off reliever Louis Head (0-1), the 2007 fourth-round pick went yard off starter Joseph Colon in the third. That roundtripper gave him a home run in three straight games.
"These last three days have definitely been a high point," Latimore said. "My family was able to be out in Richmond for the two homers I hit out there. Coming into today and having a walk-off, it's definitely been a high point of the season."
In his other at-bats Thursday, he walked and scored, struck out swinging and grounded out to second. He saved his best for last.
"You don't try to hit the home run," Latimore said. "It's definitely in everybody's mind. Everybody wants to hit the walk-off home run. It's such a special thing. It doesn't happen that often."
The 25-year-old spent the first six years of his career with the Pirates, who traded him to the Indians in January 2013 for righty Jeanmar Gomez. Over 81 games at Double-A Akron last year, he batted .231/.306/.353 with six homers and 30 RBIs.
This season has gone significantly better for Latimore, who gives much of the credit to Senators hitting coach Mark Harris. Across 82 games, he is hitting .298/.361/.459 with nine homers and 35 RBIs.
"Coming to Harrisburg has definitely been a blessing for me," the North Carolina native said. "When I came here, I just told him, I've had some success but I've never been consistent. And if there's anything that I want out of this year, it's to have a consistent approach, a consistent stance, something that I stick with and trust in, so I can go out and battle and compete every single night."
Now in his eighth Minor League season, Latimore feels he has finally found that consistency. It's difficult to argue with four homers in three games.
"It's definitely a good streak, and if it continues, great," he said. "I just want to get ready and ... try to hit the ball hard. That's my main thing, is try to hit the ball hard every time. Get a good pitch, hit it hard. If it goes, it goes."
Harrisburg's Michael Taylor, Washington's third-ranked prospect, hit his 22nd home run of the year, giving him third place in the Eastern League. Caleb Ramsey drove in three runs.
For Akron, Anthony Gallas also left the yard and Justin Toole plated four runs.
Senators reliever Derek Self (2-2) gave up up two hits and striking out one in one frame for the win.
Mark Emery is a contributor to MiLB.com. Follow him on Twitter @Mark_Emery. This story was not subject to the approval of the National Association of Professional Baseball Leagues or its clubs.
View More