Lawrence comes oh-so-close to perfection
Blue Jays prospect gives up hit with two outs in seventh, seals shutout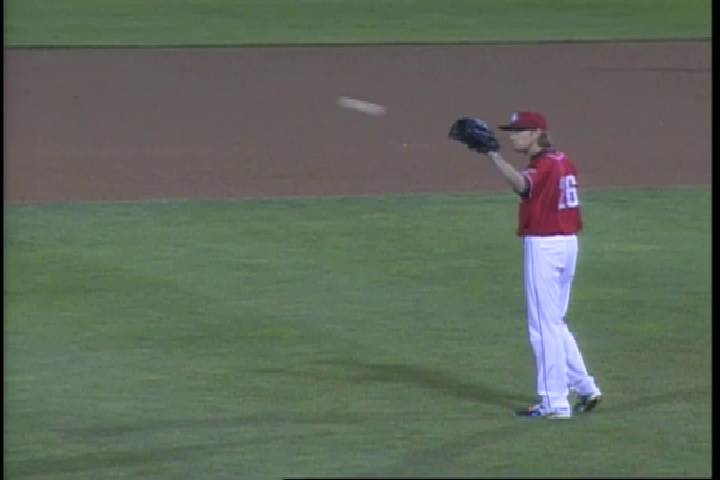 By Mark Emery / MiLB.com | June 28, 2014 2:25 AM ET
The more Casey Lawrence's teammates moved away from him, the more he realized that his outing was becoming something special.
He began to think about a perfect game during the fourth inning, when recent callup Dalton Pompey vacated the spot in the dugout next to the right-hander that he had occupied when the Fisher Cats were batting. Despite the inevitable pressure that accompanied his newfound awareness, Lawrence continued getting outs, eventually getting through six innings without allowing a baserunner.
After retiring the first two Rock Cats in the seventh and final inning, Lawrence gave up a single to pinch-hitter Mike Kvasnicka, falling one out short of a perfect game. With a runner on first, he gathered his composure and induced a flyout from Kennys Vargas, sealing an 8-0 win for Double-A New Hampshire in the second game of a doubleheader against New Britain.
"Every guy came up and gave me a hug and congratulated me on the great effort," said Lawrence, who lauded the pitch selection of catcher Jack Murphy and the stellar defense of third baseman Andy Burns and shortstop Jorge Flores. "I appreciated all those guys [doing that]. The teammates are kind of what makes things like this special. ... That's the real thing behind moments like these, the teammates, and how you realize how they always have your back."
In his first career complete-game shutout, the Blue Jays prospect struck out eight batters without issuing a walk. He threw 56 of 91 pitches for strikes while inducing nine groundouts and two flyouts.
Lawrence (4-4) began the seventh by getting Twins No. 7 prospect Eddie Rosario to ground out to first base and striking out Aaron Hicks. In stepped Kvasnicka, who batted for rehabbing big leaguer Eduardo Nunez.
"I kind of went right at him," Lawrence said, "got ahead, 0-1, with a fastball. Came back with another fastball and he did what he was supposed to do and went the other way with it and got the hit. I saw Burns' reaction and I think he was more upset about it than I was; I knew it was out of my hands as long as I executed a pitch. If it was hit, it was hit. It so happens tonight the kid did a good job and put the bat on the ball."
Fourteen games, including 11 starts, into his fifth professional season, the 26-year-old Pennsylvania native owns a 3.10 ERA. Across 78 1/3 innings, he's struck out 47 and walked 14.
While he had thrown four complete games prior Friday, he had never been at the finish line with a chance to make history.
"This was a first for me," Lawrence said. "Me being a contact pitcher and pitching to contact, you don't get a whole lot of opportunities like this. Normally, I've always been a guy who kind of gives up more hits than innings pitched and stuff like that. My goal is always not to walk anybody, make them earn their way on."
Had he retired Kvasnicka, he would have completed the second perfect game in Fisher Cats history. On June 28, 2004, nearly 10 years ago to the day, Jamie Vermilyea was perfect -- against the same opponent and in the nightcap of a doubleheader.
"All game, all season long, the motto with the pitching coach (Jim Czajkowski) has been one quality pitch at a time," Lawrence said. "You're not going out there trying to throw a no-hitter or a perfect game or whatever, you're just trying to give your team a chance to win. I'm just glad I was able to do that tonight."
Matt Newman and Mike McDade supported Lawrence with two-RBI performances. Jon Berti, Newman and Murphy each chipped in two hits.
Earlier, New Hampshire won the opener, 3-2 as Berti doubled home the winning run in the eighth.
Mark Emery is a contributor to MiLB.com. Follow him on Twitter @Mark_Emery. This story was not subject to the approval of the National Association of Professional Baseball Leagues or its clubs.
View More