LeBlanc, Bees turn fifth triple play
Angles southpaw snares comebacker in win over I-Cubs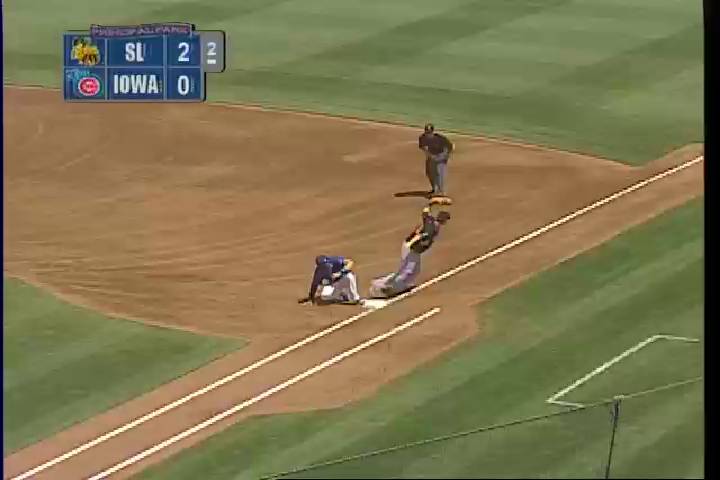 By Ashley Marshall / MiLB.com | August 17, 2014 6:59 PM ET
Even for a veteran who's been around pro ball a decade, every game represents an opportunity to see something new. On Sunday afternoon, it was Wade LeBlanc's turn to experience something for the first time.
LeBlanc started a 1-6-3 triple play as Triple-A Salt Lake edged Iowa, 3-2. It was the team's first triple play since May 1, 2006 and the third in the Minor Leagues in four days.
Colorado Springs completed the first Pacific Coast League triple play of the season in Thursday night's 5-4 loss to Sacramento and Double-A Tulsa turned one of its own in the sixth inning of Friday's 8-2 home loss to Frisco.
On Sunday afternoon, it was LeBlanc's turn to add his name to that list. Iowa's Manny Ramirez and Josh Vitters started the second inning with singles, but the 30-year-old southpaw helped himself by starting the fifth triple play in franchise history.
"I've been a part of one and I've never seen one in person," LeBlanc said. "It was all on instinct. You're just trying to keep the ball in the infield, you're not thinking triple play. You just try to get a double play, but when it happens, you'll definitely take it. Both runners took off, banking on the fact that the ball would end up in center field for a single."
Logan Watkins hit a line drive back to LeBlanc, who snared it. With the runners on the move, he wheeled and threw to second base to double off Ramirez. Shortstop Shawn O'Malley fired across to C.J. Cron to get Vitters off first base to complete the feat.
"It all happened so fast," said LeBlanc. "Fortunately, the line drive found my glove, not the other way around. I had an idea where to go with the ball to get an out. I was just trying to get the guy at second. From there, anything else is a bonus.
"When you turn a triple play, you turn back into a kid because you don't see it too often. Everybody turns back into a kid in the backyard or playing Little League. It's pretty exciting. It's what keeps you young."
Staked to an early 2-0 lead, LeBlanc worked in and out of trouble over the first five frames. He pitched with runners in scoring position in four of those innings but kept the Cubs off the board.
The string of zeros came to an end in the sixth when Vitters doubled home Mike Olt with two outs, but LeBlanc retired Watkins with his 101st and final pitch to preserve a 3-1 lead.
"I think the best way to put it was that I made pitches when I needed to," said LeBlanc, who has logged more than 1,200 innings -- including more than 400 in the Majors -- over his nine-year career. "There were more than a few guys on base, but I was able to make pitches when I needed to to get out of jams. They have a pretty good hitting lineup and it was one of those day games where it's hot and it's a grind to get through it."
Salt Lake's Ryan Wheeler was 3-for-5 with a double, an RBI and a run scored, while Luis Jimenez chipped in two hits to raise his average to .286.
Vitters finished 2-for-4 with an RBI double and Felix Doubront (0-1) allowed three runs on eight hits and a walk while striking out four batters over six innings in his second start for the I-Cubs.
Ashley Marshall is a contributor to MiLB.com. Follow him on Twitter @AshMarshallMLB. This story was not subject to the approval of the National Association of Professional Baseball Leagues or its clubs.
View More