Lefty Fried, three others headed to Braves
Atlanta scoops up package of four Padres prospects in Upton deal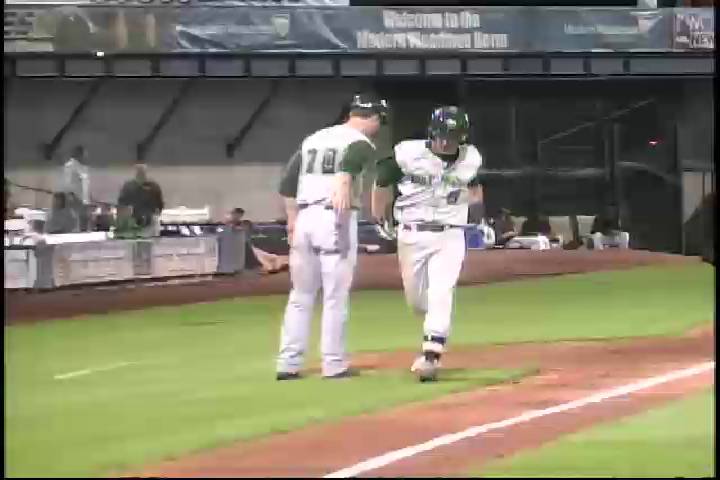 By Sam Dykstra / MiLB.com | December 19, 2014 9:25 PM
In case there was any doubt, the San Diego Padres are doing their darndest to "win" this offseason. They're just letting go of a decent amount of Minor League talent to make it happen, as was the case again on Friday.
The Padres have sent left-handed pitcher and No. 3 prospect Max Fried, third baseman and No. 10 prospect Dustin Peterson, outfielder and No. 20 prospect Mallex Smith and infielder Jace Peterson to the Braves in exchange for All-Star outfielder Justin Upton and right-handed pitcher Aaron Northcraft. FOX Sports' Ken Rosenthan first tweeted that Upton was indeed headed to San Diego while CBS Sports' Jon Heyman filled out what Atlanta was getting in return. The Braves confirmed the deal Friday afternoon, adding that they were receiving an international bonus pool slot.
Fried is largely seen as the Braves' biggest return in Friday's deal. The 20-year-old southpaw was taken seventh overall in the 2012 Draft out of Harvard-Westlake High School in Studio City, California, where he was teammates with Nationals top prospect Lucas Giolito, and posted a 3.49 ERA with 100 strikeouts in 118 2/3 innings at Class A Fort Wayne in his first full season in 2013. Forearm soreness kept him from pitching until July this past summer, and he made only five appearances (10 2/3 innings) before left elbow issues led to Tommy John surgery in August. He's likely to miss most, if not all, of the upcoming 2015 season while he rehabs from the procedure.
Still, there's plenty to like in Fried's overall pre-surgery profile. His fastball (60) and curveball (65) were both given above-average grades by MLB.com before the injury woes, and listed at 6-foot-4, 185 pounds, his size fits that scouting buzzword of "projectable," especially given that he'll only turn 21 in January.
"Fried was a big piece in this deal and he'll probably be our number one pitching prospect. It's going to take him a little longer [because of surgery]," Braves president of baseball operations John Hart told MLB.com.
"He was probably tracking to make his Major League debut in 2016. It's now probably going to be late '17 or '18. We're not going to overdo this guy. He's still very young. He's a 20-year-old kid and we've got some time with him. But to be able to put that system, we'll look up at the end of this year and move ahead toward next year very excited to have this kid."
On the position players side, Smith is coming off a breakout 2014 that saw him capture the fans' vote for the Top Offensive Player MiLBY this offseason. The 21-year-old outfielder led the Minors Leagues with 88 stolen bases, 19 clear of his closest competitor, and put together a .310/.403/.432 line in 120 games between Fort Wayne and Class A Advanced Lake Elsinore. Unsurprisingly, MLB.com gave him a perfect 80 grade for speed. The 5-foot-9 center fielder needs all of that speed to burn at the plate, where he has a 45 hitting grade, and in the field, where he's considered average until his route skills improve.
"We added some young upside guys that I think will just bolster our system, guys that have pedigree and we like. Mallex Smith is sort of a Michael Bourn sort of center fielder," Hart told MLB.com."This kid can really run, play center field and be a leadoff type of guy. He's a National League kind of player. He doesn't have impact power or anything. He just has impact speed."
Dustin Peterson, a second-round pick out of Gilbert (Arizona) High School in 2013, stumbled some in his first full season with the Padres, batting just .233 with a .634 OPS and 137 strikeouts in 126 games at Fort Wayne. However, he showed some decent pop with 10 homers and 31 doubles, and it's believed that power that'll carry him through the Braves system in the years to come.
Jace Peterson graduated from prospect status in 2014, after featuring in 27 Major League contests last season, during which he slashed only .113/.161/.113. However since being taken 58th overall in the 2010 Draft out of McNeese State, the left-handed-hitting infielder has showed plenty adept at the plate in the Minors. In 86 games between Double-A San Antonio and Triple-A El Paso last summer, he owned a .307/.402/.447 line with three homers, six triples and 24 doubles in 86 games. Primarily a shortstop in the Minors, he played mostly second base at the Major League level and could be used as a stopgap at the keystone until Atlanta's top prospect Jose Peraza is ready to take over.
Of course, Upton is the big piece of this whole deal. The two-time All-Star put up a .270/.342/.491 line with 29 home runs and was worth 3.9 WAR, per FanGraphs, with the Braves last season. He has only one year left on his contract, making him a free agent at the end of the 2015 season.
He joins an outfield that has already picked up some big-time power in Matt Kemp and Wil Myers this offseason. Remarkably, the Padres have been able to add those three without dealing big-time prospects Austin Hedges, Matt Wisler or Hunter Renfroe, giving them a strong core of prospects at the top of their farm system.
Sam Dykstra is a contributor to MiLB.com. This story was not subject to the approval of the National Association of Professional Baseball Leagues or its clubs.
View More