Legends' Schwindel drives in six runs
First baseman/catcher goes 4-for-5 with home run, two doubles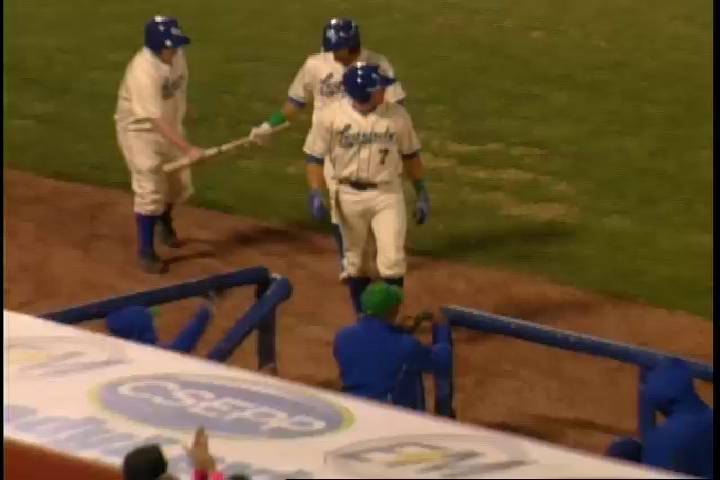 By Sam Dykstra / MiLB.com | May 28, 2014 5:01 PM ET
Frank Schwindel has two roles with the Legends, and he knows both of them well. An 18th-round pick by the Royals in last year's Draft, he's been playing both catcher and first base in his first full season with Class A Lexington. Switching back and forth makes sure no day at the ballpark is the same.
"When I'm at first base, I'm focused much more on hitting," Schwindel said. "When I'm behind the plate, I'm locked onto our gameplan and how I can handle the pitching back there, because I know if I can call a good game and help us win that way, it won't matter what I do, hitting-wise. At first, I don't have those same responsibilities, so it's easier to keep my focus on my bat."
That focus paid off Wednesday when he got the start at first and batted third in the Legends lineup.
Schwindel went 4-for-5 with a homer, two doubles and six RBIs as Lexington crushed Asheville, 15-7, on the road at McCormick Field. The performance marked a career high in RBIs for the St. John's product and also matched his professional best for hits, previously achieved on Aug. 10, 2013, with Rookie-level Idaho Falls.
"It's always special any time you can get four hits," he said. "Some days, you hit the ball hard every time out, but it's hit right at someone or you're robbed of a few hits. Today, the balls just found some gaps, and I'll certainly take it."
The tone for Schwindel's big day at the plate was set in his first at-bat, in fact on the first pitch he saw. The right-handed slugger cranked a first-pitch fastball off Tourists right-handed starter Alex Balog over the wall in left for a homer to give the visitors an early 2-0 lead. It was Schwindel's fifth roundtripper of the season.
"That's definitely a great way to start the day," said the 21-year-old, who caught the Legends' previous two games. "They've been coming inside to me early in every game this series, so I was looking fastball in and thankfully put a good swing to it."
"That takes a little pressure off the rest of the game. You already know you're seeing the ball well, and plus, you don't have to worry about going hitless for the rest of the day. Everything else is a bonus."
Still, there were plenty of bonuses to go around Wednesday. Schwindel added an RBI single in the second inning, walked in the sixth and doubled in two more as part of a four-run seventh.
Needing a triple to complete the cycle, he stepped up once more in the ninth and indeed smacked a run-scoring extra-base hit to deep center field, but alas, he was forced to stop at second base.
"It wasn't really anything I had a chance at," said Schwindel, who has tripled only once in 103 career Minor League games. "I hit it hard and coming into second, I was thinking I couldn't make it. That's not my thing, and especially not in this ballpark. I'll definitely take today though without it."
Through 39 games with the Legends, Schwindel owns a .275/.304/.463 slash line with five homers, 13 doubles and 24 RBIs.
He was able to pile up the RBIs on Wednesday thanks to the performances of Lexington leadoff hitter Alfredo Escalera-Maldonado (3-for-5, double, two RBIs, walk, four runs) and No. 2 hitter Ramon Torres (2-for-5, home run, one RBI, walk, four runs). The Legends' top three hitters combined to score 10 of the team's 15 runs on the afternoon.
"They did great," Schwindel said. "When they're getting on like that, it makes it so much easier for me. Every time I came to the plate there was somebody on today, and when they do their job like that, it becomes mine to do what I can to bring them in."
Sam Dykstra is a contributor to MiLB.com. This story was not subject to the approval of the National Association of Professional Baseball Leagues or its clubs.
View More