Lindor smacks sixth Double-A homer
Indians' top prospect has hit safely in nine of his last 10 games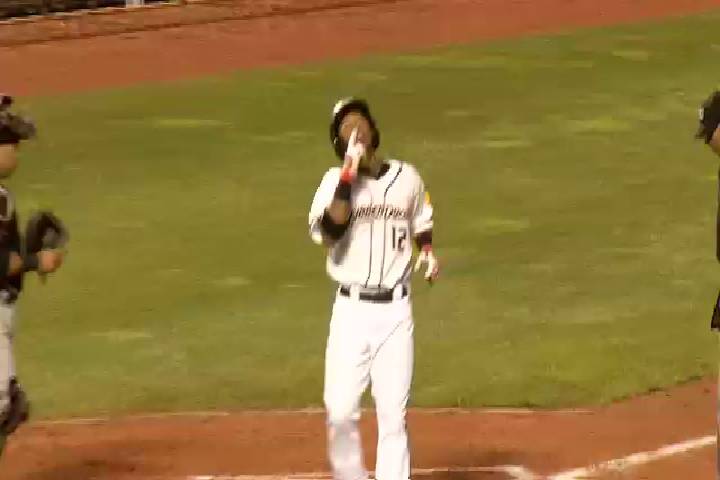 By Ashley Marshall / MiLB.com | June 24, 2014 1:26 AM ET
Francisco Lindor understands that baseball players fail more than they succeed, but that doesn't stop him from approaching every task seeking perfection.
The Indians' top prospect already has above-average hitting and fielding tools, but there's every chance that his makeup and willingness to work hard to succeed are the attributes that get him to his ultimate goal.
Lindor homered, singled, drove in two runs and scored twice Monday night in Double-A Akron's 7-1 triumph over visiting Erie.
"It wasn't perfect," he said. "It was good because we won, but I wasn't perfect. I feel like every ballplayer, every athlete, is a perfectionist. You work for perfection and understand you will not be perfect, but that is what you aim for. You try to be the best you can be.
"The first at-bat, I got myself out. The last at-bat, I didn't come through with the bases loaded and two outs. That's when you can add on more runs for the team."
Ranked ninth on MLB.com's list of Top 100 Prospects, Lindor plated a run with a single to left field in the third inning, then smacked a solo homer to center field with one out in the fifth. It was his sixth long ball of the season and his second in five games.
On the RubberDucks' current road trip, the switch-hitting shortstop is 9-for-27 with two homers, a triple, a double and seven RBIs.
"I was getting my foot down early and giving myself a chance to see the ball better and do what the pitcher was telling me to do," Lindor said. "The base hit was a fastball away, and I went the other way with it. The home run was on a changeup. [Tommy Collier] left it right down the middle and they are the ones you have to drive. Hitters live off pitchers' mistakes.
"I feel like I'm trying to drive every pitch. You have to be aggressive early in the count. That doesn't mean you're looking to hit a home run every time, just hitting it somewhere hard."
Selected eighth overall in the 2011 Draft out of Montverde High School in Florida, the 20-year-old has seen his average dip from .299 a month ago to .281, but he's hit safely in 13 of his last 14 games and plated at least one run in five of the last six.
"I'm feeling pretty comfortable at the plate and that's what every hitter looks for," said Lindor, who wasn't fazed by the 2 1/2-hour rain delay before the first pitch was thrown. "But you still have a lot of things to work on to become the best hitter you can be.
"My hitting coach, Rouglas Odor, has been great and I thank him. He's been a big part of my success in the Minor Leagues. And [manager] Dave Wallace and [pitching coach] Jeff Harris ... I can't thank them enough."
Inclement weather nearly caused a postponement, but Lindor and his teammates stayed loose in the locker room. Whether he's on the field or at his locker, he likes to smile and have fun. But he also knows that being a first-round Draft pick comes with certain expectations, and he's consistently looking for new ways to better himself in every aspect of his game.
"You have to have that on-off switch," he said. "We were just watching TV and sitting and waiting and having fun in the clubhouse. Then, when it was game time, I just turned on the switch. You've got to have fun. I love it. I've been playing since I was a baby. It's the greatest game in the world.
"But I would definitely like to do a little better. I'm trying to become a better baserunner, learning to read line drives and getting bigger leads and learning when I can and can't steal. [Defensively], knowing when to keep the ball and when to not force the situation. They're things that you know but that you have to keep working on. It's just repetition, that's what it's all about."
Indians No. 4 prospect Tyler Naquin was 2-for-3 with a walk, an RBI and a run scored out of the leadoff spot, Bryan LaHair drove in three runs and Joseph Colon (7-4) allowed a run on six hits while striking out six over seven innings.
Collier (2-6) surrendered seven runs -- six earned -- on eight hits over 5 1/3 frames. He struck out three batters and walked two.
Ashley Marshall is a contributor to MiLB.com. Follow him on Twitter @AshMarshallMLB. This story was not subject to the approval of the National Association of Professional Baseball Leagues or its clubs.
View More