Lindor's bat helps 'Ducks win fifth straight
Tribe's top prospect triples, hits go-ahead homer, drives in three runs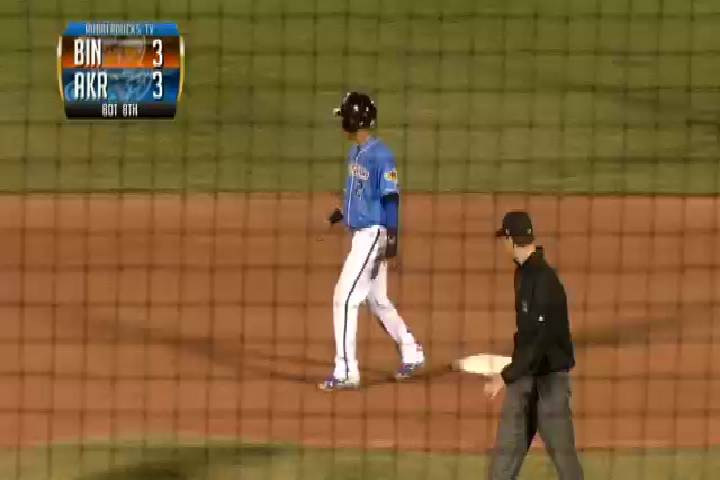 By Mark Emery / MiLB.com | May 3, 2014 12:37 AM ET
When people evaluate Francisco Lindor, they usually rattle off a few of his many impressive statistics or describe the exciting raw abilities he takes with him out to shortstop.
They might mention his .290/.356/.473 slash line through 24 games at Double-A Akron this season. They could consider his swiftness on the basepaths or the unmatched way he fields his position, calling to mind the churning legs, the stabbing glove, the arm that fires crisp throw after crisp throw.
While all of that serves as a means to measure Lindor -- the Indians' top prospect and No. 9 in all of baseball -- none captures what the 20-year-old is most about.
"I've been trying to win every aspect of the game," Lindor said Friday night after Akron held on for a 5-4 victory at Altoona. "Whether it's fielding, whether it's a ground ball, whether it's running the bases, at the end of the day it's about winning the ballgame. That's pretty much what I've been trying to do, is just win everything I can. If there's a battle in my way, I'm trying to win it."
Lindor drove in three of the RubberDucks' five runs as they won their fifth straight game to pull into a first-place tie with Richmond atop the Eastern League Western Division. He tripled to left field in his second at-bat but did not score. In the fifth inning, after Altoona grabbed the lead, he tied the game with a sacrifice fly. And two innings later, he untied it with a monster two-out, two-run homer, his third of the year.
"The home run was off a slider," Lindor said. "It didn't break too much. I was just trying to put the ball in play, hit the ball hard the other way. It ran in on me and I was able to get the barrel out and it went over the fence."
The home run was Lindor's first since April 11. Prior to Friday, the switch-hitter hadn't collected three RBIs in a game since July 25. He has hit safely in four straight games and seven of his last eight.
On the season, the 20-year-old Puerto Rico native has three homers, three triples and two doubles with 16 RBIs and 17 strikeouts against nine walks. He's stolen five bases in seven tries while committing four errors in 127 chances.
Whatever the numbers, Lindor is most concerned with what he can do to make his future statistics better.
"There's definitely room to improve," he said. "I could be 40 years old and there will still be room to improve. I want to be the greatest player I can be. I'm trying to work at that. I'm trying to work towards being the best I can be to help my team win and ultimately help the Indians win."
It wouldn't be unreasonable if a high level of pressure accompanied the high expectations that have followed Lindor since the Indians selected him with the eighth overall pick of the 2011 Draft, but he said he feels none. Nor does Lindor, who graduated from Montverde Academy in Florida, spend much time thinking about being promoted to Cleveland or the stop in between, Triple-A Columbus.
"I'm looking forward to continuing getting better every day," he said. "I'm just trying to work my way up and trying to be in the big leagues and help the team win."
Bryson Myles' RBI single and a sacrifice fly by Tyler Holt pushed Akron's lead to 5-1 in the eighth. Altoona nearly tied it in the ninth, as three straight singles, a double and a groundout put three runs on the board. With two outs and two men in scoring position, RubberDucks reliever Shawn Armstrong retired Mel Rojas to record his third save.
Akron starter Cody Anderson (2-2), Cleveland's fourth-ranked prospect, earned the win after holding Altoona to one run on eight hits over 6 2/3 innings. Kyle Crockett, the Indians' No. 17 prospect, notched two strikeouts in a perfect eighth and has yet to yield a run over 20 2/3 innings at Double-A.
Mark Emery is a contributor to MiLB.com. Follow him on Twitter @Mark_Emery. This story was not subject to the approval of the National Association of Professional Baseball Leagues or its clubs.
View More