Liriano finds stride in first rehab outing
Pirates left-hander strikes out final five over his six shutout frames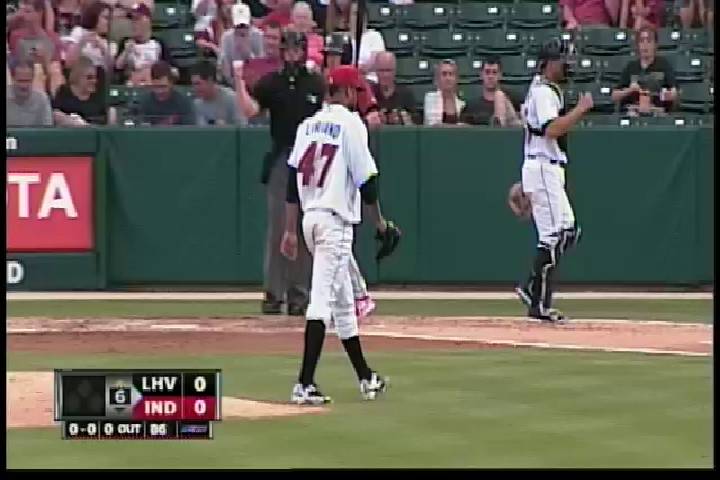 By Jake Seiner / MiLB.com | July 7, 2014 11:12 PM ET
There was a little rust for Francisco Liriano on Monday night, but it didn't take long for the Pirates left-hander to rub that off.
Making his first rehab appearance since straining his oblique on June 10, Liriano worked through a rocky first inning before getting himself in order. The left-hander struck out the final five hitters he faced in his six-frame outing to lift Triple-A Indianapolis to a 1-0 win over Lehigh Valley.
"Everything felt good," said Liriano, who allowed three hits, fanned eight and did not issue a walk. "It is really good to be back."
Liriano started the game sticking to the basics, feeding Lehigh Valley a fastball-heavy diet in the first inning. The IronPigs picked up on the pattern, with Darin Ruf collecting a two-out single and Russ Canzler following with a double to center.
Ruf tried to score from first on Canzler's knock, but was caught at home as second baseman Dean Anna -- in his Indians debut -- relayed center fielder Chase d'Arnaud's throw.
After a leadoff double by top Phillies prospect Maikel Franco in the second, Liriano settled in and didn't allow another base runner. He retired the final 15 batters he faced, including strikeouts of six of the final seven.
"He was maybe a little rusty at the start," Indianapolis pitching coach Tom Filer said. "But he certainly settled in. He really controlled the ballgame."
Liriano's fastball topped out at 95 mph and worked mostly in the 92-93 range. He also threw his slider and changeup in the later innings, with his command sharpening as the game went on.
"I was working on throwing more fastballs and working with the fastball," Liriano said. "In the second, I started working on other pitches. The changeup and the slider were working good."
Filer added that Liriano was angling the ball down, especially when he brought the heat.
"The last three innings especially, it seemed like he was under control," Filer said. "He was able to mix in the changeup and the slider, make some guys look bad at the plate."
Through 14 starts prior to the injury, the reigning National League Comeback Player of the Year was 1-6 with a 4.60 ERA. Liriano was only supposed to throw five innings or 85 pitches Monday, but earned his way into the sixth inning by keeping down the pitch count.
"That was it, six innings was going to be the max," Filer said. "We were hoping things would go well and he could get into the sixth."
Indians right-hander Vin Mazzaro followed with two scoreless innings, allowing one hit, and left-hander Andy Oliver picked up his ninth save with a scoreless ninth.
Jake Seiner is a contributor to MiLB.com. Follow him on Twitter at @Jake_Seiner. This story was not subject to the approval of the National Association of Professional Baseball Leagues or its clubs.
View More