Long works deep into RockHounds' shutout
A's prospect strikes out eight, scatters three hits over 6 2/3 innings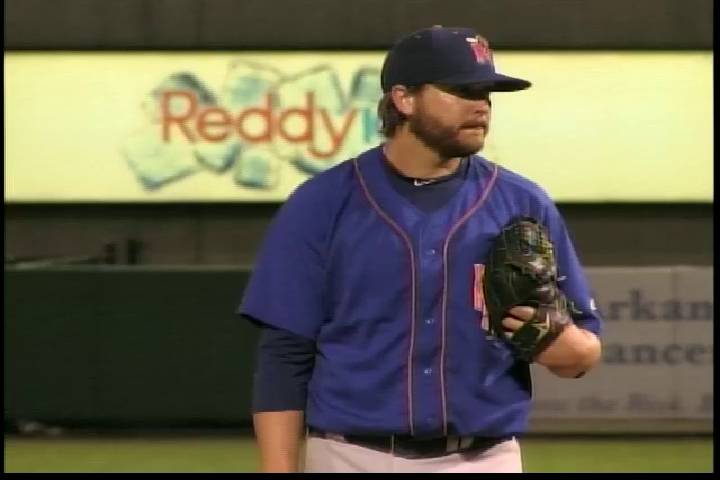 By Josh Jackson / MiLB.com | July 6, 2014 1:08 AM ET
From the time he got to the ballpark, Nate Long knew Saturday's outing was going to be a tough one. Still, he made it look easy.
"I had a pretty bad pregame bullpen [session]. I wasn't feeling strong at all," he said. "I used my off-speed stuff and tried to get quick outs. And I got stronger as the game went on."
Long allowed three hits and three walks while striking out eight over 6 2/3 innings as Double-A Midland posted a 1-0 shutout at Arkansas.
"I was moving back and forth [between fastballs and off-speed stuff], not relying too much on one," he said. "I was able to work fast and be in the zone. I let my defense work. When you let the 'D' work behind you, you throw less pitches and the hitters have to swing more. That lets you go longer into games."
The 28-year-old right-hander improved to 8-4 with a 3.24 ERA after throwing a season-high 106 pitches, 59 for strikes.
"Once you're around 100, it all kind of feels the same," Long said. "It was nice that they let me have leeway to go a little bit into the seventh and get the chance to help the team out a little more."
The University of Texas at Arlington product yielded his first hit immediately as Travelers leadoff man Maikol Gonzalez reached on a dribbler to third base.
"He didn't hit it very well. It went about 75 feet and [Jefry] Marte was playing back," Long said. "[Gonzalez] is a fast kid, so if he hits the ball there, there's not a whole lot of chance that we're going to be able to get him."
Long got out of the inning without further damage and struck out the first two batters in the second before hitting Jeff Bandy with a 1-2 offering.
"I was trying to go inside, and I pitch inside a lot, so it's going to happen," he said. "I would have liked to strike him out, but I went too far in. There's nothing much I can do about that."
He erased that threat by retiring Michael Snyder on a ground ball, then reeled off four straight strikeouts.
"I was feeling good then. My changeup was really effective. That's what I was striking most guys out with," Long said. "I got a couple with the curve, but it was mostly the changeup. I was using my fastball to get ahead and then putting them out with the changeup."
Arkansas' Mike Bianucci led off the fifth with a single but was erased on a double play. Long walked Snyder and top Angels prospect Kaleb Cowart before fanning Eric Stamets to end the inning.
"I think I got maybe a little winded in that inning. My mechanics broke down a little, and when that happens you can miss your spots a lot," the 2009 26th-round pick said. "I was trying to be around the zone and get them out from behind in the counts, and I was picking at the corners a little too much rather than just going into the zone."
Long walked Bandy with one out in the seventh and retired Snyder again before turning things over to Frank Gailey, who fanned Cowart to strand Bandy at second.
Gailey got into a jam in the eighth, loading the bases with a one-out walk to Matt Long, but Jose Flores got Brian Hernandez to hit into a double play.
"Oh, man, that was awesome. We went crazy after that," Nate Long said. "It was one of those situations where that's what we needed him to do, and [Flores] came in and killed the rally. That was really big for us."
Flores loaded the bases with none out in the ninth but escaped again by whiffing Cowart, getting Stamets to pop out to catcher Blake Forsythe and punching out Gonzalez.
"It was definitely an intense inning for us," Long said. "With the bases loaded and nobody out, [Flores] really beared down. His stuff got really nasty. It was unbelievable."
Billy Burns, ranked No. 7 in the Oakland system after Friday's trade, was 2-for-4 with a pair of doubles and a walk.
Josh Jackson is a contributor to MiLB.com. This story was not subject to the approval of the National Association of Professional Baseball Leagues or its clubs.
View More