Manny now 'being Manny' with I-Cubs
Player/coach sits in first half of twinbill, plays left field in nightcap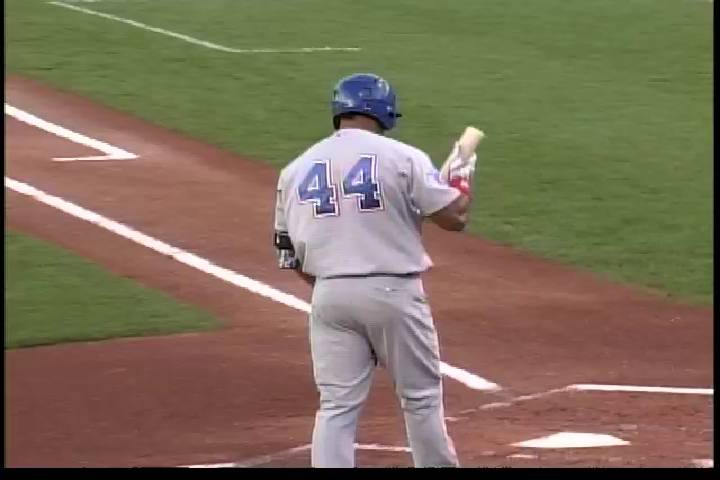 By Josh Jackson / MiLB.com | June 27, 2014 3:24 AM ET
The Triple-A Iowa Cubs boast perhaps the most prospect-laden lineup in all of the Minor Leagues, so there aren't many ballplayers with the potential to add more life to the club.
Then again, there are few ballplayers like Manny Ramirez.
In a move announced a month ago, he returned to the Pacific Coast League on Thursday.
Ramirez went 0-for-4 with a pair of strikeouts in Iowa's 7-6 loss in the nightcap of a doubleheader at Colorado Springs. But in his new role as player/coach, he also saw Javier Baez and Kris Bryant -- the Cubs' top prospects -- deliver strong performances.
"It feels great just to be here … and to help the young guys [by] just telling them my experiences and the things that I've went through," Ramirez told MLB.com. "It's a blessing just to be here."
Baez, baseball's No. 6 prospect overall, singled in the first game, which Iowa won, 7-3, and went 3-for-4 with two doubles, an RBI and a run scored in the second game.
Bryant entered Thursday's opener 5-for-21 through five Triple-A games, and all of his PCL hits had been a home run. Playing in front of Ramirez, the game's No. 8 prospect notched his first I-Cubs hit that didn't result in a lost baseball. He went 1-for-2 with two walks and a run scored in Game 1 and doubled and collected an RBI in the nightcap.
As for the 12-time All-Star, 2002 American League batting champion and 2004 World Series MVP, Ramirez had not yet had the opportunity to offer specific instruction to his new teammates.
"I was just trying to get to know everybody," he told MLB.com. "First just trying to be their friend, then when I get some confidence with them then I'll say, 'Hey, I'll tell you something.' But I don't want to come out right away and say, 'You're doing this and doing that.'"
Ramirez reached on a run-scoring fielding error by Sky Sox shortstop Rafael Ynoa with two outs in the first inning. The dribbler that bounced into the outfield came on the fifth pitch Ramirez saw from Colorado Springs starter Wilton Lopez.
The 42-year-old left fielder struck out in the third and the fifth, then lined out in the seventh.
"They just made good pitches," Ramirez told MLB.com. "But it's been such a long time since I faced a pitcher, so it felt great."
He played 30 PCL games last year with the Round Rock Express, the Triple-A affiliate of the Texas Rangers, and spent much of June working out at the Cubs' facilities in Arizona.
"It's been almost a year since I've been playing," Ramirez said. "It's still hard, especially in the outfield and running the bases. Your body has to get used to the feeling of [everything]."
Ramirez will not be an everyday player for the I-Cubs.
"They told me that when the guys need some rest, I'm probably going to [receive an] opportunity one or two times a week," he told MLB.com.
Still, he's not ruling out the possibility of getting to "be Manny" at Wrigley Field.
"As long as I'm here and I keep working, you never know what could happen," Ramirez told MLB.com. "I think God has a reason for me to be here. … He opened the door and I'm just here."
Josh Jackson is a contributor to MiLB.com. This story was not subject to the approval of the National Association of Professional Baseball Leagues or its clubs.
View More