Marlins Prospect Primer: Kolek must wait
Miami's top prospect made strides before suffering right elbow injury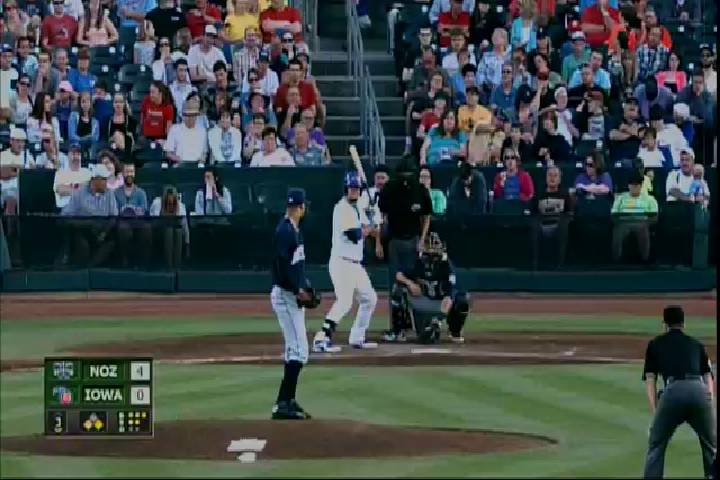 By Alex Kraft / MiLB.com | April 1, 2016 10:30 AM
Some players are on the verge of stardom, others are entering a crucial phase of their development and still others are getting their first tastes of full-season ball. With the 2016 season approaching, MiLB.com takes a look at the most intriguing prospects from each MLB organization.
At the crossroads: Tyler Kolek, RHP
Saying the 20-year-old is at the crossroads is less a commentary on his standing with the Marlins -- an organization that holds him in high esteem and sees the right-hander as a future frontline starter -- and more a reference to the fact that Kolek's development will be temporarily halted due to an elbow injury that will sideline him indefinitely.
The second overall pick in the 2014 Draft struggled heavily with his command with Class A Greensboro last season, issuing 5.0 walks per nine innings. However, new Marlins vice president of player development Marc DelPiano had seen some of the best command of Kolek's career in camp, thanks to a revamped approach.
"He's throwing strikes now, just working at the bottom of the zone," DelPiano said. "I think all of it's been just energy-related, so he's kind of modified his energy. He's not as high-effort, he's more effortless in how he approaches things with his delivery and his release. I think we've seen semblances of a good fastball right now. He's throwing what looks to be a short slider and it's been effective. He's really thrown a lot of strikes this spring."
DelPiano added that what Kolek needs most right now are reps. The plan had been to send him back to Greensboro to try to achieve a measure of success. The Texas native might not get that chance for a while.
Major League-ready: Kendry Flores, RHP
Flores made a good first impression in his first full season with the Marlins since being traded San Francisco two years ago. Miami's fifth-ranked prospect pitched across three levels in the Minors and made his way up to the Majors for the season's final two months.
The 24-year-old native of the Dominican Republic will begin 2016 back at Triple-A New Orleans, where he went 3-2 with a 2.61 ERA in 10 starts last season. If all goes well, he should find his way back to Miami as a back-of-the-rotation starter.
"I like the fact he throws strikes. He's got a fastball that he can pitch at the top of the zone with, a breaking ball that he can pitch down in the zone with and he's got a feel for a changeup," DelPiano said. "So I like him. He competes, he's poised. He does a lot of things that I think are unconventional in some ways, but effective."
Full-season debutant: Brett Lilek, LHP
The Marlins selected Lilek when he slipped to the second round in last year's Draft, and the Arizona State University product gave his new organization plenty to smile about in his debut season.
Lilek made 11 appearances (10 starts) for Class A Short Season Batavia. He struck out 43 batters while walking only seven in 35 innings and even pitched in a perfect game. The Marlins are looking forward to seeing what the 22-year-old can do with a full season of starts.
"The way he's throwing has been pretty good this Spring Training," DelPiano said. "Very efficient in everything he does. Really good delivery. Good arm action. He's got three pitches that are intact now. I anticipate him breaking [camp] with a club."
Breakout prospect: Stone Garrett, OF
Garrett was technically one of Miami's breakout prospects of 2015, but with a solid set of tools and a full season of starts to work with, the eighth-round pick from the 2014 Draft could build his stock up even further.
The 20-year-old center fielder led the New York-Penn League in home runs (11), RBIs (46) and slugging percentage (.581) with Batavia. He has battled a wrist injury in Spring Training, but when healthy, he boasts good power and speed and even showed an ability to hit for average with the Muckdogs.
The Texas native -- whom DelPiano has not yet had a chance to see live since joining the Marlins -- is unlikely to break camp with a club because of the injury. When he does get on the field, however, he has a chance to establish himself as the best position player in the Marlins system.
Loudest tool: Anfernee Seymour, OF
Seymour can give opponents fits with his wheels. The native of the Bahamas is slight of stature at 5-foot-11, 165 pounds, but he possesses a run tool that rates as a perfect 80 on MLB Pipeline's 20-80 scale.
Drafted by the Marlins in the seventh round in 2014 -- 30 picks before Garrett -- the switch-hitting shortstop used his game-breaking speed to provide a solid presence atop the Batavia lineup. He stole 29 bases in 35 attempts last season, two behind Tri-City's Johnny Sewald for the circuit lead, although the latter appeared in six more games.
Seymour won't offer much else offensively -- he packs little-to-no power and will hit for a decent average -- but given a full season of starts, he could potentially swipe 50-plus bags.
More to keep an eye on: Austin Dean has earned All-Star honors in three leagues over the past two years (South Atlantic, Florida State and Arizona Fall). He'll look to add a fourth to that list when he heads to Double-A Jacksonville. ... Jarlin Garcia produced an All-Star worthy campaign through his first 18 starts with Class A Advanced Jupiter last year, but struggled with a 4.91 ERA and 4.2 BB/9 after making the jump to Jacksonville. The 23-year-old left-hander will return to the Southern League to start 2016. ... Josh Naylor was a surprise pick at No. 12 overall in last year's Draft out of a Canadian high school. The Marlins No. 2 prospect managed to hit .327/.352/.418 in his professional debut in the Rookie-level Gulf Coast League, but he'll look to show more of his trademark power in year two. ... Speaking of power, K.J. Woods showed plenty in the South Atlantic League last year, finishing second on the circuit with 18 long balls. His attention will turn to defense after committing a career-high 10 errors in 65 games at first base.
Alex Kraft is a contributor to MiLB.com. Follow and chat with him on Twitter @Alex_Kraft21. This story was not subject to the approval of the National Association of Professional Baseball Leagues or its clubs.
View More