Marrero thrives in potent Portland lineup
Red Sox shortstop prospect homers, plates career-high four runs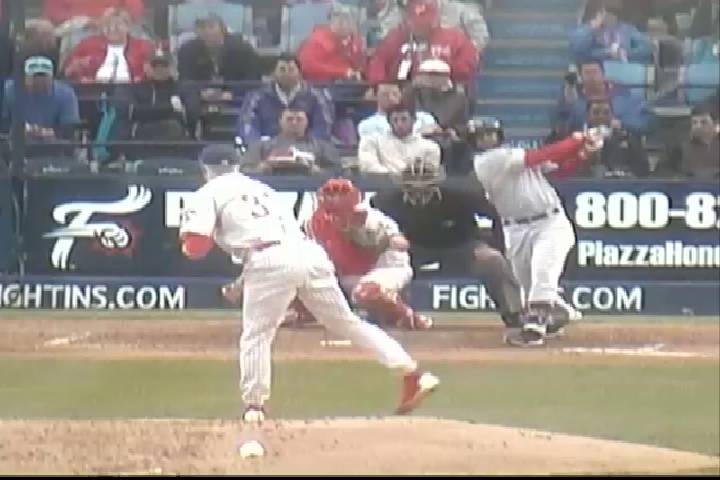 By Ashley Marshall / MiLB.com | May 6, 2014 12:37 AM ET
Deven Marrero has been a No. 2 hitter for most of his baseball career, but he's never had so much fun or played on a team with this much talent. It certainly helps when you're sandwiched between two of the better prospects in the organization.
Hitting behind baseball's No. 58 prospect Mookie Betts and in front of slugger Travis Shaw, who has 35 homers and 135 RBIs in his past two seasons, the shortstop is beginning to thrive.
First-rounder Marrero smacked a two-run homer, plated a career-high four runs and scored twice in the Double-A Portland Sea Dogs' 8-1 win over the host Reading Fightin Phils on Monday.
"It's a lot of fun," said Marrero, ranked 13th in Boston's system. "Mookie is always on base and Travis is hitting behind me. It's fun to watch and fun to be a part of. It's definitely one of the best lineups I've ever been a part of in my baseball career. We have guys who do so many good things. There's not just one type of hitter on this team, everyone is a special hitter."
Marrero walked in the first inning before slugging Mike Nesseth's 1-0 offering over the right-field fence in the second.
After striking out in the fifth and flying out in the seventh, the 24th overall pick in the 2012 First-Year Player Draft laced a two-run single to right in the eighth.
"Mookie got on like he always does and they pitched me more aggressive because Mookie is on base and a threat to steal," Marrero said of his home run at-bat. "[Nesseth] threw me a fastball and I attacked it and the wind helped carry it over. I'm not an oppo home run guy, but I hit the ball well and it went out."
The outing raised the Arizona State University product's average to .286 and took his RBI tally from 13 to 17. Seven of those 17 RBIs have driven Betts in, which might not come as a surprise when one considers how often Betts has been on base.
Since going 0-for-4 for Salem on Aug. 1, Betts has reached base in 62 consecutive games, including 30 regular-season Carolina League games, five Carolina League playoff contests, and this year, 27 Eastern League appearances.
In 2014, Betts is batting a Minor League-best .412 with a .469 on-base percentage. He also has 35 runs scored, which ties for first with Lancaster's Anthony Kemp.
Marrero has hit in the No. 2 spot in all 21 games he's played this year. Betts has batted leadoff in 20 of these games and Shaw has hit in the No. 3 hole in 20 games. As a result, Portland has featured the same 1-2-3 order in all but two of the contests Marrero has started this season.
Not including times when Marrero has led off an inning or Betts preceded his plate appearance with a homer, Betts has been on base for 44 of Marrero's 80 plate appearances.
"Mookie is amazing," said Marrero, who became the first Red Sox position player to be invited to Major League Spring Training the year after being drafted since Scott Hatteberg in 1992. "He just gets on and gets me in a good spot to hit. He's always moving and getting in scoring position and he makes it easy. I like to give him a chance to steal and I give him the freedom to do whatever he wants because I trust him to get it done.
"It definitely plays a factor. [Opposing pitchers] throw over a lot and that disrupts their timing and makes them uncomfortable. The chance of them leaving something over the plate is more likely if they're focusing on him."
Ashley Marshall is a contributor to MiLB.com. Follow him on Twitter @AshMarshallMLB. This story was not subject to the approval of the National Association of Professional Baseball Leagues or its clubs.
View More