Marshall goes distance for Rock Cats
Rockies right-hander allows three hits over nine innings in shutout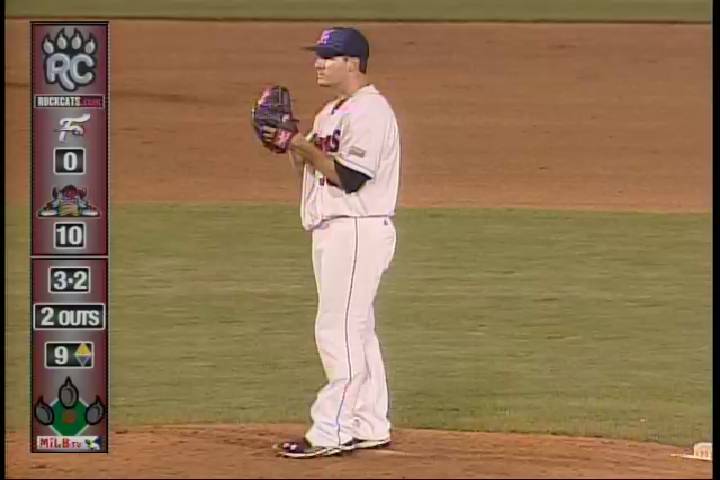 By Josh Jackson / MiLB.com | July 2, 2015 11:37 PM ET
Through his first few competitive starts in a new system, Brett Marshall has been trying to get into a rhythm. On Thursday night, he found it.
The 25-year-old Rockies right-hander unfurled a three-hit shutout in his sixth outing of the year, striking out eight, walking two and hitting a batter over nine innings in the Rock Cats' 10-0 romp over the Reading Fightin Phils at New Britain.
"I thought it went really well," he said. "I felt really good location-wise and just pounding the zone."
Marshall (1-3), who signed with the Rockies as a free agent in November and made four appearances -- one start -- in the Cactus League in March, suffered a forearm strain in his final outing before the regular season. After three games in extended spring training in May, he was sent to the Eastern League.
His complete game lowered his 2015 ERA to 4.91 and got him headed back in the right direction.
"For me, it's considered the beginning of the year," said Marshall, who made three big league appearances with the Yankees in 2013. "I was just trying to find it the first few starts, trying to get into a groove and getting all the mechanics together. Tonight was the first night that I felt like it was all there mechanically."
Four of the six Fightin Phils who reached base against the 2008 sixth-rounder did so in the first three innings. Marshall opened the game by plunking KC Serna, walked 12th-ranked Philadelphia prospect Andrew Knapp and Brodie Greene in the second and allowed a single to Serna with one out in the third.
"I was trying to go in on the first batter of the game and hit him. Oh, well. That's not the worst thing. Maybe it even ended up making a little bit of a statement," Marshall said. "The last batter of the third inning, I started picking up the catcher's mitt. I just zoned in on his mitt, that's it. Whatever [Tom Murphy] put down, I was with him. I agreed with everything he called."
He retired 10 in a row before Kelly Dugan dropped a hit into center field to start the seventh. Marshall induced a double-play ball off the bat of Art Charles, but Knapp then found a hole on the right side for the second Fightin Phils hit of the inning.
"They were both really good pitches," Marshall said. "One of the hits was a little lazy flyball between the outfield and the infield. The other one was a ground ball, we had the second baseman [Zach Osborne] shifted over, and if we hadn't moved him, it would have been right to him. I didn't miss my spot or anything, so it didn't bother me."
Marshall hadn't gone more than 6 2/3 innings in any of his five previous starts this year, but wasn't surprised he was allowed to continue.
"I didn't know how many pitches I had. I just go until they tell me I'm done," he said. "They asked me how I felt in the late innings, and I said, 'Good. I'm good. Don't touch me.' I ended up at 104 pitches, which is not too bad."
Pat Valaika tallied four RBIs while coming within a triple of the cycle, and Will Swanner plated three runs on two homers. Murphy, the Rockies' No. 7 prospect, hit his 12th home run, tying him with Altoona's Stetson Allie for second in the league. (Binghamton's Josh Rodriguez leads the circuit with 13.)
No. 8 Phillies prospect Jesse Biddle (7-2) was tagged for six runs on nine hits and a walk over five innings. He struck out seven.
Josh Jackson is contributor to MiLB.com. This story was not subject to the approval of the National Association of Professional Baseball Leagues or its clubs.
View More