Mason, Shearrow, Duran suspended
Relievers test positive for drugs of abuse; outfielder cited for PEDs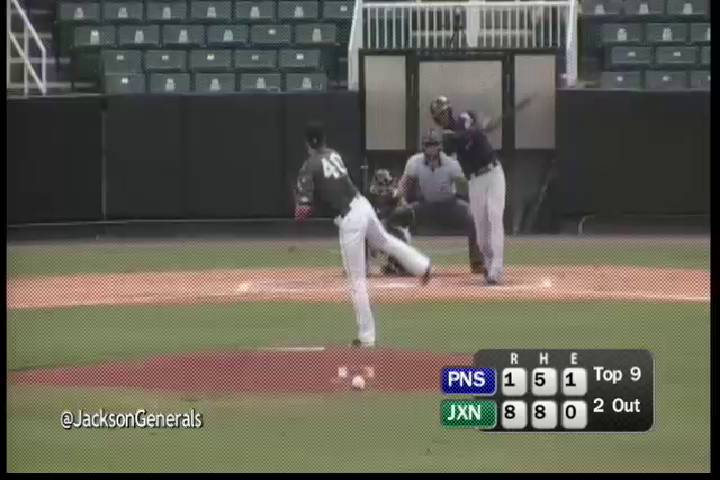 By Danny Wild / MiLB.com | February 5, 2016 5:12 PM ET
NEW YORK -- D-backs prospect Austin Mason, White Sox right-hander Lucas Shearrow and Reds outfielder Juan Duran were suspended Friday after testing positive for banned substances.
The Office of the Commissioner of Baseball announced that Mason and Shearrow received 50-game suspensions without pay following their second positive tests for a drug of abuse in violation of the Minor League Drug Prevention and Treatment Program.
Duran, who is on the Reds' 40-man roster, was suspended 80 games without pay after testing positive for Drostanolone, Stanozolol and Nandrolone, all performance-enhancing substances in violation of Major League Baseball's Joint Drug Prevention and Treatment Program.
Mason is set to begin his suspension in April, while Shearrow will start his in June when the Pioneer League season starts, according to the commissioner's office. Duran, who spent last year at Double-A, will begin serving his ban when the Major League season kicks off.
Mason, a 22-year-old right-hander, was the D-backs' 17th-round pick last summer out of The Citadel. He went 2-0 with a 3.21 ERA in 26 appearances for Rookie-level Missoula, helping the team win the Pioneer League championship. He compiled 30 strikeouts against 11 walks over 28 innings, making one start, and picked up a hold in the title-clincher over Idaho Falls.
Shearrow, 24, went 3-3 with a 3.17 ERA in 19 appearances last year for Idaho Falls. He signed with the White Sox as a non-drafted free agent in June 2014 and pitched in a dozen games that summer in the Rookie-level Arizona League.
Players are typically issued a warning following a first positive test for a drug of abuse and a suspension for a second offense. Substances considered "drugs of abuse" by Major League Baseball include cocaine, marijuana, heroin, LSD, ecstasy and other opiates.
Duran, 24, hit .269 with eight homers, 52 RBIs and a .308 on-base percentage in 66 games last season, mostly with Double-A Pensacola. The 6-foot-7 native of the Dominican Republic signed with the Reds in 2008 and was added to the 40-man roster last fall. His best Minor League season came in 2013, when he hit .251 with 20 homers and 66 RBIs for Class A Advanced Bakersfield. His spot on the 40-man roster means his suspension falls under the Major League drug program, rather than the Minor League version.
Drostanolone is an anabolic steroid marketed as Masteron and Stanozolol is a synthetic anabolic steroid derived from testosterone that is sometimes prescribed by veterinarians to encourage muscle growth, red blood cell production, bone density and to stimulate the appetite of weakened animals. Nandrolone, commonly sold as Deca-Durabolin, also is an anabolic steroid used to promote muscle growth, bone density and red blood cell production. It's considered a Schedule III controlled substance.
Major League Baseball has suspended 15 players this year for violations of the Minor League program. Friday's suspensions come a day after Padres right-hander Ryan Butler and sidelined Athletics righty Sean Murphy were banned 50 games apiece after testing positive for drugs of abuse.
Danny Wild is an editor for MiLB.com. Follow his MLBlog column, Minoring in Twitter. This story was not subject to the approval of the National Association of Professional Baseball Leagues or its clubs.
View More