Matzek does it all in Sky Sox's shutout
Rockies' No. 12 prospect belts first career homer, goes 7 2/3 innings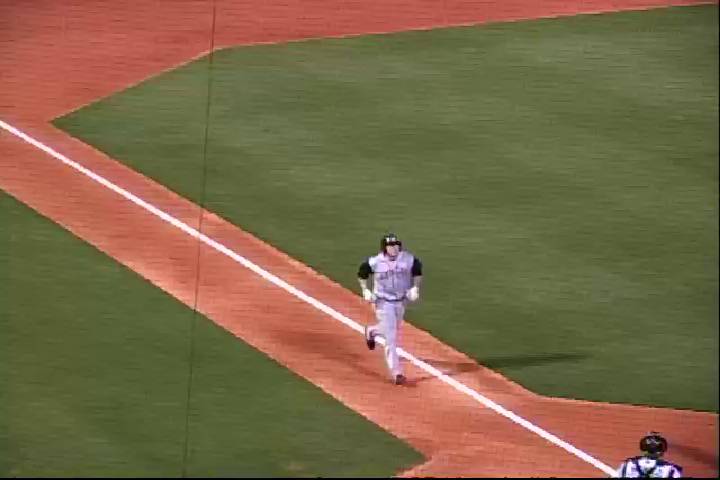 By Tyler Maun / MiLB.com | May 28, 2014 12:14 AM ET
It would be easy for a pitcher to be extra impressed with himself after providing his own run support while crafting a shutout. Tyler Matzek isn't giving himself any style points, however.
The Rockies' No. 12 prospect allowed four hits over 7 2/3 innings and blasted the first home run of his professional career Tuesday night as Triple-A Colorado Springs blanked Nashville, 2-0.
After completing his fifth scoreless inning, Matzek led off the sixth against Sounds reliever Johnnie Lowe and cranked a 1-2 offering over the left-field wall to break a scoreless deadlock.
"I didn't think I got it," Matzek said. "I didn't know I had the power to actually get it out. I broke out of the box pretty hard and I was actually rounding first really hard. I coasted into second and then made my way around pretty slow, but I was running out of there pretty fast out of the box."
Upon his return to the Sky Sox dugout, the 2009 first-round pick was ready to tend to the business of keeping his shutout intact. His teammates urged otherwise, at least momentarily.
"They were telling me to smile and laugh and have a good time," he said. "I was just focused on going out there and getting the next guy out, but they were telling me to enjoy the moment. With great teammates like that, it's easy to have a good time with them."
Matzek (5-2) put his defense to work throughout his scoreless night. He recorded 11 outs on the ground, eight in the air and benefited from stellar glove work.
"It doesn't show it in the book, but my 'D' was making some amazing plays," he said. "[Third baseman] Ryan Wheeler made some great snags in the first and second inning. [Shortstop Drew] Garcia made a great snag. My outfield was doing really well out there. That really was what helped me stay in the game and gave me the confidence to throw the ball over the plate and let the guys hit it."
Matzek faced just one batter over the minimum through four innings and worked around hits in the fifth, sixth and seventh. In his final frame, the 23-year-old left-hander retired the first two Sounds before issuing a walk to Eugenio Velez that ended his night. He hadn't cracked 80 pitches when he opened the eighth and finished with 94, including 59 for strikes, an efficient number for a pitcher who has notably struggled with command issues at times.
"In the past, there have been problems with throwing balls and my stuff has always been there. It's never gone away. It just hasn't been over the plate," Matzek said. "I've been trying to figure it out, get it over the plate. I'm staying back over the rubber, which allows me to get it over the plate. Guys are starting to hit balls and put them on the ground and put popups to my guys. They're doing a great job snagging them and getting guys out."
Colorado Springs turned to right-hander Chris Martin, who worked the final 1 1/3 innings to earn his fourth save and complete the Sky Sox's Pacific Coast League-leading sixth shutout.
Tuesday marked Matzek's fourth straight win since a May 5 outing in which he was roughed up for 11 runs -- eight earned -- on 13 hits over five innings against Memphis. He's allowed only three earned runs over his last 24 2/3 innings -- good for a 1.09 ERA -- while striking out 17 and walking 10. He's a phone call away from a beleaguered pitching staff in Denver that has seen starters Brett Anderson and Tyler Chatwood land on the 60-day disabled list.
"Worrying about that's not going to help me at all," Matzek said of a possible promotion. "I'm trying to not even listen to it or talk about it at all. It's not going to help me pitch better here and it's not going to make me get to the big leagues or anything like that. It's not going to make me, personally, get any better, so why would I do it? I'm not worried about that. I'm just trying to stay focused on one pitch at a time and one start at a time."
Nashville went 0-for-4 with runners in scoring position and mustered just one extra-base hit.
Colorado Springs tacked on an insurance run in the ninth when Jackson Williams drew a bases-loaded walk.
Lowe (0-1) took the loss, allowing Matzek's homer among two hits over 2 2/3 innings.
Tyler Maun is a contributor to MiLB.com. Follow him on Twitter @TylerMaun. This story was not subject to the approval of the National Association of Professional Baseball Leagues or its clubs.
View More