May still making strides with Rock Cats
Minnesota's No. 7 prospect holds Trenton to a pair of singles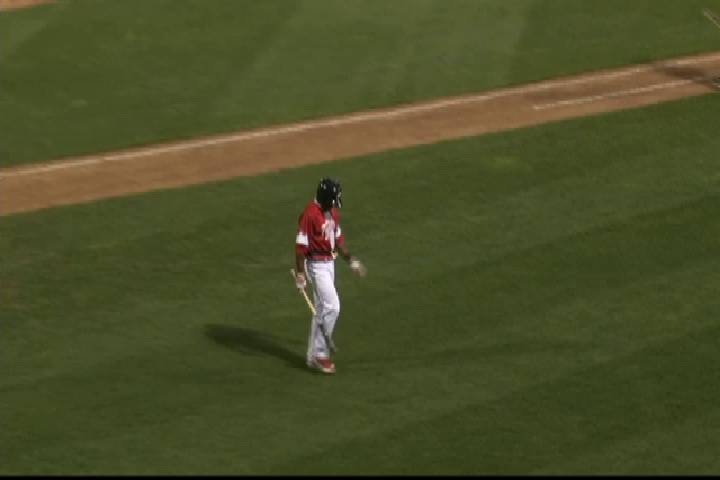 By Danny Wild / MiLB.com | August 26, 2013 9:11 PM ET
Beyond the strikeouts and long innings and one-on-one battles, Trevor May is looking back at this season from a wider perspective following a disappointing 2012 campaign. Things, he said, are finally starting to come together, but the season is in its final weeks.
"I'm finding out how I am as a pitcher, I've figured out pitching in the pros," said May, the Twins' No. 7 prospect. "I put myself into positive situations. I've wanted to go deeper and the pitch counts are high, so I wish it wasn't this late. I'm definitely going into next year with this, I feel like I'm taking big steps and it'll only get better from here."
May (9-9) held the Trenton Thunder to a pair of hits while striking out nine over six innings for his ninth win in New Britain's 5-3 victory Monday. The righty whiffed nine batters for the second time in three starts, but he needed a lot of pitches to do it -- he threw 64 of his 96 pitches for strikes, facing 23 batters. He walked one and beaned two more, handing the ball over to his bullpen after escaping a bases-loaded jam.
"I felt strong, I got an extra day between today and my last start, so I felt fresh, it definitely helped," he said. "I was pounding the strike zone early and just let things go. It was definitely good."
May has won three of his last four decisions, including two starts against Trenton. Overall, he can see the progress he's made, but feels it's come a little too late to dress up his overall numbers.
"There's a lot of things I wanted to accomplish that I wasn't able to," May said. "It's been a roller-coaster year, but I've learned why I have these type of years, where a couple outings will make the numbers look a lot worse than they are."
On Monday, May continued to pitch like a veteran. His challenge, he said, has been finding the line between blowing away batters with his fastball and getting early outs by pitching to contact.
"I felt strong, felt like I had some life in the fastball," he said. "My curveball was going out well and the changeup was good as well. This is definitely the time to go out and focus on each pitch and hit some spots, let good things happen. I had enough on the fastball that it missed some barrels."
May whiffed Yankees No. 2 prospect Mason Williams to start the night and struck out the side in the second en route to retiring the first 12 batters he faced. Trenton's Kyle Roller worked a leadoff walk to start the fifth and May pitched around his second baserunner after he hit Casey Stevenson with two out, but the Thunder got their first hits in the sixth.
Williams lined a one-out single, Ramon Flores followed with a base hit to left and May beaned Roller to load the bases, but May struck out Jose Pirela and popped up Carmen Angelini to escape unscathed.
"I was just trying to make the perfect pitch and I didn't let myself continue what I was doing," he said. "It was the most pitches I'd thrown in any inning. Some guys were fouling some balls off, but I got the last guy and got out of it."
Dan Turpen took over and was charged with three runs on two hits and a pair of walks over 1 2/3 innings. Ryan O'Rourke worked the final four outs to pick up his first save for the Rock Cats.
May said he's been battling a cold for the last week, although it didn't hurt him too much Monday. His pitch count, closing in on 100 after six frames, was the real factor.
"I'm happy with the progress I've made, there's a positive that I can take out of every outing," he said. "Just let things happen as they should. I wanted to cut down on the walks and go a little bit more go deeper into games, be a little more efficient and get the pitch total down more, but a lot of that comes to pitching to contact. My strikeout numbers are high and sometimes with enough foul balls, sometimes it doesn't happen. It's a balance, I'm never going to be one way or another guy, all strikeouts or all pitching to contact."
May's nine strikeouts fell one shy of his season high, which he set May 10 against Portland. In that game, the righty threw 94 pitches in a seven-inning complete game. His career high for strikeouts is 14, which he's done twice (June 22, 2011 at Class A Advanced Tampa and July 27, 2010 for Class A Lakewood).
He came to the Twins in a trade for Ben Revere last winter when the right-hander was ranked as Philadelphia's No. 1 prospect. Minnesota's farm system is substantially deeper than the Phillies -- May is currently ranked as the Twins' No. 4 right-handed prospect, behind Alex Meyer, Kohl Stewart and Jose Berrios.
May said his progress late in the season leaves the door open for a 2014 season with some real results.
"I've made adjustments in my approach in how I go about pitching that's allowed me to be consistent over the last five or six outings," he said. "I've been able to pound the zone more, eventually got a little lucky and things go better. I'm seeing results. I feel in control, but I've figured this all out 20 starts into the season. My goal is to continue my focused approach."
Brad Boyer plated three runs and Reynaldo Rodriguez scored three times for New Britain.
Danny Wild is an editor for MiLB.com. This story was not subject to the approval of the National Association of Professional Baseball Leagues or its clubs.
View More