McCanna, Garza lead Tri-City no-hitter
Houston righties combine for eight innings, lefty Person handles ninth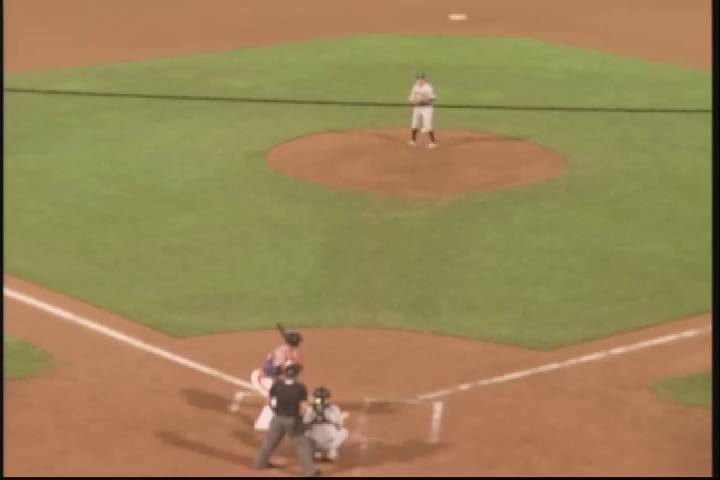 By Josh Jackson / MiLB.com | August 7, 2015 12:29 AM
Sometimes it is better to not know. Ask Ralph Garza.
"I came in and I never looked at the scoreboard. At one point in the fifth or sixth, I didn't know there were two outs," said the 21-year-old righty, who entered the Tri-City ValleyCats' Thursday night no-hitter in the fifth and threw four perfect innings.
"I never knew until the ninth when [Zac] Person went out there. I didn't know until I was standing up at the railing with [starter Kevin McCanna]."
Garza, who got the win, struck out seven -- including five in a row -- during his tenure. McCanna fanned five and walked one over four frames, while Person worked a 1-2-3 ninth in the Class A Short Season ValleyCats' 5-0 blanking of the IronBirds in Aberdeen.
"I'm feeling great. That's something that doesn't happen too often," said McCanna, an Astros' 13th-round pick this year. "Myself and Zac Person and Ralph are all really excited. It was awesome."
The no-no is the second in franchise history for Tri-City, with the first coming more than seven years ago by another trio -- Shane Wolf, David Miller and Ashton Mowdy.
"I was just throwing strikes, trying to get ahead of hitters," McCanna said. "I was trying to put them away as fast as I could and let my defense work behind me."
The 21-year-old righty lowered his New York-Penn League ERA to 3.28, and he's 0-2 over nine games -- three starts. After his exit, he tried to keep a cool head on the bench.
"I didn't really try to think about it too much, like it was just another game and I was just watching another game," McCanna said. "After Ralph did his thing out there, I was feeling really good, and then it was great to see Zac come in and close the door."
Garza (1-1), whom the Astros grabbed in the 26th round this year, struck out one in the fifth, then punched out the side in order in the sixth and two more to start the seventh. He couldn't help but notice he'd whiffed a string of hitters in short order, but he didn't think about how many.
"I never really pay attention to any numbers until after I'm pitching," said the right-hander from New Braunfels, Texas. "If I do, I won't focus up. Then the next inning, things go bad, and there go the numbers."
He's collected 36 strikeouts over 24 1/3 New York-Penn League innings while going 1-1 with a 2.59 ERA across nine games -- two starts. He saw the no-hitter as the culmination of effort he and his fellow hurlers have made with catcher Anthony Hermelyn.
"I'm pretty excited. I don't think I've ever been a part of one or even close to throwing a no-hitter. It's a great feeling," Garza said. "It's like the work we put in coming together into one night to show what we're able to do with Herm behind the plate."
Person got the ball for the ninth, and the 2015 ninth-rounder tried to block out the fact that his team was three outs from a no-hitter.
"In that situation, I wasn't really paying attention to it. No one said anything in the bullpen because nobody wanted to jinx it," he said. "You can't help being aware of it, but it's one of those things where if you don't talk about it, it's easy to swallow it. I told myself not to think about it, because if I thought about it, it would have hindered me."
The 22-year-old southpaw threw just 15 pitches, retiring Glynn Davis -- who's on rehab assignment from Double-A Bowie -- on a fly ball to right field to finish the job.
"I figured if I attacked the zone, didn't get wild and didn't get into trouble, I'd give the defense a chance to play behind me," Person said. "They were great all game."
Aaron Mizell went 3-for-5 with two triples, an RBI and a stolen base for the ValleyCats.
Josh Jackson is a contributor to MiLB.com. This story was not subject to the approval of the National Association of Professional Baseball Leagues or its clubs.
View More