McGowin closes the book on strong May
No. 17 Angels prospect twirls seven shutout innings for Travelers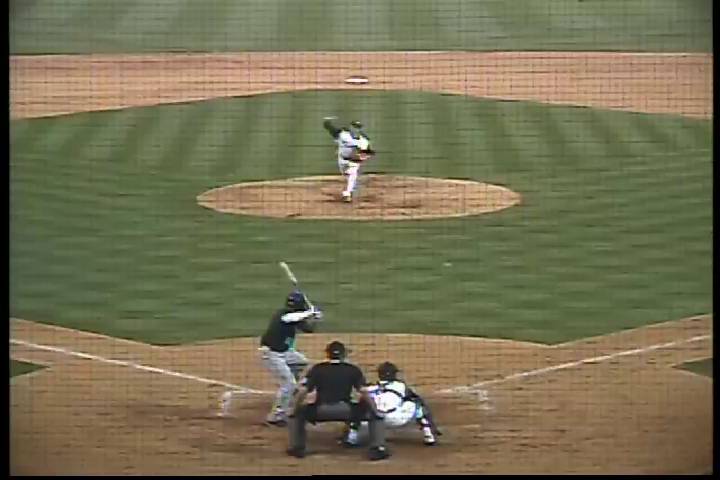 By Ashley Marshall / MiLB.com | May 29, 2015 1:33 AM
Angels right-hander Kyle McGowin came into 2015 thinking too much about the past, specifically an elbow injury that ultimately didn't turn out to be as bad it is possibly could have.
His head wasn't in the right place and the early results reflected that. Once he changed his outlook and adopted a more positive mentality, the game became a lot easier for him.
The No. 16 Angels prospect scattered three hits and two walks while striking out three over seven innings in the Double-A Arkansas Travelers' 1-0 win over the visiting San Antonio Missions at Dickey-Stephens Park on Thursday.
McGowin threw 54 of 86 pitches for strikes and induced nine ground-ball outs in lowering his Texas League ERA to 4.66.
"If you're not mentally locked in, one little bad thing can turn into something worse," he said. "When I started being positive was when I started doing better. I just had to tell myself the past is behind me.
"My arm is feeling better than it was coming off the injury last year. I told myself that it wasn't like I needed surgery, so just go out with what you have."
Selected in the fifth round of the 2013 Draft out of Savannah State, McGowin retired nine of the first 10 batters he faced before Trea Turner raced for a one-out triple to right field in the fourth inning.
He hit Tyson Gillies with a pitch with one out in the sixth, but Gillies was thrown out trying to steal second base and McGowin induced a popup from Luis Domoromo to carry his shutout into the seventh.
Hunter Renfroe and Diego Goris recorded consecutive one-out singles to give the Missions their first runner in scoring position against McGowin and Duanel Jones walked to load the bases, but Griff Erickson flew out to left field to strand the runners.
"I was able to inside and outside and work in my offspeed really well," the 6-foot-3 right-hander said. "I didn't have my best slider, but the others were good. [The slider] is my go-to pitch, for sure, but I wasn't able to locate it for strikes. I kept them off balance with my two-seam fastball and that set up my changeup, which proved it can be a good pitch."
McGowin called the outing his best start to date this year and said he was able to minimize his pitch count by pounding the lower half of the zone to elicit weak ground balls and put his defense to work.
"I was finally able to get some innings in and have a low pitch count. I didn't have to work so hard," the New York native said. "They asked if I was feeling good [after seven innings], but they said they wanted me to call it a night and be satisfied with what I had."
McGowin is in his third year of pro ball. The 23-year-old went 1-1 with a 6.28 ERA in nine Pioneer League games for Rookie-level Orem in 2013 and he was 1-6 with a 3.03 ERA in 12 games across three levels last season after missing the second half of the year with elbow soreness.
He rehabbed the elbow with regular strength and conditioning programs and built his power and range of movement back up with therapy. Despite feeling like his elbow was almost fully healthy entering Opening Day, he said he didn't have the right mind-set to put that injury behind him.
McGowin struggled in April, allowing 14 runs on 23 hits and nine walks in two games against Midland and one in Springfield. Since the calendar turned, so did McGowin's performances.
The fourth of seven pitchers the Angels selected to begin the 2013 Draft, McGowin has since allowed more than three runs just once in six May outings. He has surrendered just two earned runs in his past three starts.
Travelers reliever Kurt Spomer (2-1) struck out two batters over two hitless innings to complete the shutout.
Tayron Guerrero (1-3) surrendered an unearned run on two hits and a pair of walks over 1 1/3 innings for San Antonio. Starter Casey Kelly gave up two hits over four scoreless innings, but did not factor in the decision.
Ashley Marshall is a contributor to MiLB.com. Follow him on Twitter @AshMarshallMLB. This story was not subject to the approval of the National Association of Professional Baseball Leagues or its clubs.
View More