McGuire flashing offensive potential
Pirates' No. 5 prospect records first four-hit game at Double-A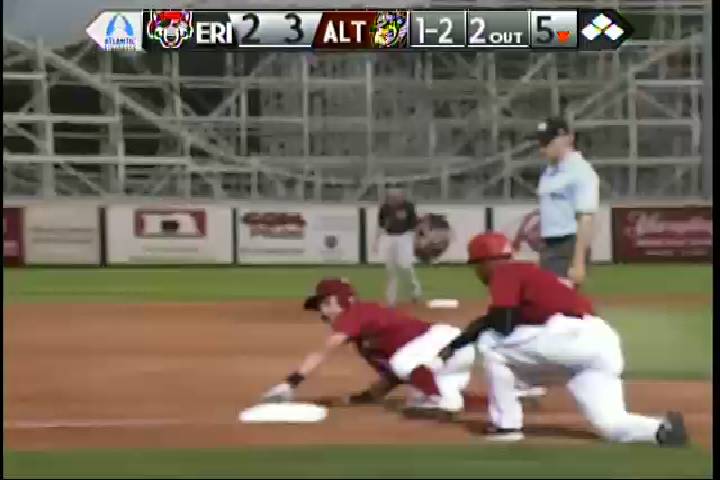 By Michael Avallone / MiLB.com | July 26, 2016 11:18 PM
Reese McGuire has more than held his own as a 21-year-old playing his first Double-A season. If there's one thing he's figured out as a professional, it's that defense comes before offense for catchers. But he'll certainly take a night at the plate like he had on Tuesday.
The Pirates' fifth-ranked prospect collected four hits for the first time in nearly two years, going 4-for-5 with an RBI to help Double-A Altoona to its fifth straight win, a 6-2 triumph over Erie at Peoples Natural Gas Field.
It was the fifth career four-hit game for McGuire and his first since Aug. 26, 2014 for Class A West Virginia. But the 14th overall pick in the 2013 Draft said he knows his job begins and ends behind the dish.
"That's the one thing I've learned during my years in pro ball -- the importance of my defense and how important it is to be there for all nine innings," he said. "If my at-bats aren't great, it's only four or five times per game. But I can at least control all 27 outs.
"You need to seperate the offense from the defense as a catcher, and that's something I've done a tremendous job of this season. The defense can actually help me on offense, too. If I throw someone out or pick someone off, it brings some positive momentum into my at-bats as well."
McGuire didn't need any extra help against the SeaWolves. He led off the second with a bunt single to third and scored on Stetson Allie's base hit. The Seattle native led off the fourth with another single, this time to center, and scored again on Allie's second RBI single of the game. He legged out his second triple of the season in the sixth and drove an RBI single to center in the seventh.
"I think it's the nature of being a hitter," McGuire said. "I love hitting with runners in scoring position. For me, I love when the guy in front of me gives me the opportunity to drive him in. At times, you can see the pitcher pick a bit, and that's when you catch yourself in a good count and with a pitch to drive. I have to give credit to the guys behind me and up and down our order. They can all get the job done."
McGuire got a chance in the eighth to notch his first career five-hit game, but his comebacker to reliever Gustavo Nunez resulted in a fielder's choice.
"I was trying hard, for sure," he said of a fifth hit hit. "I can't lie, it was definitely on my mind. I got into a good count and got a good pitch to hit, but the pitcher made a nice play. But I was happy with the at-bat and happy for the team. We had [16] hits and the pitchers only allowed two runs. Our offense and defense was in sync tonight. It was fun."
Anderson Feliz also chipped in four hits for Altoona, while Allie went 3-for-4 with a pair of RBIs.
Pirates No. 15 prospect Clay Holmes (9-6) scattered six hits over six innings and allowed two runs with two walks and three strikeouts for the Curve.
Myles Jaye (4-8), the Tigers' No. 23 prospect, allowed five runs -- four earned -- on a season-high 11 hits over 6 2/3 innings for Erie. He struck out five without issuing a walk.
Michael Avallone is a contributor to MiLB.com. Follow him on Twitter @MavalloneMiLB. This story was not subject to the approval of the National Association of Professional Baseball Leagues or its clubs.
View More