McMahon keeps rolling in Tourists' rout
Rockies prospect drives in five runs, extends Sally League RBI lead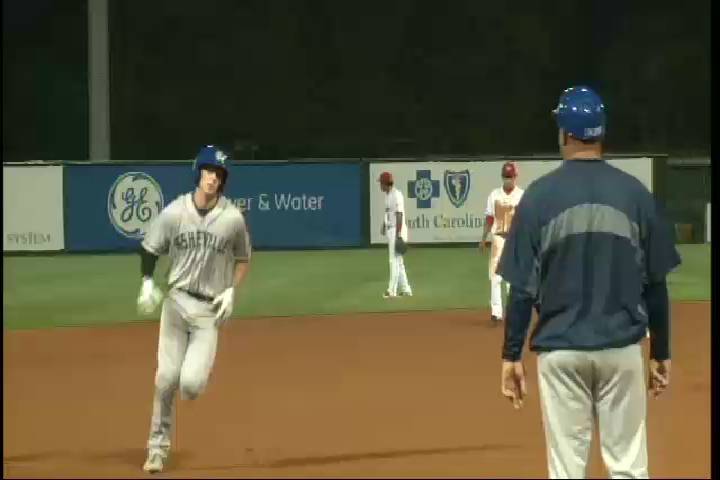 By Tyler Maun / MiLB.com | May 2, 2014 11:59 PM ET
Ryan McMahon knew it was a good night at the plate for his team, but he might not have realized just how good.
The Rockies' No. 5 prospect drove in five runs, just five nights after a six-RBI performance, as Class A Asheville thumped Lakewood, 14-3, on Friday night at McCormick Field.
Behind a 16-hit attack that featured seven extra-base hits, Asheville went an eye-opening 10-for-24 with runners in scoring position.
"Wow. That's ... that's ridiculous," McMahon said.
The Tourists played from behind early after Willians Astudillo singled home the BlueClaws' first run of the game in the first inning. It didn't take long for Asheville to take control, however.
McMahon put the Tourists on the board with a two-run single in the bottom of the first. Asheville sent 11 men to the plate in the opening frame and plated six as Correlle Prime, Rockies No. 8 prospect Raimel Tapia, Wilfredo Rodriguez and Max White collected RBIs.
Every member of the Tourists lineup had at least one hit, led by Tapia's three. Tapia was one of six Asheville players who registered multi-hit games.
"When your buddies have success," McMahon said, "it makes you want to have success. It just kind of gets rolling and you want to be hitting every inning."
Asheville basically did just that. Scoring in six of their eight trips to the plate, the Tourists pulled away. McMahon added an RBI groundout in the fourth and blasted a two-run double in the seventh.
"I just had a bunch of guys on base," he said. "I had runners, I think, on second and third twice tonight. That always helps."
McMahon entered the day leading the South Atlantic League and tied for second place in the Minor Leagues in that category. Though his batting average has dipped to .284 since it hit a season-high .341 on April 16, the former high school quarterback is finding ways to be productive from his spot in the heart of the order.
"I think [a football mentality] helps," McMahon said. "It's obviously a very long season. You've got to be able to forget the good and the bad. You've got to be able to take it day by day, game by game and pitch by pitch."
Asheville boosted its league-leading team batting average to .289 en route to its seventh straight win.
"Our clubhouse, the vibes between the guys and the relationships between people, it's fantastic," McMahon said. "Everybody pulls for each other, everybody wants each other to succeed. We have really good team chemistry. It's fun to play when everybody's being successful."
Tourists right-hander Konner Wade (2-2) benefited from the run support, going seven innings and allowing two runs on seven hits while walking a pair and striking out one.
Lakewood starter Mark Leiter (3-2) retired just one batter, allowing six runs on six hits and a walk with one strikeout. The Tourists scored at least two runs off each of the BlueClaws' three relievers who followed, tagging Julio Reyes for two and Delvi Francisco and Cody Forsythe for three apiece.
Tyler Maun is a contributor to MiLB.com. Follow him on Twitter @TylerMaun. This story was not subject to the approval of the National Association of Professional Baseball Leagues or its clubs.
View More