Mesa notes: Candelario's mentality pays off
After hot start to AFL, Cubs prospect maintains mindset of learning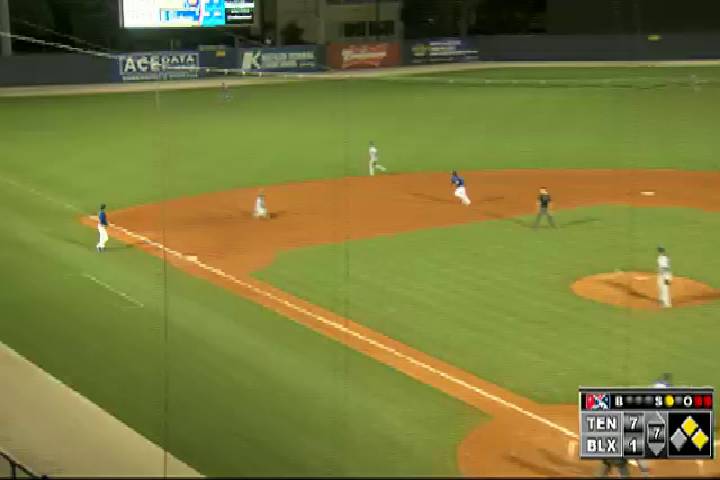 By Josh Jackson / MiLB.com | November 7, 2015 10:00 AM
For Jeimer Candelario, it all comes down to mental preparation.
In the first Arizona Fall League game he started, the Cubs' No. 20 prospect went 3-for-4 with a double, a run scored and a walk. The next day, he was 5-for-5 with two homers and three doubles to collect four RBIs. In his next game, he homered again and had two hits.
"I was ready, in a ready mentality," said Candelario, who logged some extra time on the field between the end of Double-A Tennessee's season and the time he suited up for the Mesa Solar Sox on Oct. 13. Candelario's father, Rogelio, moved the family from New York to the Dominican Republic and opened a youth baseball center when Candelario was 5.
"I worked hard after the season in the Dominican Republic to do the best I can," he said. "I am working hard every day, and I was working with my dad [there] for a couple days. He's got a program with a bunch of kids, and I've always practiced with him, and I've learned a lot with him."
His preparation with his dad paid off with the hot start, and even when Candelario's numbers came back down to Earth, he hit well enough to win the fans' Final Vote to get into Saturday evening's AFL Fall Stars Game. Through 11 games, he slashed .341/.362/.682 with 11 RBIs and six doubles to go with his three homers.
Over 82 regular-season games with the Myrtle Beach Pelicans in the Class A Advanced Carolina League and 46 with the Smokies in the Southern League, Candelario batted .277 with 10 homers. Still, hitting three almost immediately in the AFL didn't have him swinging for the fences.
"I was trying to not concentrate on hitting home runs," he said, "I just wanted to put a good swing on the ball, because if you do that, something happens. If you look for a good pitch, and if you hit it well, the ball is going somewhere.
"I'm always looking for a good pitch to hit, looking up and down, but I've always got to be working hard and be patient to look for [pitchers'] mistakes."
A third baseman, Candelario not only had a career year at the plate but made great strides in the field, where his arm rates as a 55 on the 60-80 scouting scale.
"I'm really happy about the adjustments I did on my defense," over the last year, he said. "I worked hard with [Pelicans manager] Mark Johnson and with my other coaches on that."
More than focusing on any one particular element of his development, though, Candelario comes to the field -- whether in the Carolina League, the Southern League, the Dominican Republic or the Arizona Fall League -- with an open mind, ready to learn.
"I've been working on both defense and offense every day, because I need to learn a lot," he said. "If I learn a little bit every day, that's going to be awesome, and I'll be ready to go when I get to the Major Leagues."
In brief
Hot and cold: Candelario wasn't the only Mesa player to get off to a torrid start to the AFL. Angels prospect Chad Hinshaw hit safely in his first five Solar Sox games, collecting multiple knocks in four of them. Although he walked twice and earned an RBI in Oct. 29's 5-3 win over Surprise, Hinshaw went without a hit in that one and in his next two games after that, causing his average to drop from .545 to .375. He began to rebound with two hits Wednesday.
Bash brothers, revisited: Ranked Oakland duo Renato Nunez (No. 6) and Chad Pinder (No. 7) were tied for second in home runs (along with Surprise/Kansas City's Bubba Starling and Scottsdale/Minnesota's Adam Brett Walker II), having slugged four through Mesa's first 19 games. The impressive thing? Pinder had only played in seven of those games. Nobody else had more than two homers in seven or fewer AFL games.
Lopsided: Through those first 19 games, the Solar Sox were just 4-15, yet the club was far and away the team leader with 28 homers (the Surprise Saguaros, second in the category, had 22 homers in 20 games), and was third in hits (170), runs scored (89), RBIs (88) and OPS (.778). So what's with the lowly record? The combination of a defense that leads the league with 27 errors and a pitching staff that's given up more hits (214), walks (94), home runs (24), runs (153) and earned runs (137) has been tough to overcome.
Josh Jackson is a contributor to MiLB.com. This story was not subject to the approval of the National Association of Professional Baseball Leagues or its clubs.
View More