Mets' Rodriguez fuels doubleheader sweep
Pina homers twice, No. 9 prospect Herrera adds five hits in two wins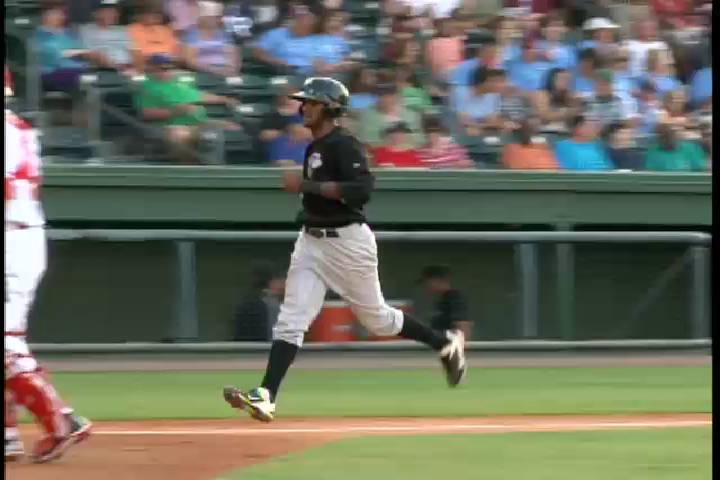 By Danny Wild / MiLB.com | June 12, 2014 9:23 PM ET
With the division race on the line, Class A Advanced St. Lucie had no shortage of volunteers stepping up Thursday.
"It's always nice to see the guys follow through with the approach we're trying to instill," said Mets manager Ryan Ellis. "Today was one of those days, we were really getting on fastballs, and that's what happens when we're patient with it. We were able to put the ball in play hard."
Aderlin Rodriguez had five hits and five RBIs, Eudy Pina homered twice and Dilson Herrera added five hits to help St. Lucie sweep a doubleheader at Jupiter, 12-7 and 14-7, to stay alive in the playoff hunt Thursday afternoon.
Rodriguez extended his hitting streak to 10 games with a double in Game 1 and four hits in Game 2. The third baseman, who raised his average 16 points, went 4-for-5 and fell a home run shy of hitting for the cycle in the nightcap.
Pina, the Mets' No. 9 hitter, sat out the first game before going 4-for-4 with two homers, four RBIs and three runs scored in the 14-7 win. Herrera, the Mets' No. 9 prospect, went 4-for-4 in the first contest and added a double in the second, raising his average to .312.
"I think it was the approach, he's slowing himself down," Ellis said of Rodriguez. "[The Hammerheads] know us pretty well. Aderlin is in his second full year here and he was just really patient on getting a good pitches to drive, especially with the fastball. He was taking borderline pitches and waiting for something to hit."
Ellis said he was a little surprised to see a two-homer day from Pina, who entered the game batting .205.
"He's been another guy with the approach we've been talking about. Laying off breaking balls early in the count, waiting on the fastball -- he was able to jump on some elevated fastballs, some that were maybe even out of the strike zone, and he was able to put the ball in play," he said. "And they were just regular swings, he didn't come out of his shoes. They just happened to go out."
Herrera, meanwhile, has been rising through the Mets system since they signed the middle infielder out of Colombia in 2011. The 20-year-old has a nine-game hitting streak and is batting over over .300 against both southpaws and right-handers this season.
"He's not only playing well but he brings an energy to the ballpark every day," said Ellis. "He's versatile. He can play short and second. He's coming off a minor hiccup injury, more precautionary than anything, but for him to come back and play like that is very encouraging. It's been encouraging all year. He's played very good defense, he turns a double play really well, and he's able to move over to shortstop. He brings some speed and power to his game and he's becoming more knowledgeable about the game as the weeks progress. I'm interested to see where he's at in a few weeks and months from now."
The sweep was timely for the Mets, who could have been eliminated from their first-half division race had they dropped both games -- Fort Myers (38-27) could have wrapped up the Florida State League's first-half South Division crown with a win and two Mets losses.
Instead, St. Lucie got to Jupiter starter Charlie Lowell early in Game 2, victimizing him for seven runs on four hits and three walks while recording just one out in the first.
"It's nice to just play well regardless," said Ellis, a former infielder who was drafted by Montreal in 2000 before turning to coaching in 2005. Ellis took over as manager of St. Lucie in 2012, when the Mets reached the playoffs but fell in the first round. They have not returned since.
"We can't control what Fort Myers is doing, they have a good team," he said. "We put ourselves in a position to be able to compete in the end of the first half. If you had asked me in the beginning of the year if we had a chance to now be on the doorstep with three games left, everyone would take that. We're going about our business, today happened to be a good day, we still have some things to work on and continue to improve as a team and not worry about whatever everyone else is doing. If Fort Myers keeps winning, so be it. If not, we can give ourselves a chance to be there on the last day."
Mets starter Gabriel Ynoa (7-2) picked up the win in Game 1 despite allowing seven runs on 10 hits over 5 2/3 innings and Seth Lugo (3-0) earned the win in relief of Game 2, holding Jupiter to three runs over 3 1/3 innings after Matt Koch surrendered four runs in 3 2/3 frames.
Danny Wild is an editor for MiLB.com. Follow his MLBlog column, Minoring in Twitter. This story was not subject to the approval of the National Association of Professional Baseball Leagues or its clubs.
View More