Mets' Young dazzles in rehab with 51s
Syndergaard, Las Vegas teammates learn from outfielder's effort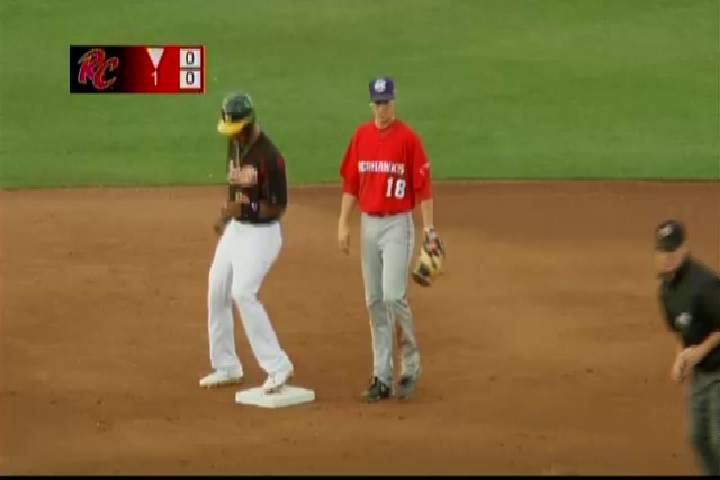 By Kelsie Heneghan / MiLB.com | April 15, 2014 2:21 AM ET
While his career with the Mets may have started out like a bad dream, outfielder Chris Young has put up fantasy-like numbers to date in his rehab stint with Triple-A Las Vegas.
In two games with the 51s, Young went 7-for-8 with two homers, six RBIs and two intentional walks. His latest outing helped pave the way in Las Vegas' 5-2 win over Fresno on Monday.
"It's definitely a great atmosphere with him," said Noah Syndergaard, who improved to 2-1 with the win. "He brings a lot of spark. He's a force to be reckon with, [and] it's a lot of fun having him on the team."
Young missed New York's Opening Day with a strained right quad and then attempted to play the following day, but left after just one inning. The next day, he went on the disabled list.
Syndergaard allowed two runs on five hits while striking out five over five innings. The Mets' top prospect has learned a lot during Young's time with the 51s.
"The way he carries himself, the swagger I guess you could call it, [and] his confidence as a big leaguer," the 6-foot-6 right-hander said. "That's what separates Major Leaguers from Minor Leaguers, their ability to go out there and be confident."
Young is entering his ninth season in the Majors. He's hit .235 with 825 hits, 499 runs and 448 RBIs over 993 games, mostly with the D-backs. After one season with the A's, he signed a $7.25 million with the Mets this offseason.
The 2010 All-Star is expected to rejoin the Mets on Friday as they begin a 10-game homestand.
Kelsie Heneghan is a contributor to MiLB.com. Follow her on Twitter @Kelsie_Heneghan. This story was not subject to the approval of the National Association of Professional Baseball Leagues or its clubs.
View More