Midwest notes: Nay learning the hard way
Lansing infielder, grandson of Major Leaguer, leads league in doubles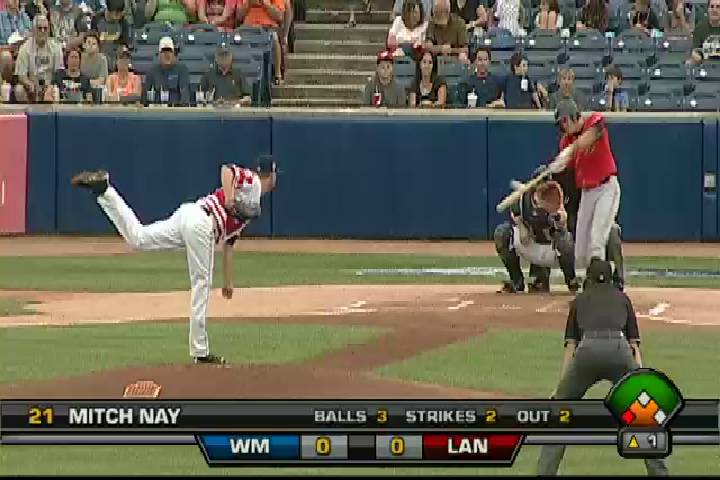 By Curt Rallo / Special to MLB.com | August 21, 2014 10:00 AM
Lansing third baseman Mitch Nay's love for baseball was cultivated early. His grandfather, Lou Klimchock, played Major League Baseball from 1958-70 for five different teams.
Growing up in Arizona, Nay frequently went to Spring Training games with his grandfather. When Nay was in high school, the 6-foot-3, 195-pound right-handed hitting third baseman went to Arizona Fall League games. Selected in the first round of the 2012 Draft, Nay is now realizing the complexities of the game he grew up watching as a fan.
"Watching from afar is different than being in it," Nay said. "You realize how tough it is, and that it's going to take a lot of effort, will power and a lot of hard work."
Nay's understanding of the game came into focus this season. From April 30 to May 30, he had zero doubles. In June, July and August, Nay has hit 26 two-baggers and now leads the Midwest League with 34. He was promoted to Class A Advanced Dunedin on Aug. 19 and made his debut in Florida on Wednesday night.
"In April and May, I don't know what I was thinking about," Nay said. "It was so crazy to me. I was thinking about all kinds of different things that I shouldn't have been thinking about. Then I got into June, started to feel batter, and then July hit and I really started to feel better.
"The numbers were definitely frustrating for me," Nay continued. "In April, I blamed the weather. Then, May hit and things started to get worse, and I really didn't know where to go from there. I was confused. May was a blur to me. I kind of came out of it in June. From there, it's just a matter of hitting the ball more squarely and getting in better at-bats."
Nay, 20, said he stopped worrying about his stance and overswinging at the plate. The simple approach paid off.
"I felt so much better at the plate. I was focusing on hitting the ball hard. I wasn't thinking about where my feet are, how low I am, where my hands are, it was just, I'm going to hit the ball hard, we'll go from there," he said. "In July, I started to get a little wider and started using my hands more, but it really goes back to hit the ball hard and just compete."
Lansing hitting coach Ken Huckaby, a veteran of 161 Major League games, said that Nay has matured as a hitter.
"Mitch hit a lot of doubles last year and had a really good season," Huckaby said. "It just took a little while for him to get started. He was always able to get his hits. It really started showing up about a month ago. He really started hitting like the guy he was a year ago."
Huckaby, a 43-year-old former catcher who retired in 2007, said that Nay continues to mature every day.
"He comes to the park every day ready to work," Huckaby said. "He works hard. He's dedicated to his craft, and you can tell when he plays. He's a very coachable kid."
Nay said that he's improving in terms of recognizing areas in which he needs to make adjustments, and then making them. He talks over the adjustments with Huckaby, but he said that it's important for hitters to make the changes themselves. Nay said that he's trying to improve the mental aspect of hitting.
"I never really watched film in high school," Nay said. "I just went out and played. Then I got into pro ball and I started facing guys, and I didn't have much room for error. You can get away with stuff when guys are throwing slower, so you have to refine stuff and you have to learn to be more of a student of the game. Last year, I didn't make the adjustments I have this year. I'm spending more time reflecting on my at-bats and asking myself, 'What am I doing, what can make me better, what can make me more consistent?'"
In brief
Power return: Tyler O'Neill of Clinton went on the disabled list with a broken hand after playing against Peoria on May 10. The outfielder from Maple Ridge, B.C., returned to Clinton's lineup on Aug. 5 and has been on a power surge -- he's hitting .333 (19-for-57) in 14 games since his return, and he has seven homers and 17 RBIs in the stretch. In his last six games, O'Neill is 12-for-25.
Wild loss: Jacob Booden, a former Bradley University pitcher, suffered a rough debut with Peoria, losing on a walk-off wild pitch during an intentional walk on Aug. 17. Booden gave up a two-out double to Logan Wade in the ninth inning, and then threw a wild pitch to move the runner to third. After a walk to Chad Christensen, Peoria chose to issue an intentional walk to Cedar Rapids' Mitch Garver. A wild pitch during the intentional walk scored Wade with the winning run.
Strikeout time: Great Lakes pitcher Jose De Leon struck out nine batters in a row against Fort Wayne on Tuesday and ended up fanning 14 of the 18 batters he faced. De Leon fell one strikeout shy of the Midwest League record for consecutive strikeouts. Burlington's Art Groza set the Midwest League record of 10 consecutive strikeouts in 1966 (vs. Dubuque), and Dayton's Daniel Renken tied the record in 2011 (vs. Lansing). Dustin Peterson broke up De Leon's strikeout streak with a groundout. De Leon threw 85 pitches -- 64 for strikes. Fort Wayne finished with 17 strikeouts, one short of the team record of 18, which happened in a 12-inning game in 2010.
Curt Rallo is a contributor to MiLB.com. This story was not subject to the approval of the National Association of Professional Baseball Leagues or its clubs.
View More