Milner twirls first complete-game shutout
Philly's left-hander scatters three hits over nine innings for Reading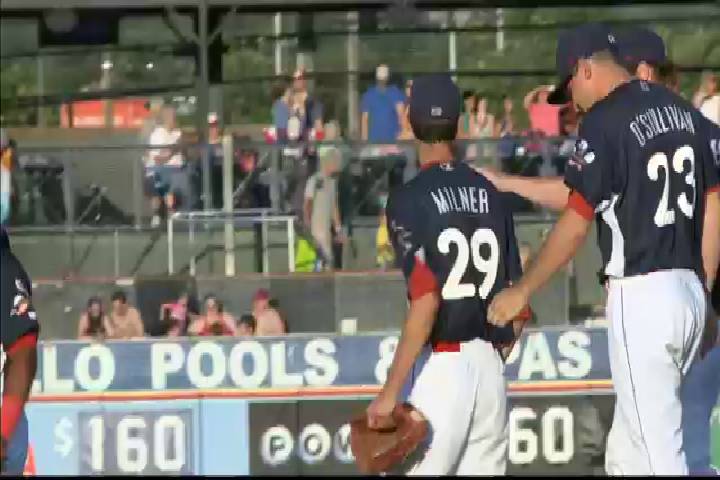 By Ashley Marshall / MiLB.com | August 17, 2014 10:34 PM ET
Phillies southpaw Hoby Milner was in uncharted territory during the latter stages of Sunday's start. But even when the potential tying run got into scoring position to lead off the ninth inning, neither Fightin Phils manager Dusty Wathan's faith nor Milner's nerve wavered.
The 23-year-old allowed three hits over nine innings in spinning his first career complete game in Reading's 1-0 win over the Binghamton Mets at FirstEnergy Stadium on Sunday. It was the Fightin Phils' sixth shutout of the season and the first since Aug. 7.
"It was the best outing of my career," Milner said. "I had not even gone eight innings before in pro ball, but I had everything working.
"I was throwing my fastball for strikes and I had all five of my pitches working. I was getting early contact and that was huge for me. I watched Daisuke [Matsuzaka] pitch against us the night before. Six innings, 60-something pitches and he was getting early contact, bad contact. That was great to watch. You see that and say, 'That's how it's supposed to be done.'"
Milner (8-6) threw 54 of 75 pitches for strikes and struck out five batters to lower his ERA to 4.25. It was his first complete-game shutout and the first by a Reading pitcher since David Buchanan went the distance on May 28, 2012.
The Phillies' seventh-round 2012 Draft pick retired the first 13 batters he faced before T. J. Rivera delivered a one-out single to left field in the fifth.
Only two other batters reached base against Milner the rest of the way. Juan Centeno lined a one-out single to right in the eighth and Kyle Johnson doubled to left to lead off the ninth.
"It was a little nerve-wracking, because you get all that way then give up a leadoff double," Milner said. "There was a moment where I thought that if I don't get the next guy I was probably done. We had two guys warming up in the bullpen, a lefty and a righty ... but I told myself to just get the next guy and see what happens.
"I only threw 98 pitches. I probably had 10 starts this year when I threw more than that.
It was the first time Milner, the son of former Major Leaguer Brian Milner, had pitched beyond the eighth in any of his previous 62 appearances. The Texas University product went 7 2/3 innings for Class A Advanced Clearwater in a 6-0 win over St. Lucie last June 12. In that game, Milner allowed one hit and a walk in an eventual two-hit shutout.
Milner was 12-7 with a 3.83 ERA in 26 Florida State League games with the Threshers last year and he went a combined 7-3 with a 2.50 mark in 14 appearances between Class A Lakewood and short-season Williamsport in his rookie campaign.
What made the outing even more special was having some familiar faces in the crowd cheering him on. His mother, Yvonne Milner, and her boyfriend, David Babineau, made the 1,500-mile journey from Granbury, Texas, to watch him for the first time this season. LeeAnn and Brian Voss, Milner's host family two years ago when he pitched in Lakewood, also traveled to the game.
"It was huge," Milner said. "I've had kind of a rough season, ups and downs, and they come out and I have the best outing of my career. I want to share outings like that with them and I was fortunate to do that. They picked a good game."
Reading left fielder Albert Cartwright went 3-for-4 with a double and an RBI in the win. First baseman Jake Fox plated the game's only run with a two-out single in the fourth.
Binghamton starter Steven Matz (5-4) allowed a run on six hits over seven innings. He struck out four batters and issued two walks.
Ashley Marshall is a contributor to MiLB.com. Follow him on Twitter @AshMarshallMLB. This story was not subject to the approval of the National Association of Professional Baseball Leagues or its clubs.
View More