Twins' Quade OK after multi-car accident
Triple-A manager's SUV rear-ended by speeding vehicle in Florida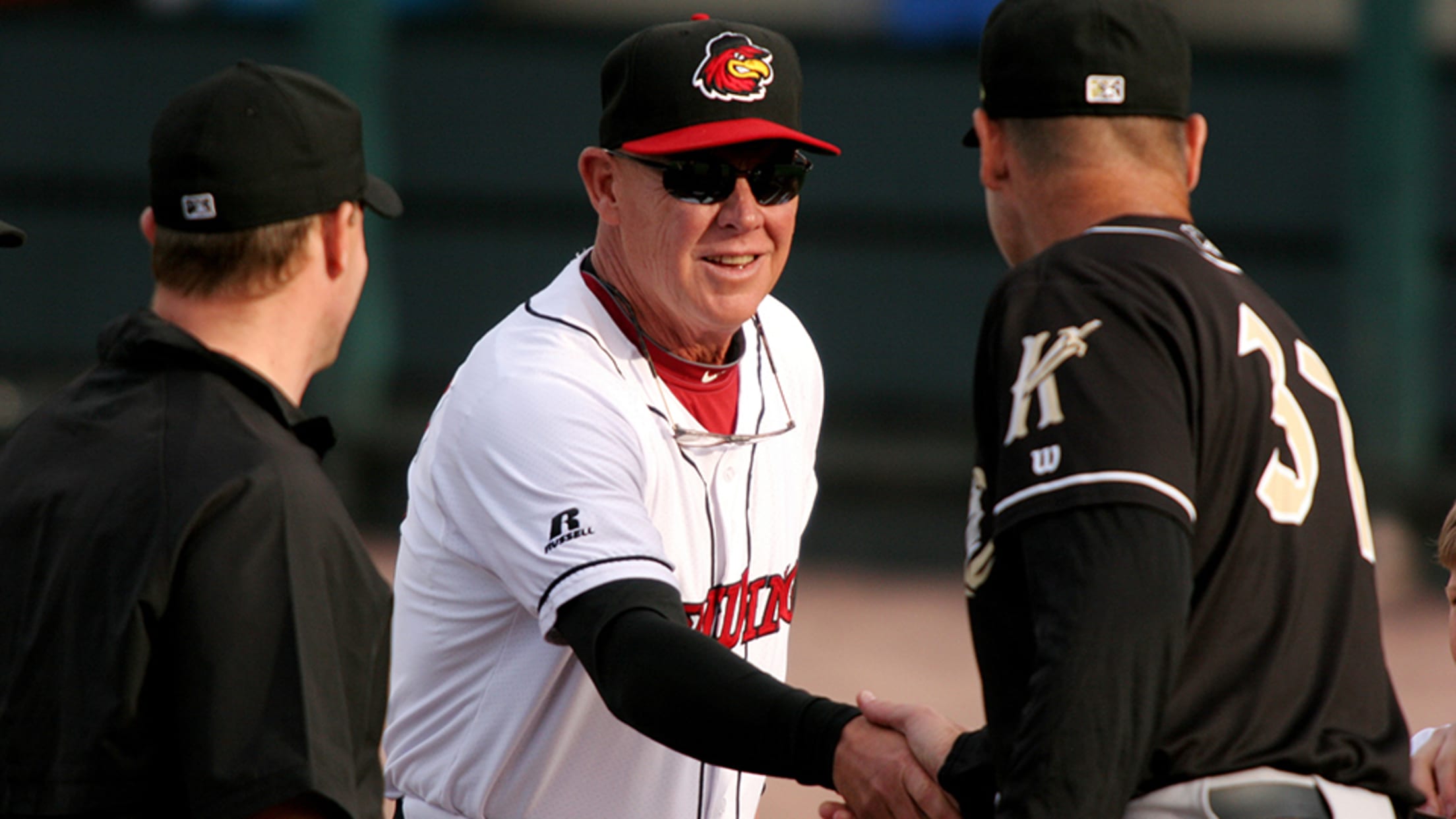 Mike Quade is 158-130 in two seasons as manager of the Twins' Triple-A affiliate. (Joe Territo/Rochester Red Wings)
Triple-A Rochester manager Mike Quade escaped serious injury Saturday when he was involved in a multi-vehicle accident in Florida. While sitting in an SUV at a traffic light near the Twins' Spring Training complex in Fort Myers, Quade and his girlfriend, Rebecca Kraus, were rear-ended by a car reportedly traveling
Triple-A Rochester manager Mike Quade escaped serious injury Saturday when he was involved in a multi-vehicle accident in Florida. While sitting in an SUV at a traffic light near the Twins' Spring Training complex in Fort Myers, Quade and his girlfriend, Rebecca Kraus, were rear-ended by a car reportedly traveling 40-50 mph, touching off a chain of events that involved at least four cars.
"I could see him coming in the rearview mirror. I don't think he came within a mile of his brake pedal, because he never slowed down," Quade told The (Minneapolis) Star Tribune. "About three seconds before he whacked us, I reached over to her and said, 'Please, babe, hold on.'"
After Quade's vehicle was struck, it smashed into the car in front of it and sent that car careening into a third.
"I remember it was the most godawful sound I ever heard," Quade told the newspaper. "The [air]bags exploded, all that. I'm still shook up. We can't believe we're not dead."
The vehicle that caused the accident was sent sideways by the initial impact and struck another car. In a twist, that one was carrying four Twins Minor Leaguers: catcher and No. 12 prospectBen Rortvedt, outfielder Caleb Hamilton, infielder Dane Hutcheon and pitcher Austin Tribby, all returning from a day at the beach.
The players raced out of their car to first tend to Quade and Kraus, who was bleeding from her nose and mouth, the newspaper reported.
"Two of them went to Rebecca's side and helped her get out of the car and off the road. They stayed with her and took care of her," Quade said. "Two came over to me and said, 'Sir, are you OK?' Yeah, I think so. So they went to the car in front of me. There were two kids in there, but they were both belted in, thank God, and the mother was OK."
After emergency personnel arrived on the scene, the group figured out their connection. While Quade was talking to police, he explained he was in Fort Myers for Twins camp.
"And one of the kids says, 'We play for the Twins,'" Quade told the Star Tribune. "I said, 'You haven't played for me -- I'm the Triple-A manager.'"
Aside from a sore shoulder, Quade said he felt healthy Sunday. Kraus also was dealing with soreness but declined to go to the hospital. The condition of the driver who caused the accident was not available Sunday, according to the newspaper.
"The kids did one hell of a job," Quade said. "They handled themselves so well, kept their heads, were so helpful. They could not have been better. We're as lucky as you can be."
Tyler Maun is a contributor to MiLB.com. Follow him on Twitter @TylerMaun.