Minor League Baseball joins Cartoon Network's 'Best Summer Ever' campaign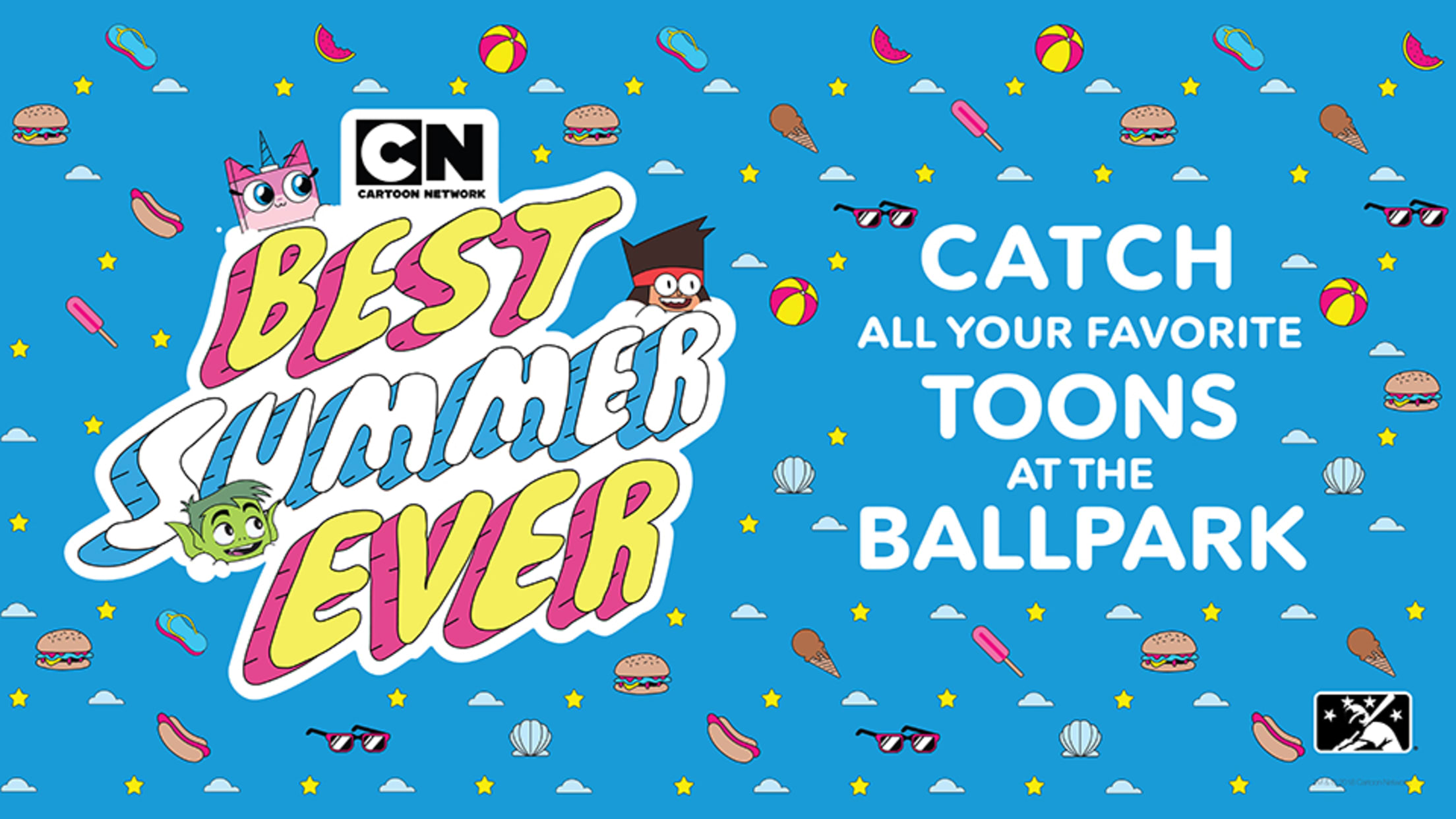 ST. PETERSBURG, Florida -- Minor League Baseball™ (MiLB™) and Cartoon Network (CN), the No. 1 animation network in the U.S., announced a summer-long promotion today in select markets across the country. The in-park "Best Summer Ever" program, an extension of the summer Cartoon Network campaign, seamlessly combines baseball games and CN
ST. PETERSBURG, Florida -- Minor League Baseball™ (MiLB™) and Cartoon Network (CN), the No. 1 animation network in the U.S., announced a summer-long promotion today in select markets across the country. The in-park "Best Summer Ever" program, an extension of the summer Cartoon Network campaign, seamlessly combines baseball games and CN original series, delighting both kids and adults alike. The campaign launched on Saturday, June 23, and will continue through Sunday, Aug. 26.
The participating MiLB teams will dedicate three home games each in June, July or August to activate Cartoon Network's in-game promotions. Activities include pre- and post-game screenings of Cartoon Network's original hit series, high-energy video mashups featuring CN shows and characters mixed with MiLB game and ballpark experience highlights, as well as in-game vignettes featuring Cartoon Network's award-winning Stop Bullying Speak-Up pro-social campaign. Cartoon Network series featured throughout the promotion include The Amazing World of Gumball, Craig of the Creek, Teen Titans Go! and We Bare Bears.
En Español
The campaign also includes an integrated media plan using MiLB.com, the official website of Minor League Baseball; participating teams' websites; MiLB and teams' social platforms; and the First Pitch App.
"Minor League Baseball's fan demographics and its reputation as a brand centered around fun are an ideal match to Cartoon Network's target audiences, and using MiLB ballparks as the setting to entertain our next generation of fans with animation is a win for both brands," said David Wright, Chief Marketing & Commercial Officer for Minor League Baseball.
"Cartoon Network has promised our viewers the Best Summer Ever and we are delivering in a new way with this partnership. We look forward to kids and families experiencing our content in a new environment alongside the fun of Minor League Baseball," said Ryan Kilpatrick, Vice President of Marketing for Cartoon Network.
Minor League Baseball expects to attract nearly 20 million to its ballparks during the balance of the 2018 season. For a complete schedule of remaining games this season and ticket information, visit MiLB.com/tickets.
Minor League Baseball, headquartered in St. Petersburg, Florida, is the governing body for all professional baseball teams in the United States, Canada and the Dominican Republic that are affiliated with Major League Baseball® clubs through their farm systems. Fans are coming out in unprecedented numbers to this one-of-a-kind experience that can only be found at Minor League Baseball ballparks. In 2017, Minor League Baseball attracted 41.8 million fans to its ballparks to see the future stars of the sport hone their skills. From the electricity in the stands to the excitement on the field, Minor League Baseball has provided affordable family-friendly entertainment to people of all ages since its founding in 1901. For more information visit MiLB.com.
Follow Minor League Baseball on Facebook, Instagram and Twitter.
Cartoon Network is Turner's global entertainment brand and the #1 animation network in the U.S., offering the best in original content for kids and families with such hits as, Adventure Time, The Powerpuff Girls, Steven Universe, We Bare Bears and The Amazing World of Gumball. Seen in 192 countries and over 400 million homes, Cartoon Network is known for being a leader in innovation with its approach to engaging and inspiring kids at the intersection of creativity and technology. Its pro-social initiative, Stop Bullying: Speak Up is an acknowledged and often used resource for kids and adults looking for tools that can assist in dealing with the ongoing issue of bullying.
Cartoon Network is part of Turner, a WarnerMedia company, a global entertainment, sports and news company that creates premium content and delivers exceptional experiences to fans whenever and wherever they consume content. These efforts are fueled by data-driven insights and industry-leading technology. Turner owns and operates some of the most valuable brands in the world, including Adult Swim, Bleacher Report, Boomerang, Cartoon Network, CNN, ELEAGUE, FilmStruck, Great Big Story, HLN, iStreamPlanet, Super Deluxe, TBS, Turner Classic Movies (TCM), TNT, truTV and Turner Sports.