Miracle's Sano homers, gets ejected
After brushback pitch, Twins top prospect shouted at Cards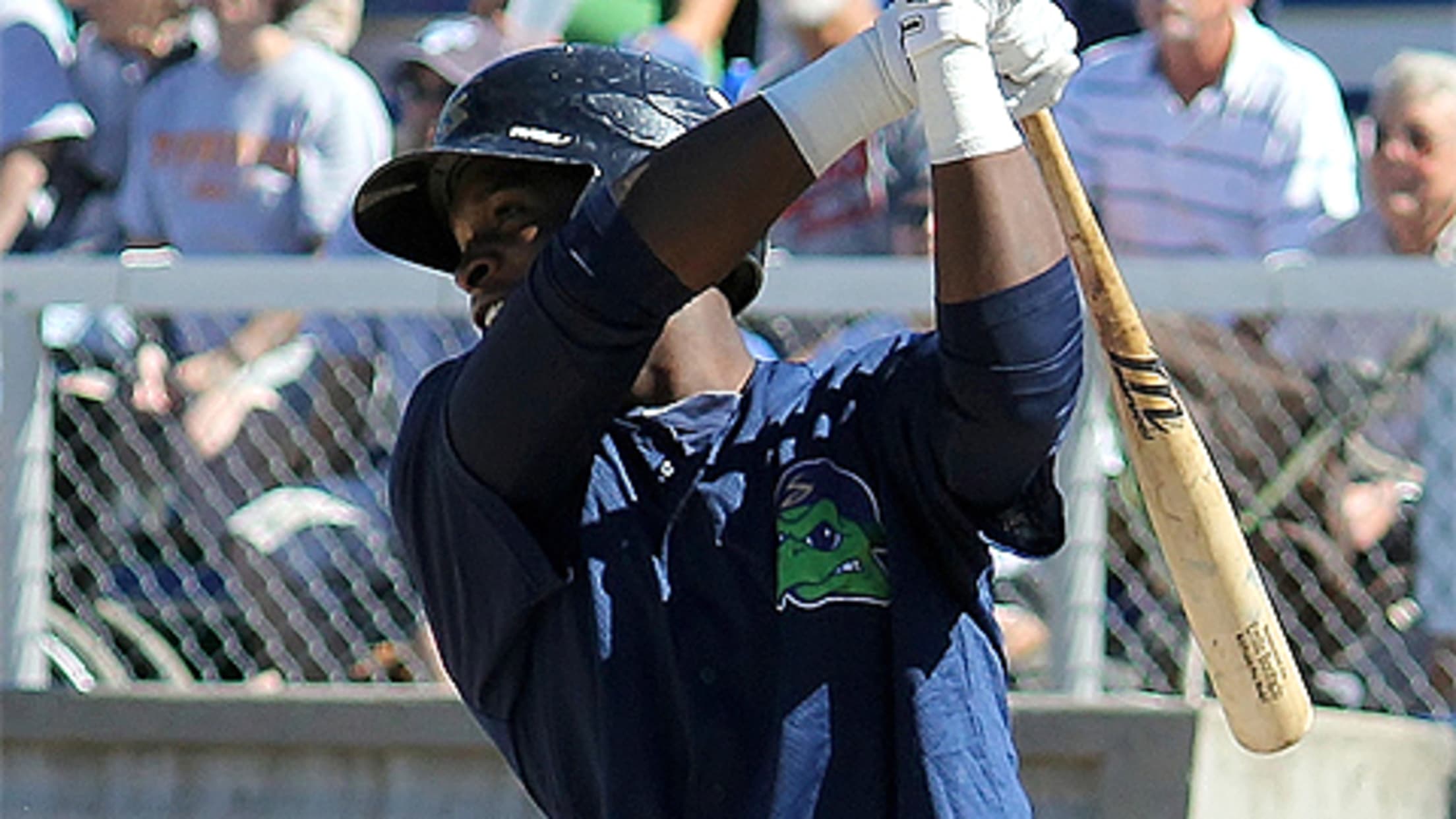 Miguel Sano led the Midwest League in homers and RBIs last year. (Vincent Rinaldi/Rinaldi Photos)
Twins top prospect Miguel Sano smacked his Florida State League-leading sixth homer but was ejected while rounding the bases Sunday in Class A Advanced Fort Myers' 6-5 loss at Palm Beach. With two outs in the fifth inning, Cardinals reliever Brandon Creath's first pitch to Sano was a high fastball
Twins top prospect Miguel Sano smacked his Florida State League-leading sixth homer but was ejected while rounding the bases Sunday in Class A Advanced Fort Myers' 6-5 loss at Palm Beach.
With two outs in the fifth inning, Cardinals reliever Brandon Creath's first pitch to Sano was a high fastball behind his head.
MLB.com's No. 12 overall prospect sent a 3-1 offering over the Marlins training facility beyond the left-field fence, then allegedly pumped his fists and shouted in the direction of the Palm Beach dugout.
Plate umpire Fernando Rodriguez ejected the 19-year-old before he reached home, bringing Miracle manager Doug Mientkiewicz out of the dugout. Mientkiewicz also was tossed along with Fort Myers left fielder Stephen Wickens.
"Basically, they threw at Miguel Sano for being good because they couldn't get him out," Mientkiewicz said. "They threw at him and missed him and he hit a home run [three] pitches later and the umpire threw him out of the game for yelling something at the other dugout.
"Hit him in the back, I won't like it, but it's part of the game. Throw at his head and it messes with his future and I have a problem with it. It's an embarrassment to the game of baseball."
Mientkiewicz said he believed the incident was retaliation for Tuesday's game against Palm Beach in which Sano's seventh-inning grand slam off Creath put the Miracle ahead for good in a 7-4 victory.
"We played them last week and they were running their mouths at him," the former big league first baseman said. "Miguel hit a grand slam and kinda flipped his bat, and they took it the wrong way. He hit a big home run.
"Hit him in the back or the butt, I would understand that. They throw at his head and then two pitches later he hits a home run, you can't expect him to just put his bat down."
The 6-foot-3, 195-pound native of the Dominican Republic also leads the FSL with a .375 batting average and a .734 slugging percentage. He's second with 16 RBIs, one behind T.J. Rivera of the St. Lucie Mets.
According to Mientkiewicz, Sano was confused over the ejection after the game. The manager said he did not know what the slugger directed toward the Palm Beach dugout, adding, "But it doesn't matter. It's not [Rodriguez's] responsibility to throw a kid for saying something."
"I think, personally, it's garbage," Mientkiewicz continued. "[Sano] did nothing wrong. He locks in and hits a home run. That's what makes him so special."
Fort Myers starter Jason Wheeler hit Cardinals catcher Cody Stanley with one out in the first inning, then plunked designated hitter Jimmy Parque with one out in the second.
Mientkiewicz said he did not believe those at-bats prompted Creath to throw at Sano.
"Wheeler throws about 84 mph. He's a left-hander and he hit two left-handers," he explained. "They had runners on base and they scored in both innings. It was definitely not on purpose, it was incidental."
In the bottom of the eighth, Miracle reliever Corey Williams again hit Parque. And he plunked Stanley an inning later. In between, Palm Beach skipper Johnny Rodriguez was ejected.
"We had a catcher playing left field and a pitcher coaching first base," Mientkiewicz said. "I'm proud of the way the guys battled."
Fort Myers right fielder Lance Ray went 3-for-5 with an RBI and a run scored and catcher Kyle Knudson hit a two-run homer and reached base four times.
Wheeler was charged with five runs on six hits and two walks over four innings, striking out two.
Jonathan Rodriguez led off the bottom of the 10th with his first homer of the season and finished a triple shy of the cycle. Cardinals second baseman Colin Walsh was 3-for-5 with a two-run homer and three RBIs, while leadoff man Matt Williams also had three hits and scored twice.
Palm Beach starter Jose Almarante yielded two runs on four hits over 3 1/3 innings. Heath Wyatt (2-1) worked around a hit and a walk in the 10th to earn the win.
Nelvin Fuentes (0-1) faced just one batter -- Rodriguez -- and took the loss.
Ashley Marshall is a contributor to MLB.com. Follow him on Twitter @AshMarshallMLB.