Missing Link: Suns starter strikes out 12
Marlins newcomer pitches six scoreless innings in stretch run win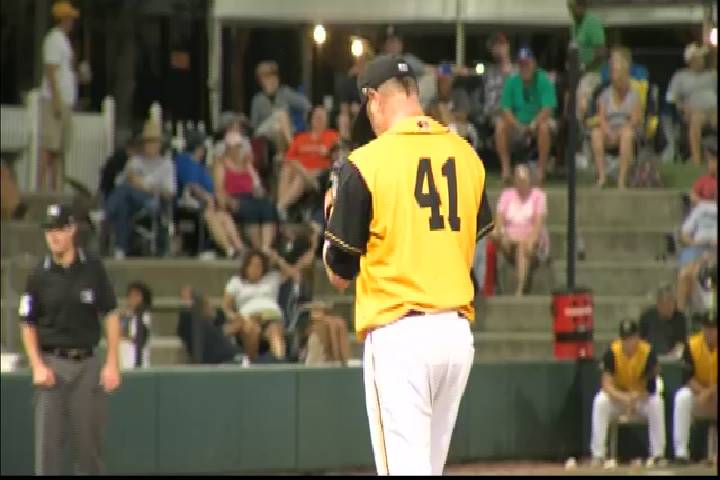 By Josh Jackson / MiLB.com | August 30, 2014 11:43 PM ET
Jon Link made somebody in the Marlins front office very happy on Saturday.
The 30-year-old right-hander was signed out of independent ball earlier this month expressly to help Double-A Jacksonville in its playoff run. He did just that in a major way in his second start with the club.
Link recorded a career-high 12 strikeouts over six innings of two-hit ball as the Suns beat Mobile, 1-0. The win completed a doubleheader sweep that gave Jacksonville sole possession of first place in the Southern League South Division second-half race with two games to play.
"I'm especially happy we won the game, that's the most important thing. As far as personally, I'm happy I gave the team a chance to win," Link said. "I'm really pleased I was able to keep us in the game for so long. That was big, to sweep the doubleheader. Entering the day a half a game back, and then to leave a half a game ahead, that's big for the team."
Link (1-0) has worked predominantly as a reliever and pitched in nine games for the Dodgers in 2010. He earned a win in his first affiliated start of the season, beating Tennessee on Aug. 24.
"When the Marlins first called, they told me [the Suns] were one game out with 10 left to play, and that's why they were bringing me in," Link said. "Obviously, I'm the oldest guy on the team. I've got big league experience and I think they were looking for somebody with that to help the team with the playoff run. I was just looking to come in and help the team win games -- that's my main focus. Personally, I just want to pitch well enough to get a look in Spring Training."
Link's previous career high in affiliated ball was eight strikeouts in a complete-game win for Double-A Erie on July 13, 2013.
"Actually, two starts ago I punched out 16 in seven innings in independent ball. That was a fun day, but as far as affiliated ball, this was the best I've ever pitched," he said. "I had some good starts with Double-A Erie last year, but I didn't have this kind of strikeout numbers. To do this for a team making a playoff run makes it one of the best I've ever thrown."
The Padres' 26th-round pick in the 2005 Draft struck out the first batter he faced, Tom Belza, but he reached on the wild pitch. So Link went ahead and fanned the next five BayBears.
"I wasn't feeling great in my bullpen," he said, "but when I got out there and threw the first couple pitches, I could see, 'OK, I've got a little something tonight.' And it was good to keep that momentum going inning to inning."
The string of six straight punchouts was broken up by a two-out walk to Nate Samson in the second, but Link whiffed Mark Thomas to end the inning.
He allowed a single to opposing starter and fourth-ranked D-backs prospect Aaron Blair, then retired 11 straight. Dustin Martin singled with two outs in the sixth but was stranded as Link retired Ryan Court on a comebacker on his 87th and final pitch.
"To tell the truth, I haven't pitched in humidity like this in a long, long time and I was gassed," he said. "Usually, I hate to turn the ball over to anybody, especially when I'm pitching like this. But these guys in this bullpen have these roles for a reason. The bullpen was locked in and got us the win."
James Nygren (4-2) came on in the seventh and allowed one hit in a scoreless inning.
In the bottom half, Viosergy Rosa came through with runners on second and third, delivering a two-out knock up the middle.
"That was big. I didn't think he was going to get pitched to -- there was a base open with a lefty up against a right-hander and a righty on deck," Link said. "I didn't think he'd get the opportunity to hit. Obviously, he was looking for a fastball and he got an 0-0 heater and put a good swing on it."
Joe Benson was 2-for-3 with a double for the Suns.
Blair turned in five scoreless frames, giving up two hits and six walks while striking out seven. Since making the jump from the Class A Advanced California League on July 21, he's 4-1 with a 1.94 ERA.
Josh Jackson is a contributor to MiLB.com. This story was not subject to the approval of the National Association of Professional Baseball Leagues or its clubs.
View More