Montero finds confidence, pitches a gem
Mets prospect allows one hit, strikes out 11 in eight shutout innings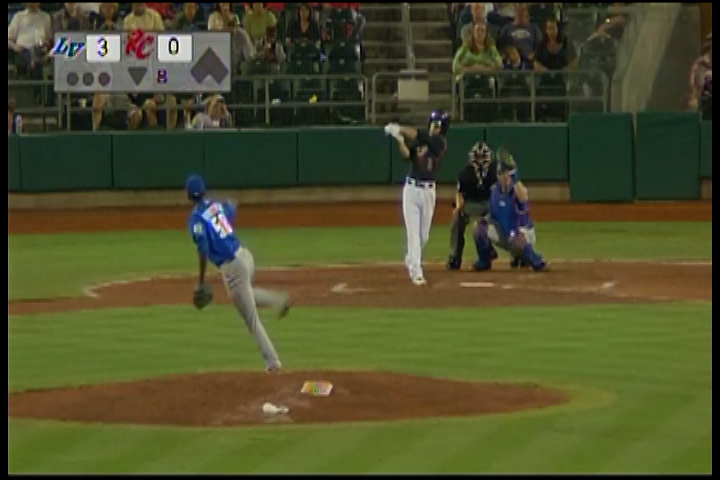 By Jake Seiner / MiLB.com | August 6, 2014 12:42 AM ET
It took Las Vegas pitching coach Frank Viola a few seconds to find the right descriptor.
"Baffled is probably the best word," he said. "That's the first time I've seen guys looking for sliders and changes, and he just blew fastballs by."
That was Viola describing the faces of Sacramento hitters against Rafael Montero on Tuesday night. The Mets' No. 6 prospect dominated through eight innings, allowing one hit, recording a season-high 11 strikeouts and retiring the final 12 batters he faced as the 51s blanked the River Cats, 3-0.
Montero (6-3) threw 105 pitches -- 73 for strikes -- and issued two walks while slimming his ERA to 3.28 in 15 Pacific Coast League starts.
Nick Buss led off the fifth inning with a single off Montero. He was the River Cats' final baserunner as the 23-year-old right-hander retired 12 straight, including a run of four consecutive strikeouts between the sixth and seventh.
Montero's fastball command was just about perfect, Viola said, and he was able to work his changeup and slider off the heater.
"He struck guys out with all three pitches," the former Cy Young Award winner said. "It was one of those outings where everything clicked. [Mets' No. 2 prospect] Kevin Plawecki did a great job calling the game with him. It's just so much fun being in the dugout and watching those two work together and shred a very good Sacramento team to pieces."
The start was Montero's fourth since missing about a month with a strained left oblique. He returned to the mound for Las Vegas on July 20, limiting Salt Lake to one run on five hits over four innings. After allowing five runs on six hits in five innings against the same Bees team on July 25, Montero rebounded with 6 2/3 shutout frames against El Paso.
Viola said Montero's oblique has been fine. Mostly, the native of the Dominican Republic has been looking to regain some confidence after posting a 5.40 ERA in four Major League starts in May. The injury was a brief setback, but Montero has recovered his best form, which revolves around his stellar fastball command.
"He struggled a little bit after being up at the big leagues," Viola said. "He struggled a little bit with his command maybe the first couple of times out after he was sent down to Vegas. The last three, four times out, he's starting to regain feel and confidence. That's what that's all about.
"It was the first time the kid had really struggled in his life. It just took a little bit to overcome, battle through and go on with. He's at the point right now where he has that confidence back. It was just a gift God gave him to spot the ball like he does, and he's taking advantage of it again."
Montero was able to use that fastball location to set up the rest of his repertoire.
"He established the fastball, then used the slider and change off it," Viola said. "On occasion, he started with the change; on occasion, he started with the slider. They never really had, there were no patterns. It was just pot luck.
"[Montero and Plawecki] were working together and they could throw anything at any time and baffle them. No set patterns, no rhyme or reason. He just threw pitches and dominated."
Montero pitched the gem against a lineup featuring six players with batting averages north of .280, and that doesn't include leadoff man and A's No. 17 prospect Billy Burns, who was playing his fifth game since returning from the Majors.
"This is an organization with Oakland, they work the count a lot," Viola said. "They had some head-shaking going back to the dugout. He was so in control throughout."
Chase Bradford struck out the side in the ninth for his third save, finishing off the 51s' fifth shutout of the season.
Las Vegas staked Montero to a lead before he took the mound as Allan Dykstra lifted a sacrifice fly in the top of the first. Anthony Seratelli plated the 51s' other runs with a groundout in the second and a single in the sixth.
Jake Seiner is a contributor to MiLB.com. Follow him on Twitter at @Jake_Seiner. This story was not subject to the approval of the National Association of Professional Baseball Leagues or its clubs.
View More