Montero makes hitless start for Las Vegas
Mets' No. 2 prospect fans five, walks three in 5 1/3 scoreless innings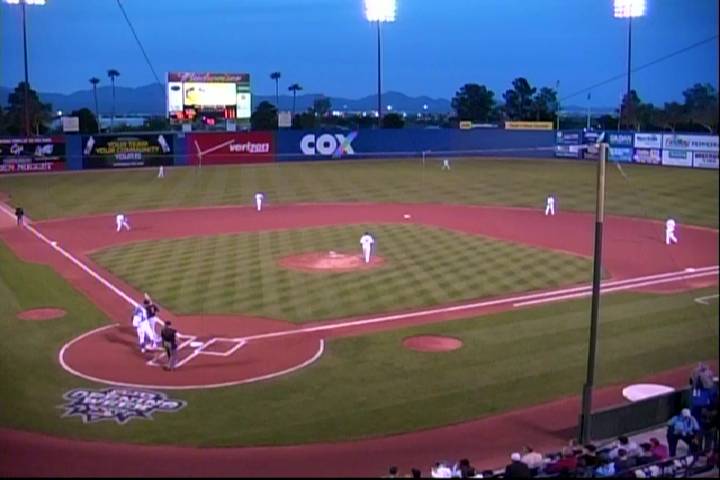 By Josh Jackson / MiLB.com | May 10, 2014 1:24 AM ET
Rafael Montero could have been a little more efficient on Friday night, but it's hard to imagine him being much tougher.
The Mets' No. 2 prospect hurled 5 1/3 hitless innings, striking out five batters and walking three en route to his fourth Pacific Coast League win, as Triple-A Las Vegas beat Salt Lake, 6-3.
Montero (4-1) exited after throwing 98 pitches, including 59 for strikes.
"Other than getting deep into counts, he did a pretty good job," 51s pitching coach Tom Signore said. "He had a couple at-bats where he could have gone in on a guy and put him away and his pitch count would have been lower, but it was a pretty good start for him."
It was the eighth Pacific Coast League start for Montero, who lowered his ERA to 3.67. Signore considered it his best since Opening Day, when the 23-year-old right-hander limited Fresno to four hits while striking out five over six shutout frames.
"Yeah, and he was repeating his delivery really well," Signore said. "That's something we've been working on, and he did a very good job of that [Friday].
"Occasionally, he gets rotational in the windup with his shoulder and he doesn't keep his front side closed. This start, he was much better. He kept it closed about 85 percent of the time."
Montero issued a one-out walk to second-ranked Angels prospect Taylor Lindsey in the first inning. He started the fourth by walking Lindsey and Luis Jimenez, then struck out Brennan Boesch, John Hester and Matt Long around a passed ball.
His pitching coach was not especially concerned by the walks.
"The pitches were right around the plate and, believe it or not, he did execute his delivery on those pitches," Signore said. "They were close, but the calls just didn't go his way."
Montero retired seven straight, including three on ground balls in the fifth, to end his evening.
Signore didn't believe the high pitch count was the result of Montero trying to pile up a lot of strikeouts.
"He could have been more aggressive. We kind of preach to get the hitter out on four pitches," he said. "I think he underestimates how good his stuff is and tries to be a little too fine."
Andrew Brown homered for the second game in a row and Zach Lutz went 2-for-4 and drove in two runs, giving him five hits and seven RBIs in his last two contests for Las Vegas. The 51s completed a four-game sweep of Salt Lake to improve the PCL's best record to 25-10.
Lindsay doubled, drew three walks and scored a run for the Bees.
Josh Jackson is a contributor to MiLB.com. This story was not subject to the approval of the National Association of Professional Baseball Leagues or its clubs.
View More