M's shut down Montero after incident
Zduriencik: 'Our purpose is to help him ... get his life together'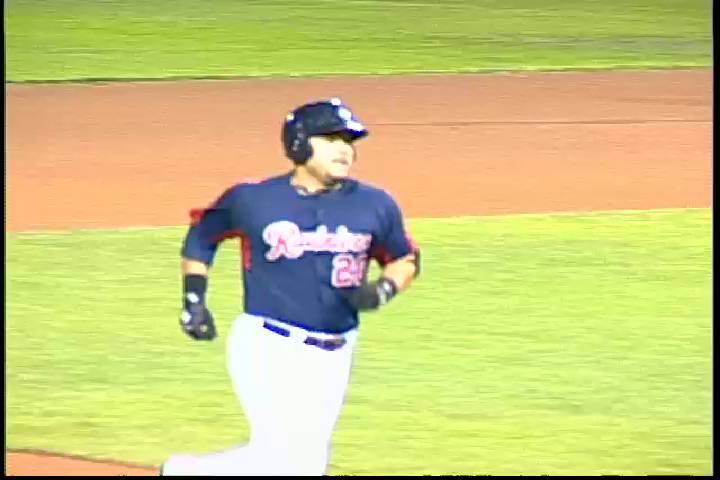 By Daren Smith / MiLB.com | August 29, 2014 7:50 PM ET
Jesus Montero was shut down by the Seattle Mariners on Friday, a day after a confrontation with the team's national cross-checker while beginning a rehab assignment with Short-Season Everett.
"He is not going to participate in baseball anymore the rest of the year with us. That's just the way it is. It's not going to happen," Mariners general manager Jack Zduriencik said at an afternoon news conference.
"We've already begun a process of setting up a program where we can sit with him and talk with him. ... Our purpose is to help him first and foremost get his life together and be able to assist him and his family."
Zduriencik refused to discuss specifics of Friday's incident in Boise involving Montero and national cross-checker Butch Baccala. Montero was coaching first base for the AquaSox at Memorial Stadium and, at the end of an inning, Baccala shouted at him to hustle off the field, according to Boise official scorer Liza Safford.
Baccala then ordered an ice cream sandwich and had it sent to Montero in the AquaSox dugout, a game official said. Montero, who arrived at Spring Training 40 pounds overweight, reportedly approached the stands with a bat while shouting profanities and threw the sandwich at Baccala. He was restrained by Everett pitching coach Nasusel Cabrera, Safford said.
"We are extremely disappointed in both of their actions. It is unacceptable," Zduriencik said. "This organization doesn't condone that type of behavior. It is being addressed as we speak. There are no excuses for either party. We have none, we don't intend to make any.
"There's always two sides to a story, but it really doesn't matter. This incident is of the magnitude that either party should have been more under control. Either party should have been more professional. You just don't get to this point and say neither is to blame or who is to cast the blame. It doesn't really matter. ... In the end, I would view this as saying both parties are wrong."
Asked if Baccala would remain with the organization, Zduriencik said, "We'll see. I'm not prepared to comment on it right now because I think what we're going to do is we have an investigation going on. We have a lot of information, we've had a lot of conversations. I have talked to Butch personally. But again, I do think that some of these things have to be handled internally before any decision is made."
Cross-checkers are intermediate-level scouts who verify the reports of regional scouts and pass on recommendations to their teams' scouting directors.
Montero took batting practice Thursday and was slated to be added to Everett's roster on Friday. Because Minor League teams have smaller coaching staffs than their big league counterparts, it is common for players to serve as first-base coaches.
Acquired from the Yankees in a January 2012 trade, Montero batted .286/.350/.489 with 16 homers and 74 RBIs in 97 games with Triple-A Tacoma. He also appeared in six games with Seattle, hitting .235/.235/.412 with one homer and two RBIs.
"There have been things with Jesus that have been setbacks. I know he's had more than one, so to say they're related, we're going to find that out," Zduriencik said. "It was just an individual incident. I think we're going to deal with this incident individually and see where it takes us in terms of what else has happened to Jesus in the past."
Daren Smith is an editor for MiLB.com. This story was not subject to the approval of the National Association of Professional Baseball Leagues or its clubs.
View More