Muncy does it again for RockHounds
A's No. 13 prospect hits grand slam for second night in a row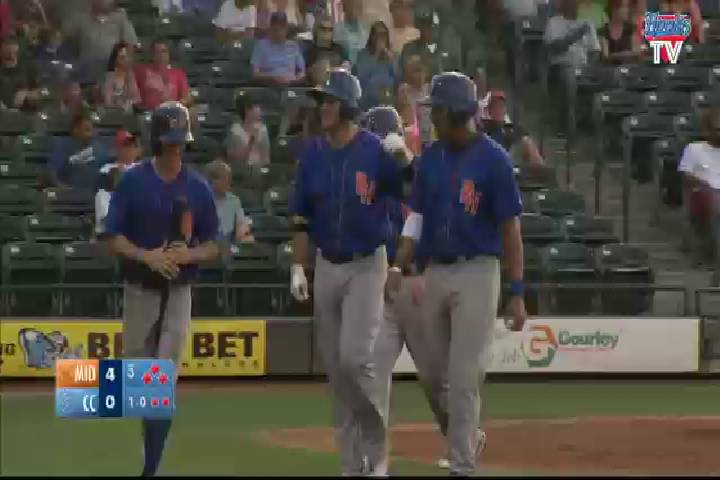 By Robert Emrich / MiLB.com | July 16, 2014 12:44 AM ET
Max Muncy is having a grand old time.
The Athletics' No. 13 prospect launched his second grand slam in as many nights Tuesday, powering Double-A Midland to a 6-3 triumph at Corpus Christi.
Muncy deposited a 1-0 pitch from Hooks starter Mike Hauschild over the right-center field of Whataburger Field in the third inning, scoring Billy Burns, Connor Crumbliss and Jefry Marte.
"I was just looking to put a ball in play and put in play hard," Muncy said. "I got a fastball on the inside part of the plate and I put a pretty good swing on it. I didn't think it was a home run, I just thought it was a line drive in the gap that might get down."
On Monday, Muncy hit the first grand slam of his three-year professional career in the RockHounds' 14-2 romp.
"I'm kind of not really sure what to think about it," the 23-year-old first baseman said. "It's something special, but I'm just happy that I had a good game. It's been a rough year, so it was nice to have two good games. The two grand slams are just icing on the cake."
A year after leading the A's organization with 25 homers in 140 games between Class A Advanced Stockton and Midland, the Baylor University product has gone deep five times in 77 games. He noted that the weather conditions in the Texas League make it tougher for a left-handed power hitter.
"It's been very tough," Muncy said. "The biggest part of it is the mental aspect of it. Playing in the Texas League, it's not very friendly for left-handed pull hitters. Most of the places you go to, the wind blows in from right field and the ball doesn't really go anywhere. The biggest thing is not to let it get into your head too much.
"I think the biggest key to success is not trying to change too much of anything. Obviously, you can't do the same thing every time because the conditions aren't going to change. I feel like the biggest thing is to not have too drastic of a change in your swing. You have to learn to hit the ball a little lower, not hit the ball as high in the air. Little things like that."
Facing Corpus Christi has provided a boost to Muncy's season -- three of his five homers and 16 of his 46 RBIs have come in 15 games against the Hooks.
"I personally say their pitchers are a little more challenging with the fastball," he said. "They pitch to the conditions a little bit. They pound lefties on the inside part of the plate, they dare you to try and hit the ball into the wind. I don't know if that's what they do, but that's what it seems like from the other team's perspective. I'd say that's part of the reason I've had a little success with them -- they're actually pounding fastballs to the inside part."
Dusty Coleman slugged a solo shot and Hiroyuki Nakajima singled twice and drove in a run for Midland.
Sean Murphy (4-0) remained unbeaten in six Texas League starts after allowing two runs on seven hits over six innings. He walked three batters and struck out five.
Ruben Sosa doubled and plated a pair of runs for the Hooks, but Hauschild (1-5) surrendered five runs on seven hits and three walks with eight strikeouts in five innings.
Robert Emrich is a contributor to MiLB.com. Follow him on Twitter @RobertEmrich. This story was not subject to the approval of the National Association of Professional Baseball Leagues or its clubs.
View More