Munoz, Lopez fuel Grasshoppers' rout
Marlins prospect goes 5-for-6, scores five times in 14-4 blowout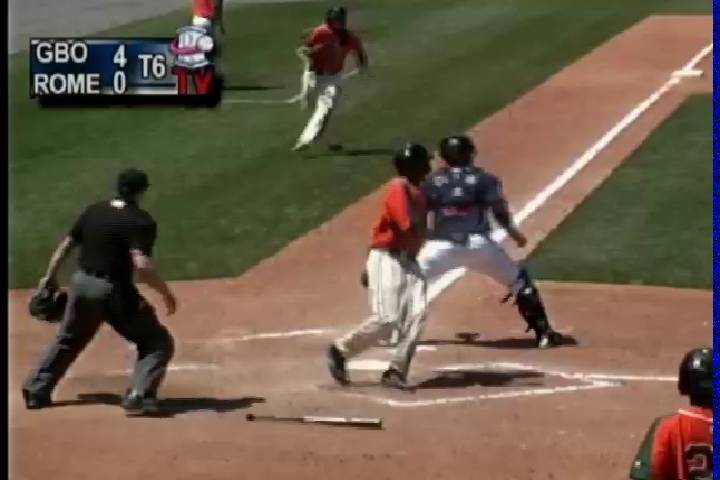 By Danny Wild / MiLB.com | May 23, 2014 11:15 PM ET
Felix Munoz had the best night of his career on Friday. Yet he was almost overshadowed by the rest of the Greensboro lineup.
The Marlins prospect went 5-for-6 with five runs scored, while Carlos Lopez drove in six runs and Kentrell DeWitt went 4-for-5 with four RBIs in the Grasshoppers' 14-4 romp over Rome at State Mutual Stadium.
"Everything was feeling good," Munoz said through a translator. "I made good contact and was swinging at good pitches."
Munoz tripled in the second inning, doubled in the third, singled in the fourth, doubled leading off the sixth and singled again to open the eighth, scoring in each of those innings. His perfect night ended when he struck out to end the ninth, but the damage was done.
The 22-year-old first baseman topped his previous season high of four RBIs, which he set in a 3-for-4 effort on May 3 against West Virginia. He had a pair of four-hit games last year short-season Batavia before earning a promotion to Class A Greensboro, where he's batting .337 out of the cleanup spot.
"Every guy here walks in early and has a good approach," Munoz said of his teammates, who posted season highs in runs and hits (19). "And the big thing is, we swung only at strikes."
Munoz, signed by the Marlins as a non-drafted free agent in 2008, has hits in five straight games. He's batting .293 against left-handers and .352 against righties, thanks in part to a hot April in which he hit .330 with 19 RBIs in 23 games.
The native of the Dominican Republic is on pace to shatter his statistics from last season, when he batted .301 with four homers and 40 RBIs in 69 New York-Penn League games.
"I'm adjusting to the ball and staying relaxed at the plate," he said. "I try to stay loose with my hands."
Munoz said he knew he had a chance for a perfect 6-for-6 night when he walked to the plate with two outs in the ninth. But a big looping curveball from Pete Perez got the best of him.
"I was excited, with [a chance for] one more hit, but it was a great breaking pitch," he said.
Greensboro (25-21) managed to pile on the runs without leaving the yard. Munoz tripled and scored on Lopez's sacrifice fly in the first before Chad Wallach doubled home Victor Reyes for a 2-0 lead. Lopez drilled a three-run double in the third before Greensboro put up six more runs in the fourth. Justin Bohn hit an RBI double and scored on Munoz's single before Austin Dean tripled and Lopez singled him in. DeWitt capped the frame with a two-run triple, his fifth of the season.
It was plenty of support for Grasshoppers starter Matt Millroy (5-2), who struck out eight and held Rome to a pair of runs on three hits and three walks over five innings. Despite entering with a nine-run lead, Sean Townsley worked the final four innings for his second save.
Braves starter A.J. Holland (1-2) surrendered seven runs on nine hits and two walks over 3 1/3 innings. He struck out one as his ERA climbed to 7.27.
Danny Wild is an editor for MiLB.com. Follow his MLBlog column, Minoring in Twitter. This story was not subject to the approval of the National Association of Professional Baseball Leagues or its clubs.
View More