MWL notes: Fried learned from the best
Padres prospect, California native grew up studying Koufax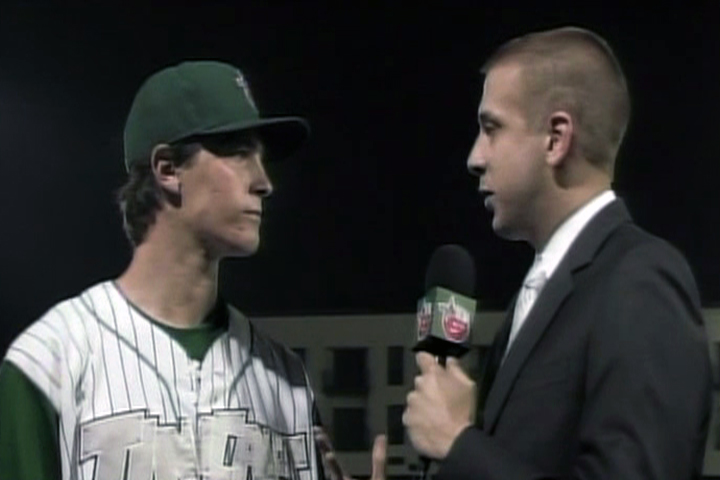 By Curt Rallo / Special to MLB.com | June 6, 2013 6:00 AM ET
It was grainy, black-and-white footage most of the time, and there wasn't much of it, but that didn't matter to Max Fried.
At the age of 9, Fried's heart was set on pitching. When his father and brother spoke about a legendary left-hander named Sandy Koufax, Fried, a fellow southpaw, knew he would be someone to study.
"Growing up in [Los Angeles], the name Sandy Koufax is always thrown around," said Fried, a first-round pick by the Padres in 2012 (No. 7 overall). "I tried to learn as much as I could from watching film of Koufax. There isn't that much. I looked for any footage, anything I could get a hold of, just to see if I could see any aspects of pitching."
Using film of Koufax as a source as he matured, Fried started to pick up on the nuances of his curve in particular. Now, the 19-year-old native of Encino, Calif., has a wicked breaking pitch to go along with velocity in the low 90s. Both came in handy May 9 when Fried tossed 5 2/3 hitless innings and three relievers finished off his gem as Fort Wayne no-hit Great Lakes, 1-0.
"My curveball is a weapon," the 6-foot-4, 185-pound Fried said. "It's something I resort to when I want an out or a strikeout, but it's not something I solely rely on. I want to be a complete pitcher and use all of my pitches to get hitters out. I want to be able to use any of my pitches in any situation."
Fried, 2-1 with a 4.30 ERA in his full-season debut for the TinCaps, said his older brother by nine years, Brandon, was a tremendous influence during his formative years as a pitcher. He also credited 17-year Major Leaguer Reggie Smith, who runs a baseball academy in Encino, with being a valuable instructor.
"I think Max has a tremendous future," said Smith, who has produced several first-rounders as well as Stanford's Austin Wilson, who is projected to be a top selection in 2013. "You always worry about pitchers being injured, but what I see in [Fried] is possibly being in the bigs by late 2014, 2015 for sure. With Max, you're going to see a staff ace, because he knows how to pitch and he's not afraid.
"He was taught how to fight through adversity and do the things a pitcher needs to do to give his team a chance to win. All of those things were laid out for him at an early age -- how to conduct yourself, how to pitch in certain situations. That's what you're seeing, and that's what you'll see in the future. That's what the great ones have."
Smith added that Fried showed characteristics of being a student of the game at an early age.
"Max had the arm and that attitude about him," Smith said. "Early on, he really cared. Things would bother him. He always wanted to do well. You saw that spirit in him. It cultivated as he continued to grow and develop, and helped him become the young man he is today. With Max, it was a matter of patience and keeping him on the road set out for him with the tremendous talent he had."
Fried is working to stay on that path in the Padres organization.
"Coming from an amateur level to the professional level is a pretty big challenge," Fried said. "You have to learn how to handle the everyday grind, how to prepare yourself for the next start, be very diligent and be a hard worker and keep on doing what got you here."
In brief
Golden return: Outfielder Reggie Golden, a second-round pick by the Cubs in 2010 who missed most of last season with a left knee injury, made his 2013 debut with the Kane County Cougars on May 29. The 21-year-old Alabam native is hitting .368 with a homer over first five games.
Quick call: An injury to Dayton's Sal Romano ended extended spring training for 2012 first-rounder Nick Travieso. The 6-foot-2, 215-pound righty was expected to start the season at Class A Short-Season Billings but was assigned to the Dragons when Romano was placed on the DL after taking a line drive off his foot in a game against South Bend on May 29. Travieso, who helped lead Archbishop McCarthy High School to three straight Florida 6-A state championships, was the No. 14 overall pick in 2012. In his debut Monday against Lake County, Travieso gave up four runs and six hits in four innings.
Comeback kids: South Bend posted a pair of stunning victories three days apart. The Silver Hawks trailed Dayton, 8-1, but scored six runs with two outs in the seventh inning and two more in the eighth for a 9-8 victory on May 28. Rudy Flores slugged a three-run homer to highlight the Silver Hawks' seventh, and Breland Almadova and Socrates Brito drove in the tying and go-ahead runs with singles in the eighth. On May 31, Bowling Green took a 6-0 lead, but South Bend scored three runs in the eighth and five in the ninth for an 8-6 win. Brandon Drury's three-run homer in the top of the ninth capped the comeback.
"We just don't give up, whether we're winning or losing, we play hard until the end of the game," Drury said. "That's really paying off. That's where the big comebacks come from. It really is pretty cool to come back like that and win games. This is a special team. I haven't played on many teams who can come back like this and be consistent."
Curt Rallo is a contributor to MLB.com. This story was not subject to the approval of the National Association of Professional Baseball Leagues or its clubs.
View More