MWL notes: Goeddel happy atop lineup
Hot Rods speedster flexible in the field and the batting order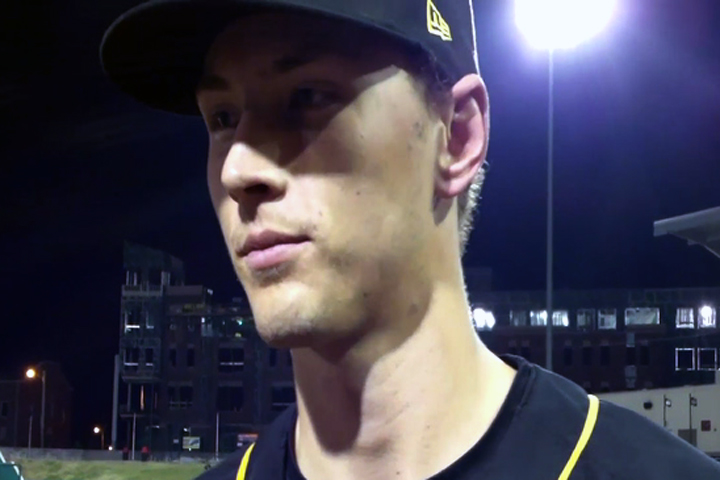 By Curt Rallo / Special to MLB.com | May 2, 2013 7:13 AM ET
It doesn't matter to Bowling Green's Tyler Goeddel if he's snaring a vicious liner at third base or backhanding a ball deep at short. As long as he's on the field, the Rays' 2012 first-round Draft pick will be happy.
Goeddel has been splitting his time between shortstop and third base this season. It's a split he hopes to continue as he advances in the Rays organization.
"I like playing shortstop," said Goeddel, a 6-foot-4, 186-pound right-handed hitter. "I really don't have a preference. I feel like I can play both positions, and I'm comfortable playing both positions. I'm trying to show the Rays that I can play both positions. Hopefully, that will mean more playing time.
"The Rays are an organization known for versatile players. Ben Zobrist plays just about every position. I feel that if I can play two positions, it will give me a better chance to move up in the organization. It's a challenge, but I feel that I'm prepared for the challenge."
Bowling Green manager Jared Sandberg said Goeddel is able to easily transition between the two positions.
"Tyler was drafted as a shortstop," Sandberg said. "This year, we've had him play shortstop and third. This is a kid with tremendous ability. He's extremely athletic and has great tools. The important thing is he needs to get the at-bats, but as far as the position he plays, there hasn't been a decision. Nothing has been ruled out."
A native of Hillsborough, Calif., Goeddel turned down a scholarship to UCLA and signed with the Rays for $1.5 million. He hit .246 last season, locked into the No. 9 spot in the lineup. This season, he's hitting .286, but has been picking up steam -- he's belted out eight hits in 15 at-bats in his last 10 games (.533) and scored nine runs.
"Last year I was one of the youngest players in the league," said Goeddel, who turned 20 in October. "I batted ninth because the organization felt that there would be no pressure on me. This year, I really love batting at the top of the order. I get more at-bats. I'm comfortable batting first, second, third -- my job is to get on base and score. I feel batting in the top of the lineup plays to my strengths."
Goeddel said that a couple of adjustments have sparked his recent surge.
"I struggled at the start of the season," Goeddel said. "The Rays' [Minor League] hitting instructor, Matt Quatraro, noticed a couple of things with my swing. We made a couple of adjustments, and it's going really well. I closed my stance, and that's made it easier to see pitches. I've been able to put together some consistent at-bats."
According to Sandberg, Goeddel is as versatile at the plate as he is in the field.
"Tyler deserves to hit in the 1-2-3-4 spots," Sandberg said. "He has power to all fields, and he can run. He can handle hitting in all four spots at the top of the lineup. Everything is magnified early on, but we all know Tyler can hit. He's proven that his last 40-some at-bats -- he's really put up some good numbers and stolen some bases.
"Tyler has great ability and he's mature beyond his years," Sanbberg added. "He has all the right qualities to be a Major League player. He has the talent, the mental make-up, and the work ethic to do that, but he knows he has to pay his dues."
In brief
Lost slam: Pinch-hitter Travis Harrison of Cedar Rapids blasted a shot over the left-field wall with the bases loaded in the 11th inning on April 27, but it was scored as a one-run single in the scorebook. Two of the runners on base when Harrison launched his game-winning blast got caught up in the celebration and never touched home plate, which ended up costing Harrison his slam and three RBIs in the Kernels' 8-7 over Great Lakes.
Financing the Chiefs: The City of Peoria will pay about $1.2 million over an eight-year period to keep Minor League Baseball in the central Illinois city. A package that reached about $7.35 million, which includes private money, was worked out Tuesday night. Caterpillar is slated to purchase the stadium naming rights for $2 million over a 10-year period.
Triple play: Quad Cities turned a triple play in a loss to Great Lakes on Sunday, marking the first such feat for the River Bandits in six seasons. Bandits third baseman Rio Ruiz fielded a grounder by Dashenko Ricardo and forced Corey Seager at third before second baseman Austin Elkins took the throw from Ruiz at second to force Jeremy Rathjen, and then Elkins fired the ball to Miles Hamblin for the out at first on Ricardo.
Curt Rallo is a contributor to MLB.com. This story was not subject to the approval of the National Association of Professional Baseball Leagues or its clubs.
View More