MWL notes: Vasquez proud of roots
Tigers prospect adjusting after leaving Venezuelan homeland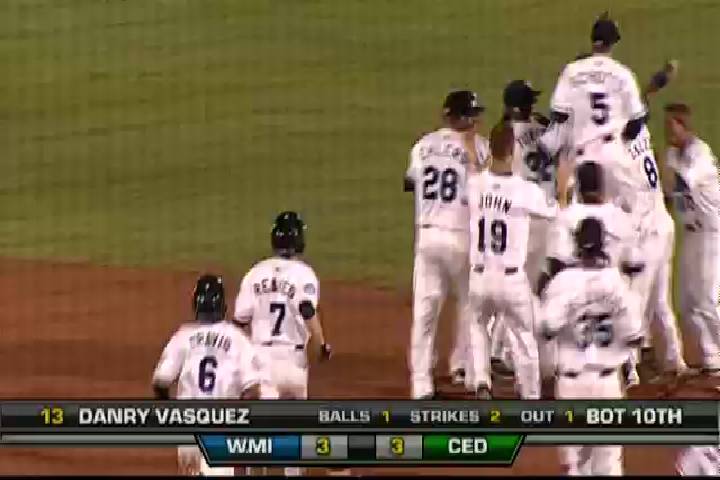 By Curt Rallo / Special to MLB.com | May 16, 2013 6:00 AM ET
When Detroit Tigers prospect Danry Vasquez shows up at the dusty diamonds of baseball-mad Ocumare Del Tuy, Venezuela, gloves drop, bats drop and the players sprint to get a high five or a hug.
Vasquez, an outfielder with Class A West Michigan this season, unleashes a magnetic personality in his hometown that has youngsters flocking to him.
"I'm from a really small town in Venezuela, but we have 10 baseball teams," Vasquez said. "When I go to the baseball fields, the children always run to see me.
"I always bring some things to the teams -- batting gloves, baseballs, bats. They always want me to get out and play. I'm not a big leaguer, but I'm helping them as much as I can. The children make me feel good. I always try to talk to all the people and be nice, I get a lot of questions on Facebook from the younger players who want advice on hitting. I always answer them."
Vasquez's roots are important to him as he seeks to work his way to Comerica Park, but the transition from the baseball he grew up with in Venezuela to professional ball has been a culture shock at times for the 6-foot-3, 177-pound outfielder.
"In Venezuela, baseball is for fun," Vasquez said. "It's like a hobby. Here, in the pros, you're playing like a war. You have to do everything right every day. You have your routine every day. You have to get more serious every day. Today's a new day. I have to be more serious today than I was yesterday. I have to work hard today to get better than I was yesterday. I get paid to play baseball now. It's so different now, but I'm glad I play professional baseball."
Detroit signed Vasquez, the No. 4-ranked prospect in the Tigers organization, according to MLB.com, for $1.2 million when he was 16 years old.
"The scouts saw me when I was 14," Vasquez said. "The Detroit Tigers did a good job. They never put their eyes in another place if I wasn't playing there. They were at every game for me. They kept saying, 'We want Danry.' They took video of me hitting and fielding and spent a lot of time with me."
The left-handed hitter is batting .248 with the Whitecaps. He led the short-season New York-Penn League with 90 hits last year, batting .313 for the season.
"Danry has a natural knack for hitting," West Michigan hitting coach Scott Dwyer said. "It's something he really has a passion for. As a 19-year-old, he's maturing into a fine young hitter in the sense that he really likes to work at it. It's exciting to watch. He's so young. You don't know what the future holds for him. It's exciting to see him grow within our organization. He's one of those types of guys who can go to the plate, and you don't know what's going to happen.
"He does not like to fail," Dwyer added. "He's handling failure better as he's maturing, but he still doesn't like it. He puts in the time to make sure that he doesn't fail -- he watches video, he puts in extra work. He's made adjustments from when he was in this league last year, and you can definitely see it."
After Vasquez signed with Detroit, the Tigers switched him from shortstop to outfield.
"I always played shortstop, some third base," Vasquez said. "I never played outfield. But the Tigers wanted me to play outfield. It's different. I like outfield. I can play outfield. Tt's just catch the ball and throw the ball to a cutoff man. It's not a big deal. I love left field -- that's my position. I'm learning the little things about the position, my coaches have helped me a lot."
Dwyer said Vasquez has shown positive development as an outfielder.
"When Danry came to the States, one concern was his fielding," Dwyer said. "Now he's realized that in order to get to the big leagues, you have to do more than hit. He's putting in his time as an outfielder. Gene Roof, our outfielder coordinator, has done tremendous work with him and spent a lot of time with him. His defense has gotten better."
In brief
Ex-Bandits haunt QC: Quad Cities was haunted by players who wore River Bandits uniforms when the club was part of the Cardinals' farm system. Tyrell Jenkins, Jordan Walton and Quad Cities are now affiliated with the Astros. Pitcher Jenkins and outfielder Walton, who played for the River Bandits last season, helped Peoria score a 6-3 victory over Quad Cities on May 11. Walton blasted two homers -- the first ones of his professional career -- to power Peoria's offense. Walton hit .149 in 18 games late last season for Quad Cities. Jenkins, a first-round pick by the Cardinals, earned the victory. He was 4-4 last season in Quad Cities.
Streak setback?: West Michigan's Devon Travis had a 20-game hitting streak, the longest of the season and the second-longest in Whitecaps history, but he could see it reduced to 18 games and dropped to third on the all-time Whitecaps' hit streak list -- West Michigan will complete a game from May 10 that was suspended due to rain on May 19. If Travis goes hitless in the completion of the suspended game, his hitting streak ends at 18, since the continued game will count as having been played May 10. West Michigan's Jeff Holm has a 26-game on-base streak that could also be affected by the suspended game.
Seager sidelined: Corey Seager, a first-round pick (No. 18 overall) last season and the No. 4-rated prospect in the Dodgers organization, was placed on the seven-day disabled list with a hamstring injury. Seager, a third baseman, is hitting .267 for Great Lakes this season.
Curt Rallo is a contributor to MLB.com. This story was not subject to the approval of the National Association of Professional Baseball Leagues or its clubs.
View More