MWL notes: Ziomek focused on fastball
Tigers second-rounder gained perspective from off-season at Vandy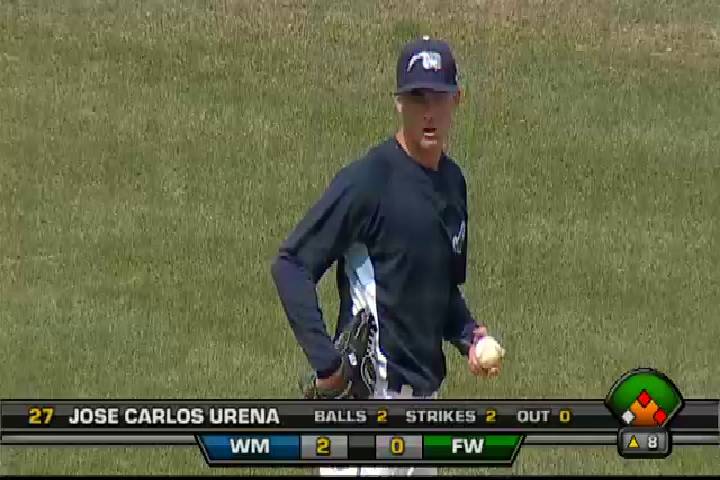 By Curt Rallo / Special to MiLB.com | July 31, 2014 10:00 AM ET
West Michigan's Kevin Ziomek loves spending the off-season in Nashville, but not for the music and the nightlife. It's the rich baseball resources that have Ziomek returning to Vanderbilt, where he starred for the Commodores from 2011-13.
Vanderbilt opens its doors to alumni in the professional baseball ranks, and Ziomek, a 6-foot-3, 200-pound flame-throwing left-hander, took advantage of the opportunity to work out and talk with players who've been through the grind.
"It's been great to have resources like David Price and Sonny Gray," Ziomek said. "A lot of professional guys go back and work out at Vanderbilt in the off-season, and Nashville is a great city to live in. It's great for the college guys to be able to talk to the pro guys, to see how they push each other, how they prepare for the next season."
Lessons learned from players in the Majors are starting to kick in for Ziomek, a second-round pick in 2013 who is ranked as the No. 6 prospect in the Tigers organization by MLB.com. Ziomek has struck out 24 batters in his last 13 innings pitched -- he fanned a career-high 11 in seven innings of work against Burlington last week and then broke that mark Monday against Kane County when he whiffed 13. In comparison, Ziomek had 22 strikeouts in his previous five appearances covering 21 2/3 innings.
In his last 13 innings, he has not given up a run and only allowed seven hits and four walks.
"I think the biggest thing is getting comfortable," Ziomek said of his improvement. "I talked to some guys who have played pro ball, and they said it takes a little bit of time for some guys to get adjusted. I think I've finally settled in and figured out a routine that works for me."
Ziomek is 8-6 with a 2.17 ERA, allowing 23 earned runs in 95 1/3 innings.
"I think the biggest adjustment for me has been to really hone in on my fastball command," Ziomek said. "In the past, it's been a big pitch for me. Early on in the season, it wasn't really where I needed it to be. I worked on slowing everything down mechanically and keeping things simple, and that's been really big for me, getting the fastball command down and being able to throw it wherever I want, whenever I want."
West Michigan pitching coach Mike Henneman said Ziomek has made significant progress from the start of the season.
"He's an intelligent kid and loves the game," Henneman said of Ziomek. "His stuff has gotten better each and every start. He's throwing hard … he's topping out at 94, 95 mph. He has much better command now, too. Early in the season, if he walked a guy, all hell would break loose. Now if he walks a guy, it's no big deal. He's got his composure, and he focuses on the next batter and makes quality pitches."
Ziomek said he loves the challenge that pitching offers.
"One of the big things I love about pitching is that one-on-one aspect versus the hitter," Ziomek said. "I really enjoy thinking and trying to outsmart the hitter. That's something I pride myself on -- being able to go through a lineup two or three, four times in a game is something that takes a lot of practice. You can't pitch the same way every time you face a batter. That's the cool thing about it. You have to be on top of your game every time you face a batter, or you're going to get hurt."
In brief
Bachelorette mania: Former Beloit Snapper Josh Murray was the winner of ABC's The Bachelorette show in which he became engaged to Andi Dorfman. Murray, who played for Beloit in 2003 and 2004 when the team was affiliated with the Milwaukee Brewers, was taken in the second round of the 2002 Draft and, in two seasons with the Snappers, hit .163 with four homers and 19 RBIs. Beloit celebrated Murray's engagement with Bachelorette Night on Wednesday as prizes included dozens of roses and an autographed Josh Murray Snappers baseball card.
Lugnuts meltdown: Lansing saw a 6-1 lead disappear over the final four innings in a 7-6 loss to Dayton on July 29. Closer Scott Silverstein coughed up the tying and winning runs in the ninth on four walks, a hit batsman and three wild pitches. Alex Blandino, a 2014 first-round pick by the Reds, homered in his first at-bat for the Dragons after getting promoted from Rookie-level Billings.
Turner update: San Diego's first-round selection in the 2014 Draft, Trea Turner, is tearing up the Midwest League. A shortstop taken 13th overall, Turner is hitting .483 with 14 runs scored, seven doubles, one triple, eight steals and seven RBIs in 15 games. He has hit in 14 of his 15 games and has not committed an error.
Inside job: Bowling Green outfielder James Harris, a first-round pick in 2011, hit an inside-the-park grand slam Wednesday night in the first inning against South Bend. Silver Hawks center fielder Chuck Taylor attempted a diving catch on a sinking liner, but the ball hit in front of Taylor and bounced to the wall, allowing Harris to motor around the bases. It was the third inside-the-park homer at South Bend's Four Winds Field this season as Andrew Velazquez and Marty Herum of the Silver Hawks completed the feat earlier this year.
Curt Rallo is a contributor to MiLB.com. This story was not subject to the approval of the National Association of Professional Baseball Leagues or its clubs.
View More