Nats' Giolito goes six scoreless again
Top Washington prospect allows two hits, wins his third straight start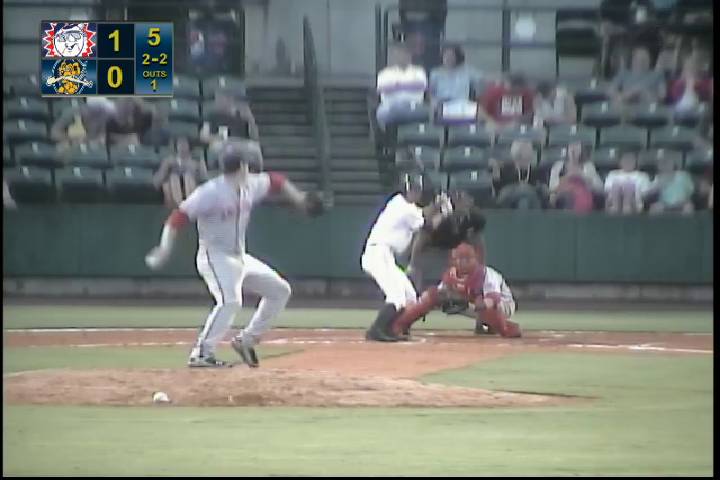 By Ashley Marshall / MiLB.com | July 31, 2014 11:23 PM ET
Top Nationals prospect Lucas Giolito's name doesn't appear on any South Atlantic League leaderboards, but it's not for a lack of effort.
The 20-year-old right-hander worked around a pair of singles and a walk while striking out six batters over six innings Thursday in the Class A Hagerstown Suns' 1-0 win over the host Charleston RiverDogs.
"It was a good, solid performance," Giolito said. "I was able to get out there and get ahead of most of the batters I faced and put guys away when I needed to and get ground balls.
"After the Futures Game, I came back and I just have been really focusing on not throwing as hard as I can or snapping off the best breaking ball ever, but just playing catch and throwing the ball at the target. [Catcher] Spencer [Kieboom] has been great. I've pitched to him all year. The guy really knows how to call a game and read batters. He's one of the best blockers out there and he can throw guys out from his knees."
Selected by the Nationals 16th overall in the 2012 Draft, Giolito (7-2) allowed a first-inning bunt single and a one-out single to center field in the second. An inning-ending double play erased the latter threat to start a string of 13 consecutive outs.
Thursday's outing marked the seventh time in 17 games this season that Washington's top prospect has allowed two hits or fewer. In all but one of those games, Giolito did not allow a run. In total, he has posted zeros in eight of his South Atlantic League appearances and he believes his stuff has the ability to play at the higher levels.
"I think it would do pretty well," Giolito said. "I'm confident in my ability, but I know there is still much more to improve. I need to continue to improve my fastball command because I still miss my spots.
"I challenge myself more than anybody else challenges me. That's just the nature of the game. You have media and scouts and all that talking about your starts here and there, but I don't pay attention to it."
Giolito has allowed fewer hits and walks combined (80) than innings pitched (83) while recording 94 strikeouts. Opponents are hitting just .181 against the right-hander.
The 6-foot-6 California native would rank first on the circuit with a 2.17 ERA if he had enough innings to qualify. He is currently five innings away from that limit, which is 0.8 innings for every game his team has played.
Ranked 11th among MLB.com's Top 100 prospects, Giolito -- who underwent Tommy John surgery on Aug. 31, 2012 -- would also appear in a number of other categories. He would lead the league in WHIP (0.96), batting average against and fewest base runners per nine innings (8.7) and rank second with 10.2 strikeouts per nine innings.
"I've had my fair share of conversations [about moving up] with the people in the organization, and honestly, it's not something I'm worried about," Giolito said. "My goal is to continue to develop as a pitcher and get more innings in. I have a great relationship with my manager [Patrick Anderson] and pitching coach [Sam Narron] here in Hagerstown and the higher-up coordinators and I feel like we have great levels of communication.
"It feels great just to go out every fifth day and give my team a chance to win. I'm only 20 and I just turned 20, so there's no rush to the big leagues."
The Santa Monica, California native's goal for the remainder of the season is to build a "base layer" of innings to help him for next season. There's no specific number set by him or the organization, but he said "low 100s" would be the likely target. With 30 regular-season games remaining, it's likely Giolito will get five more outings. If he logs five innings in each of those games, he's on track for a total of 108.
Giolito, who lowered his ERA to 2.17, allowed one hit over six shutout frames six days ago against Kannapolis and he has won his past three starts and five of his past six.
Hagerstown's Wander Suero struck out six batters over three one-hit innings in relief for his third South Atlantic League save. Kieboom plated the decisive score with a two-out RBI single to left in the fourth.
Charleston's Chaz Herbert (1-3) took the hard-luck loss, allowing the game's lone run -- unearned -- on two hits and a walk over seven frames.
Ashley Marshall is a contributor to MiLB.com. Follow him on Twitter @AshMarshallMLB. This story was not subject to the approval of the National Association of Professional Baseball Leagues or its clubs.
View More