Nelson fans career-high 11 in Sounds' return
Brewers top prospect pitches into the eighth for sixth Triple-A victory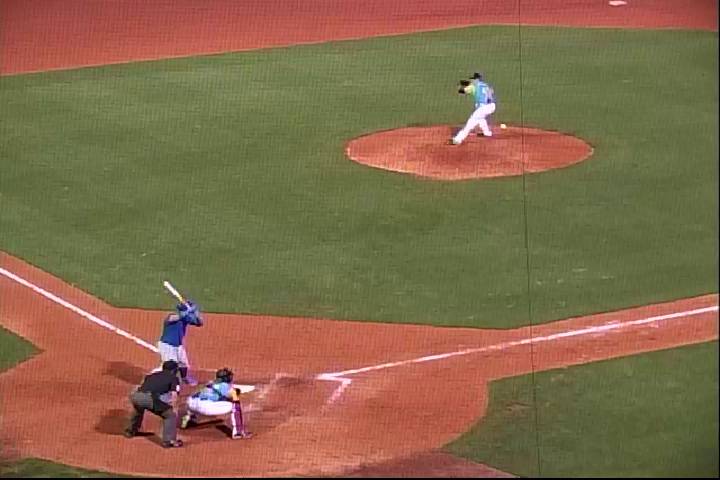 By Tyler Maun / MiLB.com | June 1, 2014 12:43 AM ET
Jimmy Nelson was coming off a scoreless performance in his first Major League outing of the year that he deemed one of his worst starts of the season. A return to form in Nashville meant a rough night at the plate for yet another Pacific Coast League foe.
The Brewers' top prospect returned to Triple-A and recorded a career-high 11 strikeouts over 7 2/3 innings, limiting Iowa to a run on three hits, as Nashville pulled out a 2-1 win.
Nelson (6-1) carved through the Cubs with ease for most of his 10th Minor League start of the season. He fanned nine batters swinging and had Iowa hitters off-balance with his off-speed arsenal.
"The slider's pretty consistent for me from game to game," Nelson said. "It's usually pretty good, but today my changeup was probably the best it's been all year as far as being able to locate it and throw it in any count. I had some good movement on it today, so that was a big pitch for me. It kept the guys off the fastball a little bit. The fastball command was there today, two-seam and four-seam. When you can command the fastball early in the game, that opens up some other things."
Six days ago, Nelson stepped onto a big league mound for the first time this season and silenced Miami for 5 2/3 innings in a 7-1 victory. The 24-year-old right-hander struck out six while walking three but wasn't thrilled with the outing.
"That start I had in Miami, I felt like that was the worst my command had been all year," he said, "and I was really fighting my mechanics. I was pulling off a lot of pitches. Luckily, we had that five-run lead in the first couple of innings and we made some good defensive plays. That helped me battle through some command issues. Today, I was just trying to get back on track with my delivery and consistency, and I felt like I did a pretty good job with that."
With an extra day of rest between starts, Nelson went back to work on honing his delivery, looking to extend a seven-start unbeaten streak that dates to April 10.
"I've been working with our pitching coach, Fred Dabney. Our pitching coordinator, Rick Tomlin, was here the last couple of days," Nelson said. "For me, it's been the same thing all year mechanically, just tracking my head to the plate. This start today and my start in Omaha, when I had a really good start at their place (on April 21) have really been the two games where I felt I was the most consistent as far as tracking my head to the plate and not pulling off my pitches."
While Nelson was blanking the Cubs, Brewers No. 10 prospect Hunter Morris handed him a slim lead with a leadoff homer in the second. After Iowa battled back to tie the game on Jonathan Mota's sacrifice fly cashing in a Brett Jackson triple in the seventh, Sean Halton doubled home Hector Gomez with the go-ahead run in the bottom of the inning.
Nelson struck out the first two batters in the eighth before walking Ryan Kalish to end his night. The University of Alabama product threw 68 of 99 pitches for strikes and issued two free passes.
Iowa starter Chris Rusin (3-7) took the loss, yielding two runs on four hits while striking out five and walking one over seven innings.
Tyler Maun is a contributor to MiLB.com. Follow him on Twitter @TylerMaun. This story was not subject to the approval of the National Association of Professional Baseball Leagues or its clubs.
View More