New tools boosted Willingham's career
Move behind plate from the infield fueled climb to big leagues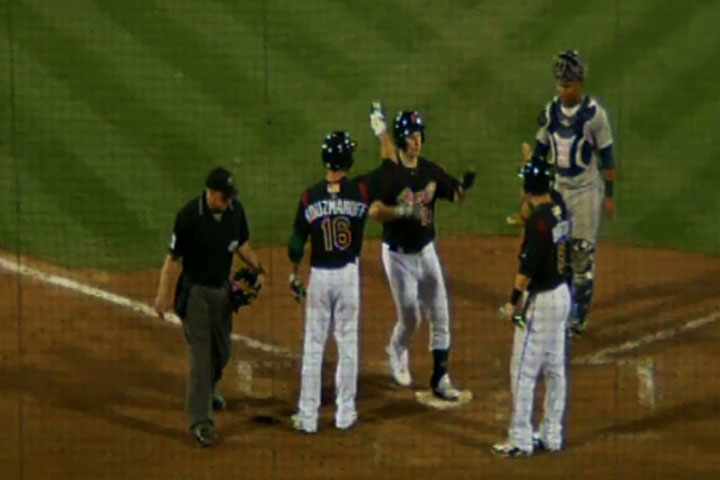 By Robert Emrich / MiLB.com | February 11, 2015 10:00 AM
Typically, all a Minor Leaguer wants is a chance. Josh Willingham's chance came because he was willing step out of his comfort zone. And that willingness to change put him on the road to a big league career.
Recently retired after 11 years in the Majors, Willingham spent parts of six seasons in the Minor Leagues before becoming a full-time big leaguer with the Florida Marlins in 2006. He finished with 195 career homers and a .253/.358/.463 slash line. That home run total ranks sixth among players drafted in the 17th round. Not that where he was drafted mattered to Willingham. All he needed was a chance.
"I played with guys who were more talented than me but didn't make it for some reason or the other," said the 491st overall pick in the 2000 Draft. "I think perseverance is something that, when you're a later-round pick, you have to persevere. You have to keep getting off the ground. Just a sort of won't-be-denied attitude, and I think that's kind of what I had.
"I think everybody just wants a chance and it's sort of what you do with that chance when you get it. Regardless of where you get drafted, the big thing about being a first-round pick is that they are more invested in you, so you might get more opportunities maybe. Being a later-round pick, I feel like I got the same opportunities, you just have to perform well. You have to show the organization that you can play at that level -- I think that's the big thing."
Willingham's chance came after the 2002 season, though in a way he probably didn't expect when he first embarked on a professional career.
At first glance, it would be hard to tell what that key was. After a successful season with Class A Advanced Jupiter in 2002 in which he led the team with 17 homers while driving in 69 runs and posting an .881 OPS, Willingham returned to the Florida State League in 2003. The reason? A new position for the then-infielder.
"If you follow my career, I switched to become a catcher that year," Willingham recalled. "After the 2002 season, we had Miguel Cabrera playing third base, and I played third base, and Adrian Gonzalez playing first base, and I played first base as well. So they approached me about being a catcher. That's why I went back to Jupiter, because I never caught before and they wanted me to start in A-ball."
Former Major Leaguer Ron Hassey and then-Marlins bench coach Doug Davis were instrumental in helping Willingham make the conversion.
"He's got such strength and durability that he can handle that move and become a solid catcher," Davis told the [South Florida] Sun-Sentinel in 2004.
Willingham, for his part, thought the idea of moving behind the plate was interesting.
"I was intrigued by it because, as a competitor, I thought I could do it, and it was a different challenge because I wanted to see if i could do it," he said. "So I was really excited about it. They told me, if I could do it, it would help accelerate me through the system and to the big leagues. Really, catching is what got me my first callup to the big leagues."
Despite moving to a more complex defensive position, Willingham continued to thrive with the bat, establishing a career high with 18 homers in 83 games and getting a brief promotion to Double-A Carolina.
Once he made the defensive switch, Willingham started to get noticed by scouts and other prospect experts. In 2004, Baseball America ranked him among the Marlins' top 10 for the first time, a significant leap for someone who saw 490 players drafted before him in 2000.
The Alabama native's career really took off the following season. Spending the entire year with Carolina, Willingham produce 24 homers, 76 RBIs and a 1.014 OPS, all personal bests.
"[That] was when I thought I could hit at the big league level," he said. "I performed well [at Double-A], I hit well there."
Willingham got confirmation on July 17 while making his first start behind the plate for the Marlins. Then 25, he slugged his first Major League homer off Pirates left-hander Oliver Perez.
"Well, the first thing I remember is I was catching Brad Penny and he had told Jack McKeon -- our manager at the time -- that he wanted me to catch, which I was very appreciative of," Willingham recalled. "I think that might have been my first start as a catcher. Hitting a homer was the high point of my game. I remember we were facing Oliver Perez and he's a lefty that back then threw in the mid-90s. I worked the at-bat to a full count and fouled a couple of pitches off to get there and hit a 3-2 pitch out. That's a moment you dream about that you won't forget."
That brief big league cameo led to another stint with the Marlins the following year along with an appearance in the Futures Game. Willingham felt those callups were important, if only to meet veterans who had plenty of advice to offer.
"I got a cup of coffee, if you will, in 2004 and got to watch how a lot of veteran guys like your Mike Lowells and your Jeff Conines and a lot of guys that you respect, got to see how they went about their business," he said. "Same thing in 2005; I didn't get a whole lot of at-bats, but I got to see how those veterans went about their business."
The 2006 season is when Willingham's big league career took off. At the age of 27, he slugged 26 homers, posted an .852 OPS and finished ninth in National League Rookie of the Year voting.
Save for a few rehab stints, Willingham's time in the Minors was over. After reaching the postseason for the first time and falling just short of a World Series ring with the Royals in 2014, he chose to hang it up, content with all he'd accomplished.
"As far as my overall career, I feel like I was a pretty consistent player," the 2012 Silver Slugger said. "Everyone wants to be consistent, and that's what I take pride in when I look at my numbers. What I take away from it is getting to experience the world, playing a lot of different places, played with a lot of different teammates that I'll have relationships with the rest of my life, and the whole experience and living the dream."
Robert Emrich is a contributor to MiLB.com. Follow him on Twitter @RobertEmrich. This story was not subject to the approval of the National Association of Professional Baseball Leagues or its clubs.
View More