Nine-run seventh sparks Reds over Twins, 9-5
G-Reds scores nine runs with two outs in seventh to erase two-run deficit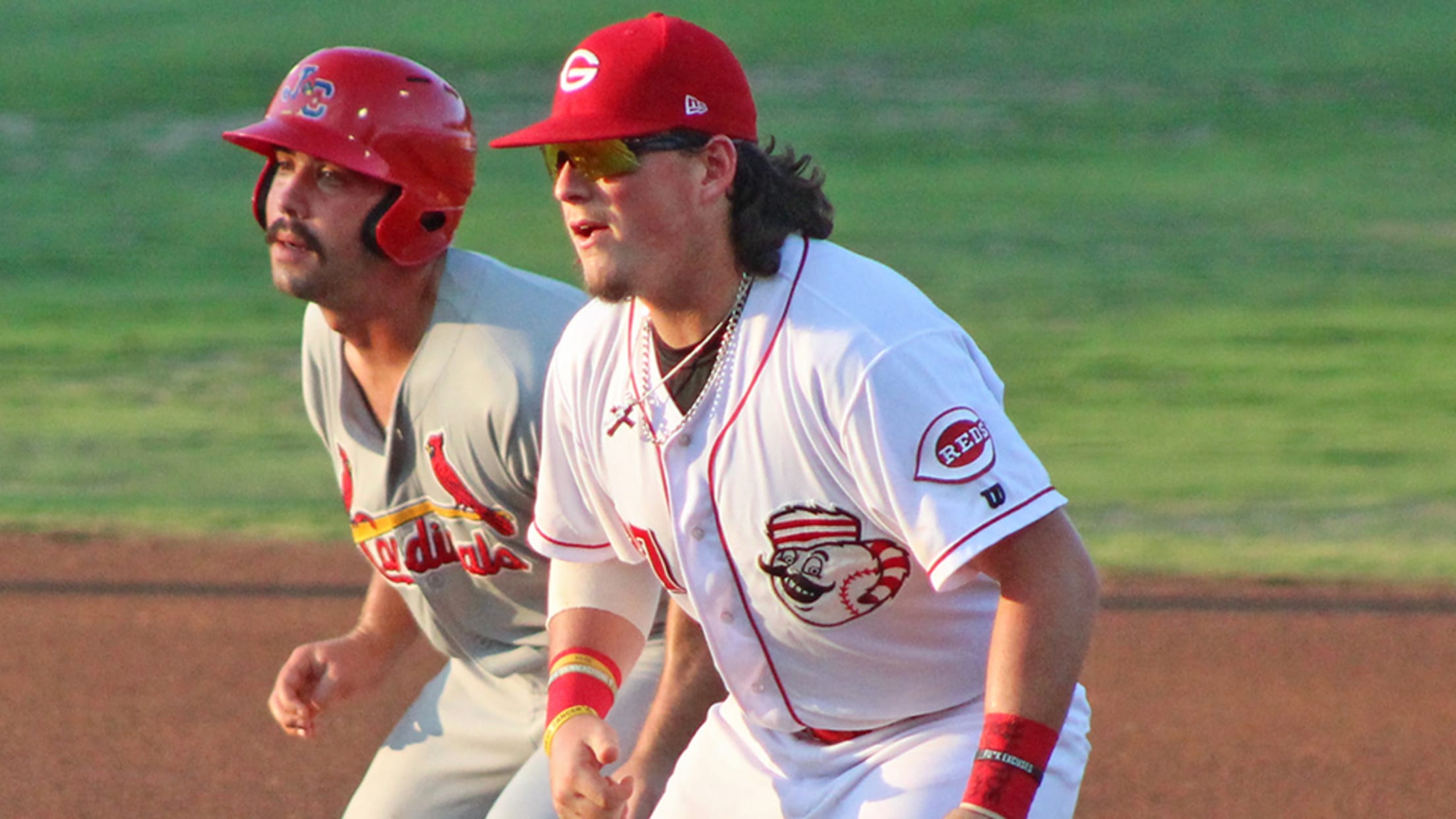 3B Rylan Thomas capped off a nine-run seventh inning with a three-run home run, as the Greeneville Reds rallied to defeat the Elizabethton Twins, 9-5, in front of 997 fans at Pioneer Park on Sunday evening. (Tracy Painter / Greeneville Reds)
GREENEVILLE, Tenn. -- Down two with two outs in the seventh, Greeneville erupted for nine runs to snag the lead for good, as the Reds topped the Elizabethton Twins, 9-5, in front of 997 fans at Pioneer Park on Sunday evening.With the win, Greeneville improved their overall record to 20-30 on
GREENEVILLE, Tenn. -- Down two with two outs in the seventh, Greeneville erupted for nine runs to snag the lead for good, as the Reds topped the Elizabethton Twins, 9-5, in front of 997 fans at Pioneer Park on Sunday evening.
With the win, Greeneville improved their overall record to 20-30 on the season. Elizabethton's loss is their third straight, as they fell to 27-21 on the campaign.
Trailing 2-0 with two outs in the seventh, 1B Justin Bellinger (0-3, R, BB, SO) started the game-winning rally with a walk. A single from RF Reniel Ozuna (2-4, R) and a free pass to C Hunter Oliver (0-3, R, BB, SO) loaded the bases for SS Miguel Hernandez (1-4, R, RBI). The 19-year-old slapped a single into shallow right to bring home the team's first run, trimming Greeneville's deficit to 2-1.
Elizabethton would bring in LHP Zach Neff (0.1, 4 H, 5 R, 5 ER, BB) to try and stop the bleeding, but had no such luck. Edwin Yon (1-1, R, 2 RBI) came up as a pinch-hitter and poked a 3-2 delivery through the left-side for a go-ahead, two-run single to put the G-Reds in front, 3-2. Consecutive singles by CF Mike Siani (2-3, R, RBI, BB, SO) and 2B Claudio Finol (1-4, R, RBI) drove in a pair, extending the advantage to three, 5-2.
With LF Nate Scantlin (0-3, R, BB) at the plate, Finol broke towards second. The 19-year-old slid in safely with a stolen base, while the ball was dropped at second - allowing Siani to score - giving the Reds a four-run cushion, 6-2. After Scantlin walked, 3B Rylan Thomas (1-4, R, HR, 3 RBI) put the finishing touches on the nine-run frame. The former UCF Golden Knight whacked a three-run home run over the left-field fence - his team-leading 10th of the year - making it 9-2.
The Twins mustered a brief rally in the ninth, scoring three times on a three-run long ball by DH Colton Burns (1-4, R, HR, 3 RBI, 2 SO) - his fifth of the year - but that was as close as they would get, as Greeneville closed out a 9-5 win.
After failing to make it out of his first inning as a Greeneville Red on Tuesday night in Bluefield, RHP Eduardo Salazar (5.1 IP, 3 H, 3 R, 3 ER, 2 BB, 3 SO) struck back with a vengeance on Sunday. The 20-year-old hurled 5.1 innings of relief - retiring 12 out of 14 batters from when he entered with two outs in the fourth to the end of the eighth - en route to his first Appalachian League victory.
RHP Lyon Richardson (3.2 IP, 4 H, 2 ER, 2 ER, BB, 4 SO) tied a career-best with four strikeouts in a no-decision for Greeneville. His counterpart - RHP Josh Winder (5.0 IP, 2 H, 4 SO) - hurled five spotless frames, but took a no-decision, as well, for Elizabethton. LHP J.T. Perez (1.2 IP, 2 H, 4 R, 4 ER, 3 BB, SO) took his first defeat in relief.
Greeneville will look to seal their first series win of the month on Monday, as RHP Alexis Diaz (3-1, 3.44 ERA) is expected to make the start. Elizabethton is projected to counter with LHP Kody Funderburk (1-1, 4.57 ERA).
The G-Reds Pre-Game Show will kick off the broadcast at 6:45 p.m. ET, leading up to the 7:00 p.m. ET start at Pioneer Park. Monday evening's contest can be heard on GreenevilleReds.com or via the TuneIn Radio and MiLB First Pitch apps.
It will be a Dollar Monday at the ballpark, as fans can enjoy hot dogs, chips, candy, popcorn, and select draft beer options for just one dollar.
Single-game tickets are still available and can be purchased online at GreenevilleReds.com or by calling the Reds' Ticket Office at (423) 609-7400.