NWL notes: Becker taking care of business
Hillsboro reliever putting aside agricultural gig to thrive with Hops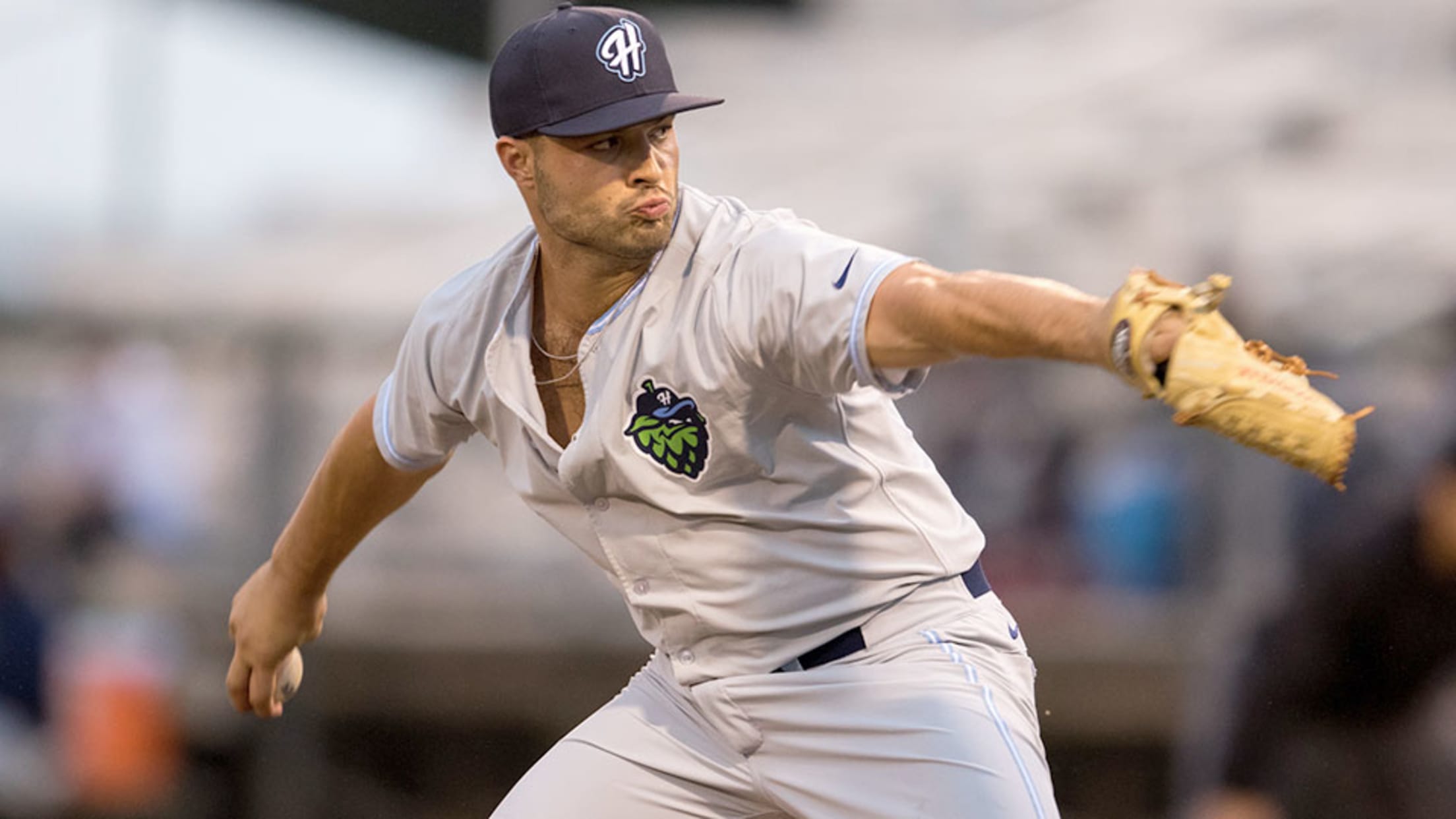 Cal Becker has struck out 25 batters over 25 innings during his Minor League career. (Shari Sommerfeld/MiLB.com)
Hillsboro reliever Cal Becker has been all business out of the bullpen with a 1.80 ERA and 15-to-1 strikeout-to-walk ratio over 10 innings, and he conducts his business off the diamond with the same tenacity and grit.Becker, a Kenfield, California, native, loves nature and "being connected to the earth," so
Hillsboro reliever Cal Becker has been all business out of the bullpen with a 1.80 ERA and 15-to-1 strikeout-to-walk ratio over 10 innings, and he conducts his business off the diamond with the same tenacity and grit.
Becker, a Kenfield, California, native, loves nature and "being connected to the earth," so in his spare time he's the master tenant of agricultural and commercial warehouse properties spread across Northern California. During the offseason, he uses his construction background to repair and keep the properties up and then leases them to operators. He has two full-time employees that help take care of the day-to-day management while he's living his dream of playing professional baseball.
"There will be days I spend three to four hours on the phone in the morning, and then I turn my phone off when I get to the ballpark," Becker said. "It's a bit of a tricky balance, but I'm so grateful for the partners and employees I have. They take on a huge workload when I'm gone playing baseball, and I lean on them heavily."
Becker's top priority is pitching for the Hops, let that be clear, but the 24-year-old right-hander carves out time in his busy schedule to let his coworkers hundreds of miles away know he's still engaged and connected.
"For me, it's all about creating a routine and a schedule," Becker said. "At the beginning of the week, I look at points at which I'll be available and give my employees a heads up."
Becker said with the success of his business, he hopes to never stop playing baseball. He loves to compete and when he's on the mound facing a hitter, it gets his adrenaline pumping and there's no better feeling.
"It's never been about money for me," said Becker, who signed with the D-backs as an undrafted free agent out of Sonoma State University in 2016. "I'll always be playing for the love of the game, and that's why I'm here. I love the thrill of the old-fashioned me-versus-the-hitter mentality."
Becker has an interesting pregame routine, too. He takes his shoes off and walks around the stadium in the grass so he can focus and, in his words, "get his head in the right space."
"It grounds me," Becker said. "It connects me back with nature, and if I can't draw everything back to that, then it's hard for me to pursue my dream."
Hillsboro is playing a five-game series with Everett through Monday.
In brief
Dust Devils thrive on road: The Tri-City Dust Devils (Padres) are tied for the best record in the Northwest League at 10-5, fueled by a 6-2 mark on the road. They have four games left in a five-game series at home against the Salem-Keizer Volcanoes to try to boost their 4-3 mark at Gesa Stadium.
Emeralds doing it differently so far: Last season, the reigning NWL champion Eugene Emeralds led the league in several pitching categories. This year, though, it could be their year at the dish. Three of the five top hitters in the NWL are from the Cubs affiliate, with third baseman Joe Martarano leading the way hitting .385 in 11 games. Center fielder Zach Davis (.361) and catcher Gustavo Polanco (.350) rank fourth and seventh in the circuit, respectively.
McDade is dealing: Tri-City starting pitcher Jim McDade hasn't allowed an earned run in 13 2/3 innings thus far, and he hasn't walked anybody either. He has 14 strikeouts and a WHIP of 0.73 that leads qualified NWL pitchers.
Billy Gates is a contributor to MiLB.com.