Offensive Players of the Week
For the week ending April 27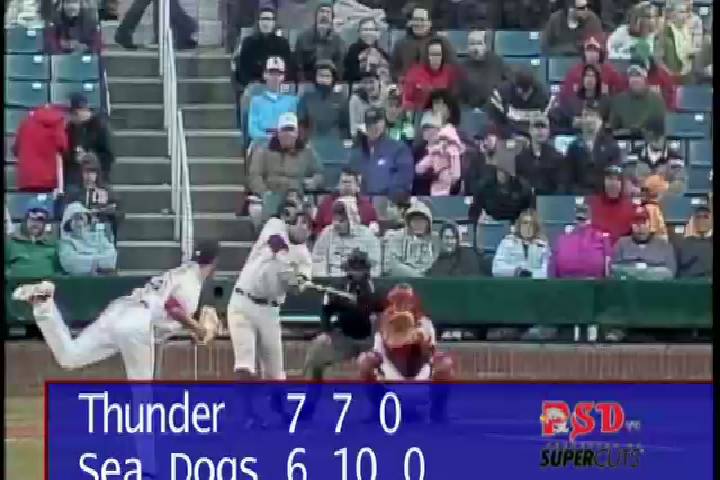 By John Parker / MiLB.com | April 28, 2014 4:30 PM ET
Here's a look at the top offensive performers in each league for the week ending April 27:
International League
Joey Terdoslavich, Gwinnett
(.500/.552/.731, 7 G, 13-for-26, 3 2B, 1 HR, 4 RBI, 9 R, 3 BB, 5 K, 1 SB)
The hits kept coming last week for Terdoslavich, who had multiple base knocks in five of his seven games and scored nine times. The 25-year-old outfielder batted .318 with the G-Braves last season and has kept up the pace with a .317 mark this year, albeit with less power and a higher walk rate. Terdoslavich, a switch-hitter, is hitting even better from the left side, where he's posted a .353 average against right-handed pitching.

Gwinnett's Terdoslavich hammers homer
Pacific Coast League
Eric Campbell, Las Vegas
(.500/.577/.818, 5 G, 11-for-22, 4 2B, 1 HR, 7 RBI, 6 R, 3 BB, 3 K, 1 CS)
The 51s have the best record in the PCL (18-6) and lead the circuit in scoring, hits and on-base percentage. Campbell is a big reason why -- he has 33 hits and has scored 25 runs in his first 22 games. The 27-year-old infielder's performance comes as no surprise -- he posted a .435 OBP in Las Vegas last season -- but with five extra-base just hits this week, Campbell has demonstrated more power this year than last. Batting .533 with runners on base may not be sustainable, but it's to be celebrated.
Eastern League
Kyle Roller, Trenton
(.526/.625/1.263, 5 G, 10-for-19, 2 2B, 4 HR, 8 RBI, 6 R, 4 BB, 6 K)
Roller, a North Carolina native, seems to enjoy the chilly weather of spring -- he was named EL Player of the Week last April as well. A second stint in Trenton is agreeing with the 26-year-old slugger, who has seven homers and 15 RBIs in his first 12 games for a .400/.491/.956 line. Roller collected multiple hits in each of his first four games last week before going 1-for-3 with a walk and two RBIs Sunday. Despite having played in just 12 games, Roller's seven blasts lead the league.

Roller hits second homer of game
Southern League
Mike Freeman, Mobile
(.400/.429/.960, 6 G, 10-for-25, 1 2B, 2 3B, 3 HR, 7 RBI, 8 R, 1 BB, 3 K, 1 SB)
Freeman began the week with six home runs in 404 career Minor League games and ended it, after a huge weekend series against Jackson, by clubbing three long balls in six games. Now in his second season with the Double-A BayBears, Freeman is hitting and reaching base at roughly the same clip he did last year, but his slugging percentage has soared by nearly 200 points. The 26-year-old second baseman homered and tripled both Saturday and Sunday and drove in five runs altogether as Mobile took the first four games of a five-game series against the Generals.
Texas League
Jonathan Rodriguez, Springfield
(.519/.545/.889, 7 G, 14-for-27, 5 2B, 1 3B, 1 HR, 6 RBI, 6 R, 4 BB, 5 K)
As if the Cardinals system weren't already potent enough, Rodriguez is off to a flying start in his first month of Double-A ball. No one in the Minors had more than his 14 hits or seven extra-base hits last week, and he ranks second in the Texas League in batting and third in both on-base percentage and RBIs. With help from the 24-year-old slugger, Springfield has won four games in a row and opened up a two-game lead over second-place Tulsa in the Texas League North.

Rodriguez's single plates two for Springfield
California League
Jordy Lara, High Desert
(.417/.516/.792, 7 G, 10-for-24, 1 2B, 1 3B, 2 HR, 11 RBI, 7 R, 6 BB, 2 K)
After getting a 15-game taste of the Cal League late last summer, Lara returned to High Desert this spring and is taking full advantage of the hitter-friendly conditions with a .333/.400/.583 line in his first 23 games. The 22-year-old first baseman drove in 11 runs despite being walked six times. For a guy with some pop, Lara doesn't strike out much, and he's been particularly hard on left-handed pitching, off which he's batting .409.
Carolina League
Joey Gallo, Myrtle Beach
(.364/.516/.909, 6 G, 8-for-22, 1 2B, 1 3B, 3 HR, 9 RBI, 7 R, 8 BB, 6 K)
Normally when a teenager clubs a Minor League-leading 40 home runs in a season, one could expect baseball scouts to go nuts. Gallo, who did just that last year, is merely MLB.com's No. 89 prospect -- talent evaluators looked at the third baseman's .334 OBP and 37-percent strikeout rate and wondered whether Gallo's power could ever balance out the whiffs. He's responded to the criticism early this year by improving in every category: he's on pace for even more homers while cutting his strikeout rate by 10.5 percent to 26.5. He captured his second Carolina League Player of the Week award last week, thanks in part to a three-homer, six-RBI night at Frederick on Wednesday, and is now batting an astonishing .333/.451/.782 overall. Though his numbers have been boosted by a .370 BABIP that is likely unsustainable, Gallo seems well on his way to becoming not just a slugger, but a hitter.

Myrtle Beach's Gallo legs out triple
Florida State League
Dalton Pompey, Dunedin
(.452/.514/.645, 7 G, 14-for-31, 1 2B, 1 3B, 1 HR, 7 RBI, 9 R, 4 BB, 5 K, 4 SB)
A fourth-round pick out of suburban Toronto in 2010, Pompey spent most of three seasons in short-season ball before joining full-season Lansing in 2013. If he was solid for the Lugnuts -- .261/.358/.394 in 115 games -- he's looking like an MVP candidate thus far in Florida. Dunedin is off to an 18-5 start and Pompey is leading the way with a .371 average (third-best on the circuit) and a league-leading 12 stolen bases in 12 attempts. He still strikes out a lot for a guy with one homer, but he's getting on base and making things happen.
Midwest League
Thomas Lindauer, Quad Cities
(.346/.346/.654, 6 G, 9-for-26, 2 2B, 2 HR, 8 RBI, 4 R, 3 K)
Lindauer grew up in Moline, Ill., just across the Mississippi River from Davenport, Iowa, home of the River Bandits. A 23rd-round pick out of the University of Illinois last June, the 22-year-old shortstop joined his hometown team last Monday and made an impact right away. After doubling and singling in his debut, Lindauer went 3-for-4 with two homers and five RBIs at Clinton on Tuesday before collecting four hits the rest of the week. With the Bandits back in Davenport, Lindauer is set to make his home debut Monday night.
South Atlantic League
Bo Greenwell, Greenville
(.458/.500/.875, 6 G, 11-for-24, 1 2B, 3 HR, 8 RBI, 7 R, 2 BB, 1 K, 1 CS)
In the same week that Joey Terdoslavich was named the IL's top performer, his cousin Bo Greenwell earned the same award in the South Atlantic League after driving in eight runs for the Drive. At 25, Greenwell is much older than the average player in the league, and he showed veteran savvy in notching 11 hits -- including three homers -- over a six-game span while striking out just once. His biggest game came against Lexington on Thursday as Greenwell went 4-for-5 with a pair of homers and four RBIs in the Drive's 9-4 win.

Greenville's Greenwell hits second homer
John Parker is an editor for MiLB.com. This story was not subject to the approval of the National Association of Professional Baseball Leagues or its clubs.
View More