Offensive Players of the Week
For the week ending June 22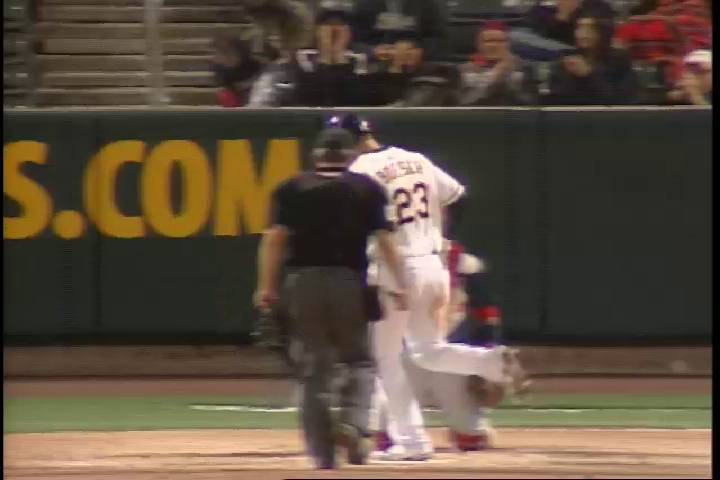 By John Parker / MiLB.com | June 23, 2014 4:50 PM ET
Here's a look at the top offensive performers in each league for the week ending June 22 (games from June 13-22 considered for New York-Penn and Northwest League winners):
International League
Brandon Laird, Syracuse
(.423/.429/.923, 6 G, 11-for-26, 1 2B, 4 HR, 8 RBI, 8 R, 1 BB, 3 K)
Back in the IL after spending the 2013 season in the Astros organization, the former Yankees prospect is having his finest pro campaign in 2014. He has hits in nine straight games -- with multiple hits in seven of them -- and homered in four consecutive contests between Tuesday and Friday. The 26-year-old third baseman is batting .335 since the end of April and ranks eighth in the league with a .313 average overall.

Laird homers in fourth straight
Pacific Coast League
Brennan Boesch, Salt Lake
(.464/.483/1.214, 7 G, 13-for-28, 3 2B, 6 HR, 10 RBI, 10 R, 1 BB, 4 K)
While playing in places like Colorado Springs, Albuquerque or Salt Lake City certainly benefits sluggers, not too many of them have hit six homers in seven games, as Boesch did last week. Wednesday saw the veteran outfielder club three long balls in the Bees' doubleheader split with Memphis. He has hits in 11 straight games (22 of them in total) and has driven in at least one run in each of his last 10. Impressive stuff at any level -- or elevation.

Boesch hits his second homer for the Bees
Eastern League
Deven Marrero, Portland
(.650/.652/.900, 6 G, 13-for-20, 1 3B, 1 HR, 4 RBI, 6 R, 2 BB, 2 K, 1 SB, 1 CS)
Marrero has reached base in 19 straight games; last week he kept the streak alive with a bunch of hits, including a trio of three-hit games. A first-round pick in 2012, the 23-year-old shortstop is batting .291 in June after a rough May that saw him hit .227 in 28 games. Marrero has dramatically improved his rate of contact in June: he fanned 32 times in 110 at-bats in May and just seven times in 64 at-bats this month.
Southern League
Rubi Silva, Tennessee
(.467/.467/1.000, 4 G, 7-for-15, 1 3B, 2 HR, 4 RBI, 3 R, 1 K, 2 SB)
With Kris Bryant promoted to Triple-A, the Smokies needed someone to pick up the slack on offense. Silva did an admirable job last week, going deep in back-to-back games Thursday and Friday and adding singles in both weekend games. The outfielder, who turns 25 on Wednesday, has suffered a power drop-off since last season, when he hit 15 homers for the Smokies. The two long balls last week give him six in 2014, all off right-handed pitchers.

Smokies' Silva hits two-run homer
Texas League
Cheslor Cuthbert, Northwest Arkansas
(.429/.467/.714, 7 G, 12-for-28, 5 2B, 1 HR, 6 RBI, 7 R, 2 BB, 2 K, 1 SB)
Cuthbert was considered a top-100 prospect as recently as 2012, but with a career .252 average in 426 Minor League games, he's failed to progress much at the plate. Nevertheless, he's still just 21 and had a brilliant series of games for Northwest Arkansas last week. The Nicaraguan-born third baseman doubled five times in four games from Wednesday to Saturday and added his eighth homer of the season -- tying a career high -- Friday night. Cuthbert already has the best infield arm in the Royals system; adding a more potent bat would make him formidable indeed.

Cuthbert's mammoth blast
California League
D.J. Peterson, High Desert
(.533/.632/1.200, 4 G, 8-for-15, 4 2B, 2 HR, 7 RBI, 3 R, 4 BB, 3 K)
He has the advantage of playing in perhaps the most hitter-friendly park in the Minors, but Peterson can mash on the road as well, as he showed during a four-game set at Modesto last week with two homers, four doubles and seven RBIs as the Mavs took three of four. The 22-year-old Mariners prospect, a first-round pick out of New Mexico last June, ranks fifth among full-season Minor Leaguers with a .610 slugging percentage. He seems more than ready to meet the challenge of the Double-A Southern League in Jackson.
Carolina League
Bubba Starling, Wilmington
(.474/.474/.842, 4 G, 9-for-19, 2 2B, 1 3B, 1 HR, 4 RBI, 5 R, 0 BB, 7 K)
Starling's pro career hasn't developed the way the Royals might have hoped when they made him the fifth overall pick in the 2011 Draft. Despite his strong performance last week and a 15-game hitting streak earlier in the season, Starling is batting just .205/.290/.331 with the Blue Rocks. Four multi-hit games featuring four extra-base hits at Myrtle Beach and Frederick helped boost those numbers -- he'd had only four two-hit games in his first 65 contests of the season -- but he also fanned seven times. Starling's 86 strikeouts in 69 games are second-most in the Carolina League.

Starling triples for Blue Rocks
Florida State League
Jorge Polanco, Fort Myers
(.444/.483/.667, 7 G, 12-for-27, 1 2B, 1 3B, 1 HR, 3 RBI, 4 R, 2 BB, 6 K, 2 SB)
Most of the Polanco buzz this season has surrounded Pirates prospect Gregory, but Jorge (no relation) is having a fine campaign with the Miracle. The 20-year-old switch-hitter collected multiple hits in five of his seven games and clubbed his fifth homer of the season, matching the number he had in 115 games with Cedar Rapids last year. Polanco ranks 14th in the FSL with a .365 on-base percentage after reaching base 14 times last week.
Midwest League
Jacob Rogers, Kane County
(.455/.500/1.091, 4 G, 5-for-11, 2 2B, 1 3B, 1 HR, 2 RBI, 4 R, 1 BB, 0 K)
The Midwest League All-Star Game limited Kane County to just four games, but Rogers managed to pack a fair bit of offense into the short week. Four of his five hits went for extra bases as the Cougars took three of four games against visiting Cedar Rapids, and Rogers did not whiff in 11 at-bats. (He's fanned only once in his last 10 games.) Rogers, who turns 25 in August, is old for the Midwest League, but the 2012 40th-round pick is making the most of his opportunities.
South Atlantic League
Drew Ward, Hagerstown
(.412/.444/.941, 4 G, 7-for-17, 3 2B, 2 HR, 6 RBI, 4 R, 1 BB, 4 K)
The 19-year-old Ward was unfazed by the Sally League All-Star break last week -- he homered on Sunday and picked up right where he left off by going deep both Thursday and Friday at Greensboro. Ward fell a triple shy of the cycle Friday and has homered five times in June after slugging only three blasts combined in April and May. A third-round pick out of high school in Oklahoma last year, Ward was part of the dominant GCL Nationals team that rolled to a 49-9 record last summer. His numbers are down this year, but as the last week has shown, the youngster's potential is impressive.
New York-Penn League
Rowan Wick, State College
(.343/.452/.971, 10 G, 12-for-24, 1 2B, 7 HR, 11 RBI, 9 R, 7 BB, 9 K, 1 CS)
Opening Day is always a fun time but never quite as fun as when you hit two homers and drive in five runs. That's how Wick opened the New York-Penn League campaign for State College on Friday the 13th. Three days later he slugged two more, then cooled off slightly with only three more homers over the last six games. With seven blasts in 10 games, the 21-year-old British Columbia native has opened up an early lead in the NYPL homer race -- only two other hitters have as many as four.
Northwest League
Kyle Schwarber, Boise
(.600/.625/1.350, 5 G, 12-for-20, 1 2B, 1 3B, 4 HR, 10 RBI, 7 R, 2 BB, 2 K, 1 CS)
The fourth overall pick in this month's Draft, Kyle Schwarber will probably never play in the Northwest League again. But for the first five days of its 2014 season, he was undoubtedly the circuit's top offensive force, blasting four homers and driving in 10 runs. The catcher and outfielder went 3-for-4 with a go-ahead homer in his pro debut on Friday the 13th, added three hits and three RBIs the next day and slugged a pair of solo shots, along with a double, last Tuesday in what would be his Boise swan song. Joining Class A Kane County on Thursday, the 21-year-old Indiana product hit .417/.462/.750 in his first four Midwest League games, and could have been named that league's player of the week as well.

Kyle Schwarber homers for Boise
Appalachian League
Brandon Brosher, Kingsport
(.455/.500/1.273, 3 G, 5-for-11, 3 HR, 5 RBI, 4 R, 1 BB, 2 K)
A 36th-round pick in the 2013 Draft, Brosher played in 22 games for the GCL Mets last summer. He very nearly surpassed his '13 offensive output in his first three Appy League contests this year, going deep three times and plating five runs for Kingsport despite an 0-for-4 Opening Day on Friday. The 19-year-old catcher had three homers and six RBIs all of last season. And sure, it's only three games, but posting a 1.773 OPS is a nice way to start.
Pioneer League
Andrew Daniel, Orem
(.500/.577/.800, 5 G, 10-for-20, 3 2B, 1 HR, 5 RBI, 2 R, 3 BB, 1 K, 1 SB, 1 CS)
A little over a month ago, Daniel was batting third for the University of San Diego. An 11th-round pick by the Angels, the San Diego native hasn't missed a beat in his adjustment to the pro game, collecting multiple hits in four of his first five contests. Not only has the 21-year-old third baseman gone 10-for-20, he's struck out just once while drawing three walks. About the only thing that hasn't been superlative in Daniel's brief pro career is his base running, where he's merely 1-for-2 on stolen-base attempts.

Owlz' Daniel doubles in a run
John Parker is an editor for MiLB.com. This story was not subject to the approval of the National Association of Professional Baseball Leagues or its clubs.
View More