Offensive Players of the Week
For the week ending July 13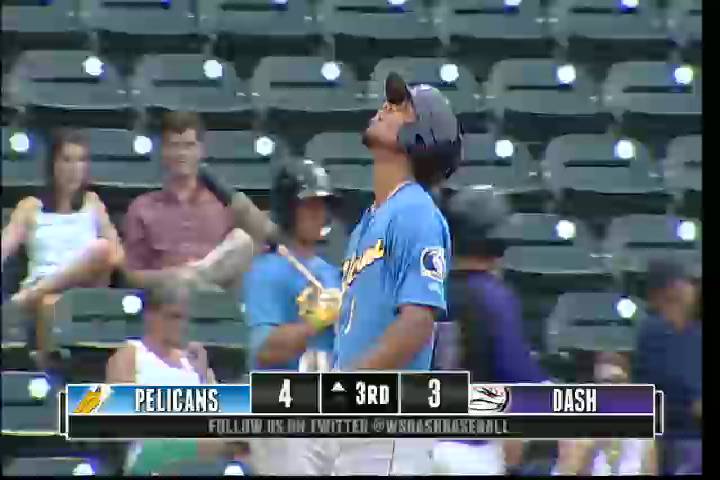 By John Parker / MiLB.com | July 14, 2014 6:00 PM ET
Here's a look at the top offensive performers in each league for the week ending July 13:
International League
Phil Gosselin, Gwinnett
(.692/.714/1.192, 7 G, 18-for-26, 6 2B, 2 3B, 1 HR, 6 RBI, 10 R, 2 BB, 2 K, 1 SB)
If you want to earn an Offensive Player of the Week award, collecting 18 hits in seven games is a very sound approach. No one in the International League has more than Gosselin's 120 this season (in 88 games). The 25-year-old second baseman is batting 91 points higher in 2014 than 2013, and his torrid July -- along with Dan Uggla's one-game suspension -- earned him a callup to Atlanta on Sunday.

Braves' Gosselin hits solo homer
Pacific Coast League
Jake Marisnick, New Orleans
(.406/.441/.750, 7 G, 13-for-32, 3 2B, 1 3B, 2 HR, 8 RBI, 4 R, 2 BB, 7 K, 1 SB)
Marisnick has struggled at the Major League level -- he's hit .179/.228/.224 over 168 plate appearances in 53 games for the Marlins over the last two seasons -- but he's been solid for the Zephyrs. The 23-year-old outfielder had hits in each of his seven games last week including home runs against visiting Memphis both Friday and Saturday. Though Marisnick hasn't roared through the Minors like Marlins outfielders Christian Yelich or Marcell Ozuna, his combination of power (eight homers) and speed (19 stolen bases) can still produce dividends if he can get on base more frequently.
Eastern League
Travis Taijeron, Binghamton
(.400/.455/.900, 5 G, 8-for-20, 1 2B, 3 HR, 10 RBI, 5 R, 2 BB, 5 K)
A two-time Florida State League Player of the Week last year, Taijeron got off to a slow start this season and was batting just .213 at the end of May. The warmer weather has brought out the best in the 25-year-old outfielder, who has four homers and 12 RBIs in his first nine July contests. Taijeron has drastic home-road splits -- he's hitting .310/.405/.646 in Binghamton and .183/.318/.358 elsewhere -- so it's no surprise that six of his eight hits and all three homers came in his three home games last week.
Southern League
Jorge Soler, Tennessee
(.556/.619/1.333, 6 G, 10-for-28, 2 2B, 4 HR, 8 RBI, 4 R, 3 BB, 5 K)
Due to a hamstring injury, Soler has only played in 21 games this season -- 14 for the Smokies -- but he's been dynamite since returning to Southern League action last Sunday. Not only did he homer in his first game back, but he fell a triple shy of the cycle on Monday and capped the week with a pair of long balls and five RBIs against Jacksonville yesterday. The 22-year-old outfielder is batting .426/.491/.936 in his first 14 Double-A games and is back on track to join the Cubs' bevy of hitting prospects at the Friendly Confines soon.

Smokies' Soler slugs a three-run homer
Texas League
Jefry Marte, Midland
(.520/.536/.800, 6 G, 13-for-25, 4 2B, 1 HR, 6 RBI, 4 R, 1 BB, 3 K, 1 SB)
Not only was Marte an offensive juggernaut last week, he exhibited a fantastic sense of timing. The Midland third baseman went 5-for-5 with three doubles Wednesday, then fell a triple shy of the cycle Thursday. He saved the best for last in that game, delivering a walk-off homer in the ninth. On Friday night he did it again, smacking a walk-off single in the 10th inning to give the RockHounds their eighth straight win. Marte is batting .343 in the second half of the season, helping Midland to a league-leading 14-8 record.

Midland's Marte hits walk-off homer
California League
Conrad Gregor, Lancaster
(.320/.441/.800, 7 G, 8-for-25, 1 2B, 1 3B, 3 HR, 9 RBI, 5 R, 6 BB, 7 K)
Gregor became something of a viral sensation in May when his dad caught his first homer of the season in Quad Cities. The 2013 fourth-round pick was promoted to the Cal League soon after, where he's becoming known for much more than a video. The 22-year-old Vanderbilt product is hitting .368/.457/.658 in his first 41 games with Lancaster and has more walks (26) than strikeouts (20). Last week he went deep in three straight games, giving him nine in the Cal League.

Dad catches Gregor's three-run homer
Carolina League
Nick Williams, Myrtle Beach
(.458/.519/.875, 6 G, 11-for-24, 2 2B, 1 3B, 2 HR, 6 RBI, 7 R, 2 BB, 6 K, 1 SB, 1 CS)
Williams may have been overlooked slightly while teammate Joey Gallo was blasting the Carolina League, but he stepped into the spotlight last week with a pair of homers Tuesday followed by a 4-for-5 performance the following day. The 20-year-old outfielder, ranked third in the Rangers system, is second in the Carolina League with a .323 batting average (behind Jose Peraza, who has been promoted to Double-A) and second in slugging behind Frederick's Michael Burgess. He could well be rejoining Gallo up the ladder soon.

Pelicans' Williams hits second homer
Florida State League
Victor Roache, Brevard County
(.381/.435/.857, 6 G, 8-for-21, 1 2B, 3 HR, 3 RBI, 3 R, 2 BB, 9 K)
A first-round pick in 2012, Roache has had an up-and-down career and an up-and-down season. He missed the 2012 campaign with a broken wrist but returned to slug 22 homers (and strike out 137 times) for Wisconsin in 2013. The 22-year-old outfielder was below the Mendoza Line in April and June but had a three-homer game May 4 and has hit .241 since the FSL All-Star break. He clubbed three solo shots last week and had three consecutive multi-hit games from Wednesday to Friday to get July off to a strong start.
Midwest League
Jeimer Candelario, Kane County
(.500/.556/1.083, 7 G, 12-for-24, 5 2B, 3 HR, 9 RBI, 6 R, 3 BB, 2 K)
Candelario began the season with Class A Advanced Daytona but hit just .193 over 62 games (with a very unfortunate .212 average on balls in play) before being reassigned to Kane County in mid-June. The change has done the 20-year-old switch-hitter good -- he had multiple hits in five of seven games last week and closed it out with a pair of homers and four RBIs against Beloit on Sunday. With confidence regained, he may soon be ready for another shot at the pitcher-friendly FSL.

Kane County's Candelario hits solo shot
South Atlantic League
Jose Briceno, Asheville
(.318/.375/.864, 6 G, 7-for-22, 4 HR, 8 RBI, 5 R, 2 BB, 2 K)
Briceno provided a power surge for the Tourists last week, opening with long balls in back-to-back home games Monday and Tuesday and closing it out with two blasts and five RBIs at Kannapolis on Sunday. The four homers gave him five this month after hitting just two the rest of the season. The 21-year-old catcher doesn't walk much, but he doesn't strike out much either -- if he can continue to provide some pop to go with his .305 average, Asheville will be thrilled.
New York-Penn League
A.J. Reed, Tri-City
(.500/.536/.917, 7 G, 12-for-24, 4 2B, 2 HR, 11 RBI, 5 R, 3 BB, 2 K, 1 SB)
Reed was a two-way player at Kentucky before the Astros made him a second-round pick as a first baseman last month. Early returns are positive, since the 21-year-old had four multi-hit games last week and is walking (17 times overall) more often than fanning (16 times). The left-hander has posted massive splits in his short 27-game pro career, however, batting .360/.449/.560 against righties and .154/.313/.269 off southpaws.
Northwest League
Seth Spivey, Spokane
(.538/.600/.692, 6 G, 14-for-26, 2 2B, 1 3B, 5 RBI, 7 R, 3 BB, 3 K)
Like Reed, Spivey is a left-handed hitter with a strong preference for right-handed pitching -- he's a rather astonishing .447/.512/.553 off them and .188/.278/.375 against a very small sample of lefties. And like Reed, Spivey had an enormous week, collecting 14 hits in just six games, including four on Tuesday. The catcher, who turned 22 last Sunday, leads the league with a .402 average overall and is second with a .471 on-base percentage. With the 10th-round pick's help, Spokane has the league's top record at 22-8.
Appalachian League
Max Murphy, Elizabethton
(.500/.576/.875, 7 G, 12-for-24, 3 2B, 2 HR, 8 RBI, 9 R, 5 BB, 5 K, 2 SB)
Reaching base in each of his first 22 professional games is a good way to start a career. Murphy, a ninth-round pick by the Twins out of Bradley University last month, has done just that, and bashed a league-high six homers in the process. He also leads the circuit in batting, OBP, slugging and runs scored. Murphy has been so good that last week's numbers are only a little better than his overall stats, which is awfully impressive as he had 12 hits -- five for extra bases -- in seven games for the first-place E-Twins.
Pioneer League
Wander Franco, Idaho Falls
(.579/.652/1.105, 5 G, 11-for-19, 3 2B, 2 3B, 1 HR, 3 RBI, 3 R, 2 BB, 2 K, 2 SB)
The Dominican-born Franco is just 19 years old but has evidently needed no time to adjust to the Pioneer League. He's batting .429 in his first 13 games with the Chukars and piled up 11 hits in just five contests last week. A switch-hitting third baseman, Franco is hitting well over .400 from both sides of the plate and even stole two bases toward the end of the week. With that kind of production from their new infielder, Idaho Falls has won eight of its last 10 games.
John Parker is an editor for MiLB.com. This story was not subject to the approval of the National Association of Professional Baseball Leagues or its clubs.
View More