O'Hearn has perfect debut with Chukars
Royals' eighth-round pick homers in first pro at-bat, goes 5-for-5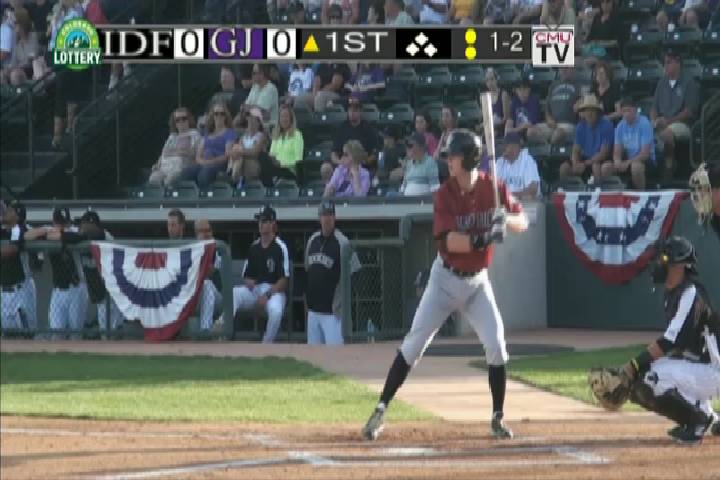 By Kelsie Heneghan / MiLB.com | June 22, 2014 1:44 AM
Ryan O'Hearn sat on the Idaho Falls bench for two games, patient but eager to get into the action.
On Saturday night, it was time for the Royals' eighth-round pick in this month's Draft to get off the bench and make his way to the batter's box for the first time as a Minor Leaguer. Between the chalk is where O'Hearn got comfortable.
The 20-year-old first baseman took a changeup in his first professional at-bat over the left-field wall at Suplizio Field. That was just the start of his day night as O'Hearn went 5-for-5 in Rookie-level Idaho Falls' 12-4 romp over Grand Junction.
"It was a really exciting day," he said. "I couldn't have hoped for anything better than that. It was great. I'm so blessed and happy and I just have to remember that it's not going to be like this all the time.
"The game is humbling. There's going to be 0-for-15 stretches, so I just have to enjoy this moment and stay humble."
After the Sam Houston State product homered, he collected four singles, scored two more runs and drove in another.
"I was feeling confident," O'Hearn said. "After a couple hits, I kind of settled in and they kept giving me fastballs. I was just swinging at strikes."
In the seventh inning, he was called upon to steal second base -- another task he completed successfully.
"I don't think I stole one base my last season in college," he said with a laugh. "But if [the coaches] want me to steal, I'll do it."
O'Hearn's patience while other position players made their debuts paid off as his first game was an especially memorable one. The Texas native said he'll always remember the home run in his first at-bat and how much fun it was to play in his first game as a pro.
That the Chukars totaled 18 hits only added to O'Hearn's enjoyment as every batter in the lineup reached base. Catcher Pedro Gonzalez slugged a three-run homer, left fielder Alexis Rivera contributed three hits, two RBI and two runs scored and Luis Valenzuela added three hits and scored twice.
Reliever Brandon Thomas (1-0) picked up the victory after pitching 1 1/3 hitless innings.
Grand Junction starter Javier Palacios (0-1) was charged with five runs -- four earned -- on nine hits over six frames.
Rockies 10th-round pick Troy Stein also clubbed his first professional homer.
Kelsie Heneghan is a contributor to MiLB.com. Follow her on Twitter @Kelsie_Heneghan. This story was not subject to the approval of the National Association of Professional Baseball Leagues or its clubs.
View More