Olivera debuts with single, two walks
Dodgers infielder takes 'really good' at-bats, plays third with Drillers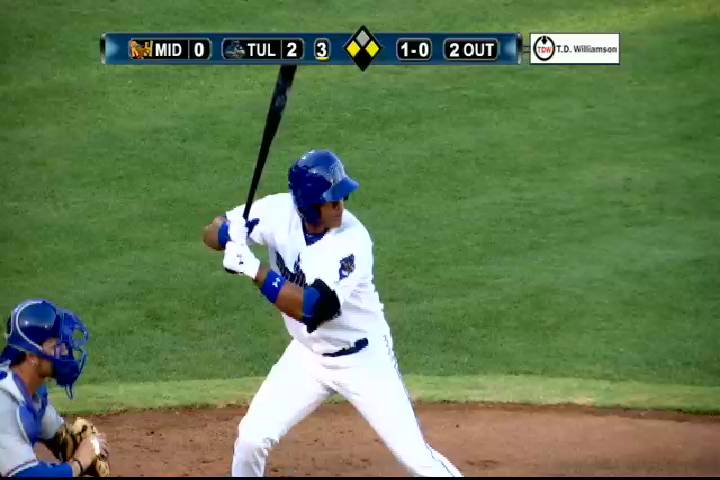 By Jake Seiner / MiLB.com | June 5, 2015 2:41 AM
You can't learn everything about a baseball player in just one day. But on Thursday night, Tulsa manager Razor Shines saw enough to make one declaration about the Dodgers' latest Cuban import, Hector Olivera.
"I think that he is going to be just fine," Shines said.
Olivera made his U.S. debut with Double-A Tulsa on Thursday, going 1-for-4 with a single and two walks while playing third base. The Drillers lost to the Midland RockHounds, 9-3, in 14 innings, with Olivera playing in the first 12 frames before exiting for a defensive replacement.
Thursday marked Olivera's first game action since the 2013-14 season in Cuba's Serie Nacional. The infielder defected in September 2014 and established residence in Haiti before penning a six-year, $62.5-million contract with Los Angeles in May.
After popping up in his first at-bat, Olivera came through with his first Minor League hit in the third inning.
The right-handed hitter tracked a breaking pitch from righty Tim Atherton on the outer half and hit a soft line drive back up the box. Second baseman Colin Walsh knocked down the hopper behind second base, but Olivera ended up with an easy infield single.
"For a guy that hasn't played in that long, his at-bats were really good," Shines said. "He had quality at-bats. He picked up his first base hit. He had a couple of balls defensively in the infield and he handled them well. He looked really good."
In the fifth, Olivera worked a 3-2 count before drawing a walk. He added another free pass in the eighth after fouling off five straight pitches.
Olivera got two at-bats in extra innings. In the 10th, he popped up to shortstop Chad Pinder with the bases empty. In the 12th, he came up with two on and two out, but struck out looking against right-hander Ryan Dull.
The third baseman was pulled for a defensive replacement in the top of the 13th, with Jarek Cunningham filling in at the hot corner.
Shines said Olivera was only pulled because he had been up early to travel to Tulsa.
"Twelve innings was enough," Shines said.
Olivera is expected to be back in the Tulsa lineup Friday. Shines said he was uncertain how long the infielder will remain with the Drillers.
"He will play often while he's here," Shines said. "As far as his timetable, I'm not the one who can answer that."
The 30-year-old is expected to play second and third base this season, with general manager Andrew Friedman predicting Olivera will play a role with the big league team later this year.
Olivera is a 10-year veteran of Serie Nacional, where he played for Santiago de Cuba. In 642 career games in Cuba, Olivera hit .323 with 96 homers and a .912 OPS, while playing first or second base.
Jake Seiner is a contributor to MiLB.com. Follow him on Twitter at @Jake_Seiner. This story was not subject to the approval of the National Association of Professional Baseball Leagues or its clubs.
View More